Liberal angst toward Feinstein threatens to divide California Dems
Democratic Sen. Dianne Feinstein's decision to seek a sixth term has roiled California progressives, whose intense interest in the seat threatens to divide the state party heading into 2018.
The party's left flank so far has struggled to find a candidate to run for the seat held by the veteran lawmaker, who announced Monday that she's running for reelection.
The decision was met with groans from some on the left, where lawmakers have taken issue with a string of recent Feinstein comments -- including a seeming nod to President Trump -- though the incumbent has been an outspoken advocate for gun control and other causes over the years.
"After 47 years in elected office and 25 years in the Senate, she continues to cling to office as a voice for the status quo," California progressive Democratic Rep. Ro Khanna told Vox.com hours after Feinstein announced her reelection bid. Khanna then retweeted his own comment.
TOP DEM LASHES OUT AT PARTY LEADERS
The jab at Feinstein came just days after fellow California Democratic Rep. Linda Sanchez suggested long-time House Democratic Leader Nancy Pelosi, also a Californian, "pass the torch to a new generation of leaders."
Feinstein, the oldest member of the Senate at 84, tweeted Monday that she has "lots more to do" in public office in the areas of health care, gun control and the environment.
"I'm all in!" she wrote.
To be sure, California Democrats until recently have been in a seemingly endless wait to ascend in state political circles.
The 2015 retirement of California Democratic Sen. Barbara Boxer after roughly two decades in the Senate allowed up-and-coming Attorney General Kamala Harris to take that seat last year.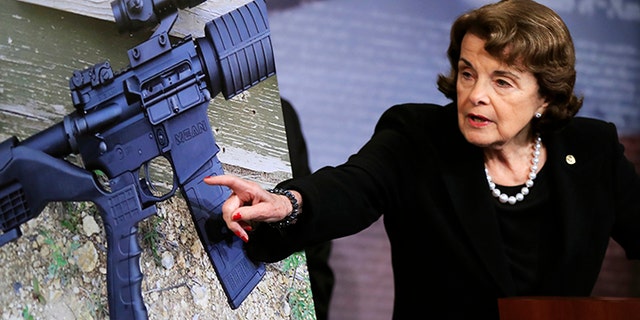 And Democratic Gov. Jerry Brown is leaving the governor's mansion next year, after four terms dating back to the 1970s.
However, Feinstein and Pelosi have collectively served roughly 55 years in Congress, with Pelosi as the top Democrat for about 14 years.
Progressives in recent weeks have floated the names of several potential Feinstein primary challengers, but nobody so far has committed to a campaign.
Khanna, a progressive who last year upset incumbent Democratic Rep. Mike Honda, reportedly has asked Rep. Barbara Lee, a fellow California Democrat.
State Senate leader Kevin DeLeon was among the first names to surface as a possible challenger and continues to be mentioned, but he has yet to confirm a run.
Others being discussed include California environmentalist-Democratic mega-donor Tom Steyer and Los Angeles entrepreneur Joseph Sanberg, a progressive champion.
Meanwhile, top California Democrats are rallying around Feinstein in a likely effort to squash the progressive groundswell.
"We are in this moment of an intraparty fight in California between … the progressive liberal and the more establishment candidates," Jessica Levinson, a Los Angeles-based political analyst, told Politico. "But the progressives don't have a lot of victories to point to, and if we look at who's voting, it's still the people who are older and whiter and, frankly, more establishment."
Harris, Boxer and state Lt. Gov. Gavin Newsom are backing Feinstein, and Los Angeles Mayor Eric Garcetti held a fundraiser Tuesday night for her.
"What Californians get from Dianne is someone who sticks to her principle and achieves results regardless of her powerful opponents," Harris said Tuesday. "We are better off for her leadership."
Feinstein will undoubtedly be difficult to beat, considering her establishment support and standing among independents and women, two key voting blocs.
"It will be tough to outflank her in that capacity," said Ben Tulchin, a San Francisco-based pollster who worked on the 2016 Democratic presidential campaign of Sen. Bernie Sanders, who remains the liberal torchbearer for the entire party.
Feinstein took heat from some on the left after appearing to voice optimism about Trump becoming "a good president." Feinstein also recently said that former President Barack Obama's Deferred Action for Childhood Arrivals, which Trump is ending, was on shaky legal ground.
And she has continuously expressed reservations about the so-called single-payer health care plan championed by many liberals including Sanders.
Sanders, a Vermont independent, has been silent on the effort to challenge Feinstein from the left, particularly after her recent comments. He and Democratic presidential nominee Hillary Clinton were in a battle last year for the soul of the party that continues to this day between progressives and establishment lawmakers.
However, the Justice Democrats, a political action committee with ties to Sanders' 2016 presidential campaign, may be ready to help mount a Feinstein challenge.
"We think she'd be more at home running in the Republican primary," a group spokesman told Vox.