Labor Secretary Tom Perez mentioned as possible presidential running mate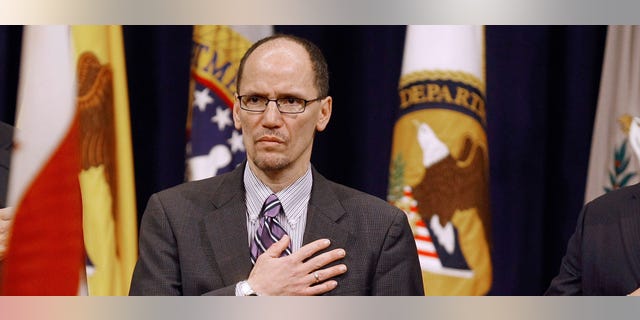 NEWYou can now listen to Fox News articles!
When former Rep. Tony Coelho introduces Labor Secretary Tom Perez, he describes him as "my candidate for vice president."
Evidently, Coelho, who chaired Al Gore's 2000 campaign, is not the only one who envisions Perez in the role.
Increasingly, there is chatter about Perez, who has been on the campaign trail with former Secretary of State Hillary Clinton, being her running mate.
"To me you want somebody who can excite the Democratic Party, and he is a guy who can do it. He's a great speaker and he happens to be Hispanic," Coelho told Politico. "I think he's ideal in every way for her."
The thinking is that Perez can attract progressives who at the moment gravitate more toward Clinton's Democratic rival, Sen. Bernie Sanders of Vermont.
Perez is, of course, only one of a list of possible running mates whose name is being tossed around in the Beltway.
Others coming up in conversations include Housing and Urban Development Secretary Julian Castro, Sen. Cory Booker of New Jersey, and Sen. Tim Kaine of Virginia.
The U.S. Hispanic Chamber of Commerce has endorsed Castro for the Democratic ticket, and New Mexico Gov. Susana Martinez for the Republican one.
Perez is seen as a bridge-builder in Washington. He enjoys a good rapport with local officials as well as business leaders, according to Yahoo News.
Also, he is said to have the respect and admiration of Sen. Elizabeth Warren, an influential member of the Democratic Party.
Yahoo News quoted a source described only as a Democratic Hill aide as saying Perez would "satisfy the Warren wing of the party."
Perez has been campaigning for Clinton, going to several early-voting states.
There are deficits, however. He's not a household name, lacks foreign policy experience, and a suburban county council seat is the only elective office he has ever held, Politico noted.
Perez has been invited to social events recently with White House officials, Politico said, speculating that administration officials may be wanting to take a closer look. At one of those events, Politico said, Tom Nides was present. Nides is a former assistant secretary of state and informal adviser for the Clinton campaign.
"My strong guess," one White House aide said, according to Politico, "is that if you took a straw poll of staffers here about who they'd pick for the ticket, Tom would do very well."
For his part, Perez is reluctant to address the speculation. He declined to comment to reporters about the topic, and Politico said that those who know him says he's not comfortable with being a source of speculation.
Meanwhile, he continues to push hard for Clinton to be the Democratic nominee.
"In my conversations with Secretary Clinton—these date back quite a while, before the campaign really reached the pitch that it's at right now—I think she understood early on that the principal issue was economics: it's the economy, stupid, and it's shared prosperity, stupid," Perez said after a recent Democratic debate. "She doesn't talk about it in terms of revolutions. She talks about it in terms of bold ideas that can get done."