Labor, Latinos helped Nevada buck red tide for 3rd consecutive time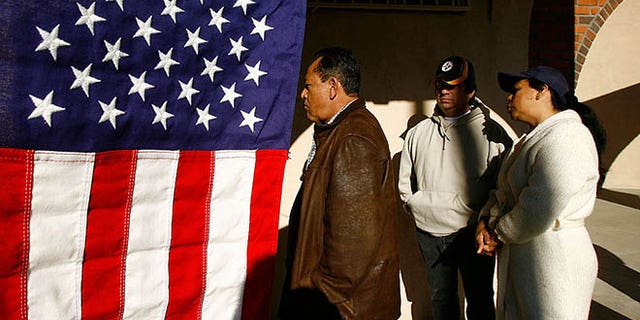 NEWYou can now listen to Fox News articles!
RENO, Nev. (AP) – Labor and Latinos. That's the easiest way to explain why Nevada stayed blue for three consecutive presidential races while much of the nation turned red on Election Day.
Nevada's turn to the Democrats in 2016 is the first time either party has scored a three-peat in the Silver State since Ronald Reagan started a GOP run in 1980.
But pundits and political operatives say there's more to it than that, and it's too soon to conclude Nevada has moved from battleground purple, to permanent blue.
"We are likely in the transition," said Fred Lokken, a political scientist at Truckee Meadows Community College.
Nevada Democrats' biggest prize was retaining retiring Sen. Harry Reid's seat as former Attorney General Catherine Cortez Masto defeated GOP Rep. Joe Heck to become the Senate's first Latina.
They also helped state Sen. Ruben Kihuen unseat Republican U.S. Rep Cresent Hardy to become Nevada's first Latino congressman in a delegation that flipped from 3-1 GOP to 3-1 Democrat, and recaptured control of both state legislative houses they lost in 2014.
"Nevada was blue (Tuesday) night, but I don't know this is a locked-in trend," said Eric Herzik, chairman of the political science department at the University of Nevada, Reno. "Just two years ago there was a massive red wave that flipped the state Assembly for the first time since the 1930s and all six statewide offices went Republican. It suggests Nevada is still a swing state."
Randi Thompson, a Reno-based Republican consultant, thinks the blue tide was "more of a one-time thing" driven by labor unions and Reid, who helped steer millions of campaign dollars to Nevada.
The "Reid machine" was "on fire with money and walkers," Thompson said. "The other major factor was a lack of any kind of GOP organization."
All agreed it's difficult to overstate labor's role getting out the vote, especially the Culinary Union's Hispanic members. More than 30 percent of Clark County's voters are Hispanic.
"It was really like an army knocking on doors," said Rep. Dina Titus, D-Nevada.
Geoconda Arguello-Kline, the Culinary Union's secretary-treasurer, said its grassroots field operation in Nevada is one of the best in the country.
"Since July we utilized cutting edge technology, data know-how and, most importantly, the combined voices of hundreds of community organizers to speak to tens of thousands of voters across the state," said Artie Blanco, state director of For Nevada's Future Fund, a coalition of labor, women, minorities and other progressives.
Herzik said Nevada's demographics differ from those in the industrial Midwest, where Trump appealed to "disaffected, white, high-school educated, blue collar workers."
"This group, which used to have strong union ties, was a core element of the Democratic base and Trump – at least in this election – flipped it," he said.
Nevada too has "plenty of high-school educated white males. But instead of disaffected blue collar workers with lessening union ties, this group is more ethnically mixed, more service workers and is still linked to unions," he said.
Nevertheless, Trump's victory nationally gave Nevada Republicans plenty to celebrate. "Make no mistake, the voice of the American people was loud and clear," said Sen. Dean Heller, R-Nevada.
But the split verdict tempered postelection enthusiasm on both sides.
"We find ourselves in a difficult spot," said Marco Rauda, Nevada director for NextGen Climate, a coalition of labor and environmental interests that pushed clean energy issues on college campuses.
Trump's victory "cast a shadow on the future of our country and our environment," he said, while Nevada voters "came out strongly against" his agenda.
Republican Assemblyman Paul Anderson had a similar take from another perspective. He said he received emails throughout election night proclaiming huge Republican triumphs in other statehouses while the pendulum swung back Democrat in Carson City.
"I felt like I'm in a bubble in Nevada, and I'm not sure what's going on," Anderson said.
Lokken expects the blue trend to continue because Nevada's population is growing fastest in Democrat-dominated Clark County, which already contains about three-fourths of the state's voters.
UNLV political science professor David Damore said the demographics "certainly favor that."
"But there is still a lot uncertainty about what will happen as Reid exits," he said. "Who is going to step up and deliver the resources and wade into intra-party fights the way he did?"