Israeli Ambassador: Israel Will Do 'Whatever It Takes' to Defend Itself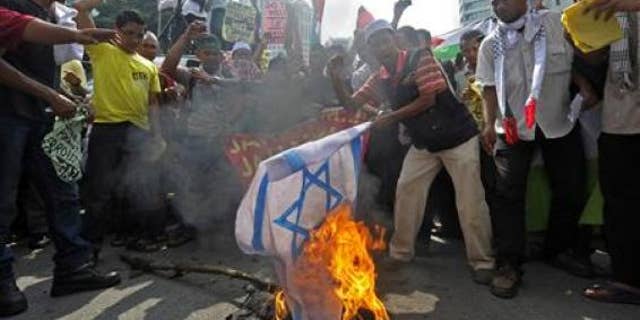 Israel will do "whatever it takes" to defend itself from terrorism, the Israeli ambassador to the U.S. said Sunday, without elaborating what actions would be taken in the face of a potential Iranian Revolutionary Guard escort of ships to break through the blockade of Gaza.
Ambassador Michael Oren said Israel is "open to any ideas to somehow deal with the Gaza situation" but dropping the blockade is unlikely since that would mean allowing thousands of rockets to arrive in Hamas-controlled Gaza.
If Iran sends its elite military unit to escort any other ships -- as it has suggested it would -- "Israel will also do whatever it takes to defend itself from Hamas terror," Oren told "Fox News Sunday."
"Israel will do what it has to do to defend 7.5 million Israelis," he said.
Iranian-backed Hamas is recognized by the United States, Israel and the European Union as a terrorist organization. Since having taken control of the Gaza Strip four years ago, Hamas has fired thousands of rockets into Israel.
Israel also has been figuratively under fire from the international community, including 52 Muslim nations that make up the largest political bloc in the United Nations, for the May 31 raid on a Turkish-led, six-ship flotilla that sought to break the naval blockade of Gaza enforced by Israel and neighboring Egypt.
The raid ended with Israeli commandos killing nine passengers of the ship, all Turkish. One of the nine also had dual citizenship in the United States.
But the United States has tempered its criticism of Israel. While publicly the U.S. has scolded its longtime Mideast ally, Oren said it has not sent any messages of criticism privately. Oren added that he did not think the Israeli action would hurt efforts to get U.N. sanctions against Iran for its nuclear program.
"What the Iranian issue has to do with attempts to provide rockets and advanced military (weapons to Hamas) is beyond me," he said, adding that the "administration understands that Hamas armed with rockets ... is the end of the peace process. The (Palestinian Authority) will collapse."
U.N. Secretary-General Ban Ki-moon has demanded an international commission investigate the raid, but Israel has rejected that idea.
"The notion of some international commission coming along and judging Israel's right to defend itself, that's not" going to happen, Oren said. "Israel is a democracy. Israel has the ability and the right to investigate itself ... not to be investigated by an international board."
Oren said Israel will not apologize for taking the measures it did, even if it damages relations with longtime friend Turkey.
"Turkey was a longtime friend of the state of Israel but Turkey's politics have changed ... and it's Turkey who has embraced Iran and embraced Hamas," Oren said.
That is also true of the Israeli commandos who killed the nine Turks, Oren said. While Israel says it is looking into errors made during the raid, the commandos had no choice but to board the ship since it reportedly would not submit to a search the way the other five boats in the flotilla did.
When the Israeli forces were pounced on by knife- and stick-wielding passengers, the commandos had to use their sidearms "only to save their own lives," Oren said.
"When a soldier's life is threatened, he takes the means necessary to save his life," he said.