Irish Economy of Top Concern During Obama Visit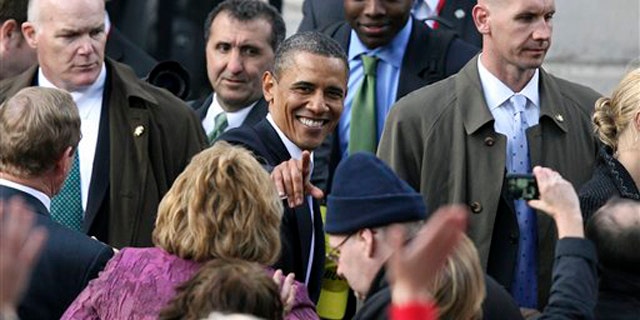 President Obama focused on his Celtic roots and even a pint of Guinness in his first presidential visit to Ireland, but tourist pursuits were not the top agenda item for his Irish hosts who are grappling with a debt crisis that threatens their economy and the stability of the European Union.
Like Greece, Ireland is struggling with the repayment terms of a $100 billion bailout from the European Union and International Monetary Fund. To prevent default, the island nation's leaders say they need to have the interest rates on their debt reduced. But, since Ireland's low corporate tax rate lured businesses from Britain, France and Germany during the boom days of the previous decade, those countries are reluctant to make concessions and instead want the Irish to raise their tax rates to cover their debt obligations.
Ireland's prime minister, or taoiseach, Enda Kenny aimed to get the president on Ireland's side before Obama heads to France later this week for a summit with the leaders of the G-8, an economic group that includes Europe's three largest economies.
"We expressed appreciation for the general support of America in that regard," Kenny said in a joint press appearance.
But Obama was non-committal.
"We're glad to see that progress is being made in stabilizing the economic situation here," Obama said. "I know it's a hard road, but it's one that the Irish people are more than up to the task in achieving."
Meanwhile, Obama's critics back home say the problems of Ireland and Greece should show the president the need to cut America's budget deficit.
"There's a lot to learn in Europe, there's a lot to see there," Republican National Committee Chairman Reince Priebus told Fox News. "I think he should go to Greece ... and see what happens when your debt skyrockets in comparison to your (Gross Domestic Product)."
But Irish actor Brendan Gleeson adapted an Obama slogan to his country's economic prospects.
"I'm bloody sure we can," Gleeson said to cheers and applause.
The mood at the start of this week long trip was light. The taoiseach gave the president a hurling stick, used in an Irish sport that seems to be a combination of field hockey and rugby.
Obama had another use for it.
"If members of Congress aren't behaving, give 'em a little paddle, a little hurl," Obama joked to cameras.
And at one of the two pubs in Moneygall, which has no cafes, the president ordered a pint of Guinness and took a big drink.
Meanwhile, the eruption of an Icelandic volcano, this one called Grimshvotn, forced the president to leave early for England, instead of spending the night in Ireland, as he'd planned. A different volcano on Iceland forced him to cancel a visit to Poland in April of last year.
Obama's a guest at a state visit in England. He'll have a room waiting at Buckingham Palace and tough questions for Prime Minister David Cameron about NATO's performance in Libya.