Immigration Reform Supporters Gather By The Thousands For Rally In Washington D.C.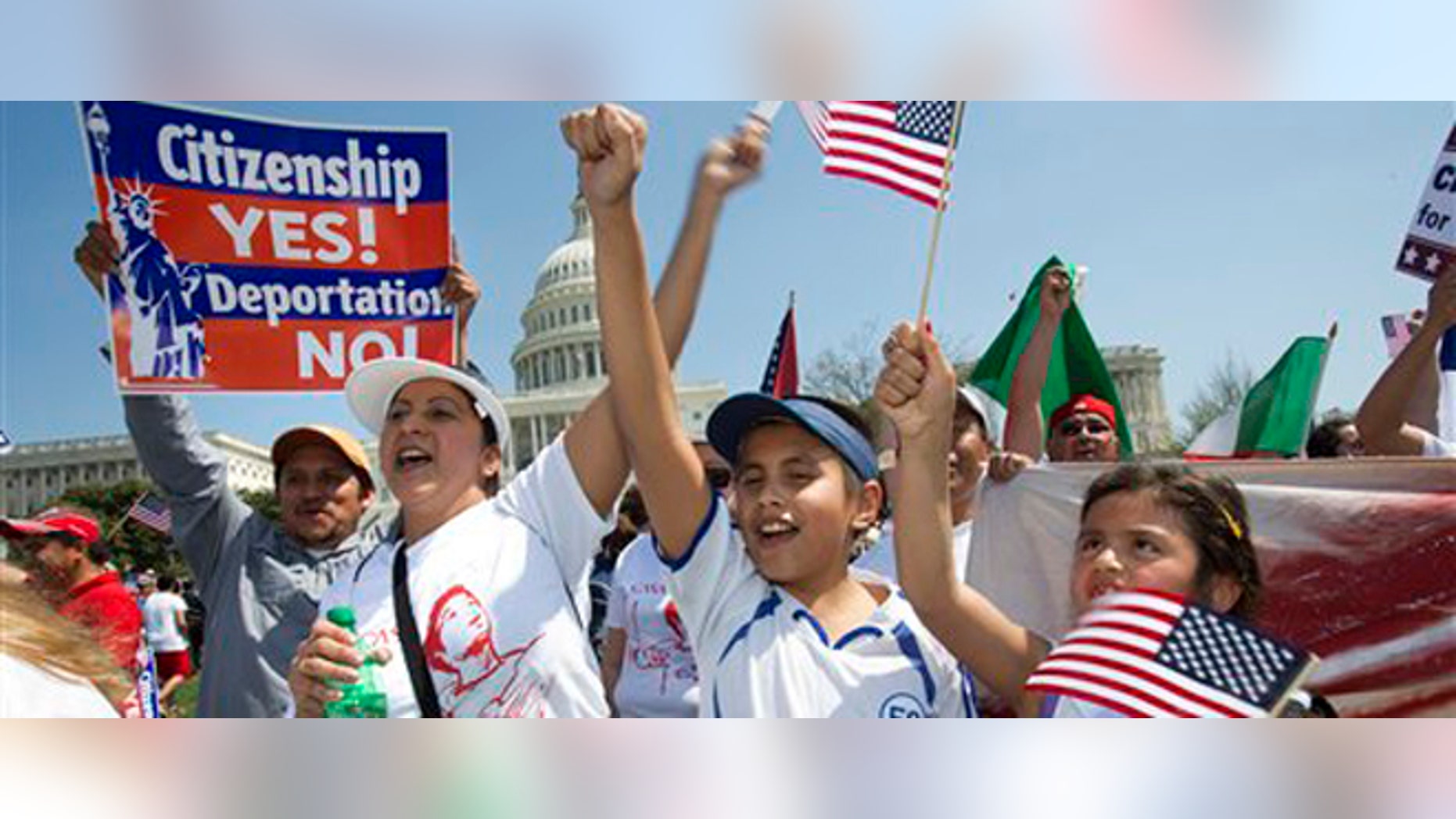 Tens of thousands of people who support a bill that would legalize undocumented immigrants are holding a rally in Washington D.C. Wednesday to pump up the momentum for immigration reform.
The rally, expected to be the biggest mobilization for immigration reform in at least seven years, was timed to coincide with the reported finalizing of bills in the both the House and Senate that would provide stricter border security and a path to legalization.
Organizers said they expected huge groups from more than 30 states to participate in the rally Wednesday afternoon. Thousands more are rallying in demonstrations around the country. NAACP president Benjamin Jealous delivered the keynote address at the Washington D.C. rally on the West Lawn of the U.S. Capitol building.
"The immigrant community is on fire today," said Cristina Jiménez, a formerly undocumented immigrant who came with her parents from Ecuador when she was 13. "We're having the rally to call for immigration reform with a clear path to citizenship. This is urgent, we need action from Congress this year."
In addition to establishing a path to legalization for immigrants who meet a strict set of criteria, the bill being crafted by senators from both parties would establish new visa programs for high- and low-skilled foreign workers, and crack down on employers who hire undocumented workers.
Though there long have been calls for immigration reform that would bring the estimated 11 million undocumented immigrants – most of them Latino – out of the shadows, momentum never has been greater, many experts say.
The immigrant community is on fire today. This is urgent, we need action from Congress this year.
Across the country, parents, workers and students who once were afraid to reveal their unlawful status are trying to shape the national immigration reform debate by sharing their stories, attending marches and sit-ins, and lobbying state and national lawmakers for expanded rights.
They say they are willing to face possible arrest and deportation if it means giving a voice to a community long in the shadows.
Groups that oppose a pathway to legalization for undocumented immigrants are denouncing the rally in the capitol. They say legalizing undocumented immigrants is unfair to those who wait overseas to legally come to this country, and that giving a break to those who are here illegally would encourage more illegal immigration.
"Today the rally is a show of force of by and for people who have broken the law and are demanding rewards," said Bob Dane, a spokesman for the Federation for American Immigration Reform, or FAIR, one of the nation's leading groups in favor of strict immigration laws. "What's missing in this rally are Americans who know that an amnesty bill will only impose more cost and more competition for jobs."
The growing influence of Hispanic voters — especially in last year's election — has added to the momentum. More than 10 percent of Hispanics – a record – showed up at the polls in the presidential election on Nov. 6 and about 71 percent voted for President Obama. Many said that the hard-line way that Republican presidential candidate Mitt Romney, and many in the Republican Party, addressed immigration alienated them.
Polls showed that even among Latino voters who said immigration was not a priority for them – ranking way behind the economy, jobs and healthcare – the rhetoric by Romney and some Republicans on the issue of immigration seemed hostile and anti-Hispanic.
"The power of Latino voters, the DREAMers coming out, have resulted in a great amount of power," said Jimenez, who is the managing director of the United We Dream Network, a youth organization that advocates for legal status for undocumented immigrants, among other things. "This rally today, it's very unique and empowering this time around."
Immigration reform supporters began holding rallies around the country several days ago to lead up to the major event in Washington D.C. Some of the local rallies drew close to 10,000 people.
"The effect of the Latino vote in the last election has made this a game-changer," said Jessica Ramos, spokeswoman for 32BJ Service Employees International Union, which is holding a rally in White Plains, N.Y. "It's a bi-partisan issue now, the Republicans want to be at the table."
In Nevada, about 20 immigrants and their supporters are launching a hunger strike to support the rally in Washington, D.C.
Salvador Zamora, a Mexican immigrant who has gone on hunger strikes in the past for immigration reform, said that although there is an unprecedented energy for overhauling the system in a way that would encourage the undocumented to come forward and legalize, he is not resting on laurels.
"We must keep fighting until it comes to fruition," said Zamora, who staged a 70-day hunger strike in 2011 in Atlanta to protest the state's immigration law. "I came without papers, like so many, because there was nothing, few jobs in Mexico, and I was told there was work here. I realized there were so many people like me, working, contributing, but they were in hiding."
"When I came from Mexico, I never dreamed I'd be an activist," said Zamora, who lost 50 lbs. during his 2011 hunger strike and had to be hospitalized. "But this cause is just too important."
In Manhattan, hundreds of demonstrators were planning to serenade U.S. Sen. Charles Schumer, a Democrat who is part of the bipartisan group in the Senate drafting an immigration bill.
The demonstrators planned to have mariachis, flowers, and said they would deliver more than 700 postcards with messages from constituents in support of immigration reform.
"This is not a protest," said Lucia Gomez, an organizer of the Manhattan rally. "This is not a protest, instead we are celebrating and asking everyone – citizens, noncitizens alike – to stand in solidarity with love and conviction that the right time to embrace a united nation is now."
Hundreds of Asian Americans also assembled in Washington D.C. to show, they say, that immigration reform is not solely a Latino issue.
"This reform is very critical to Asian Americans," said Mee Moua, president of the Asian American Justice Center, which is based in Washington D.C. "One out of every 11 undocumented immigrants is Asian. One of out every 10 DREAMer is Asian."
The Associated Press contributed to this story.