House Republican Leaders Say They Will Not Rubber-Stamp Senate Immigration Bill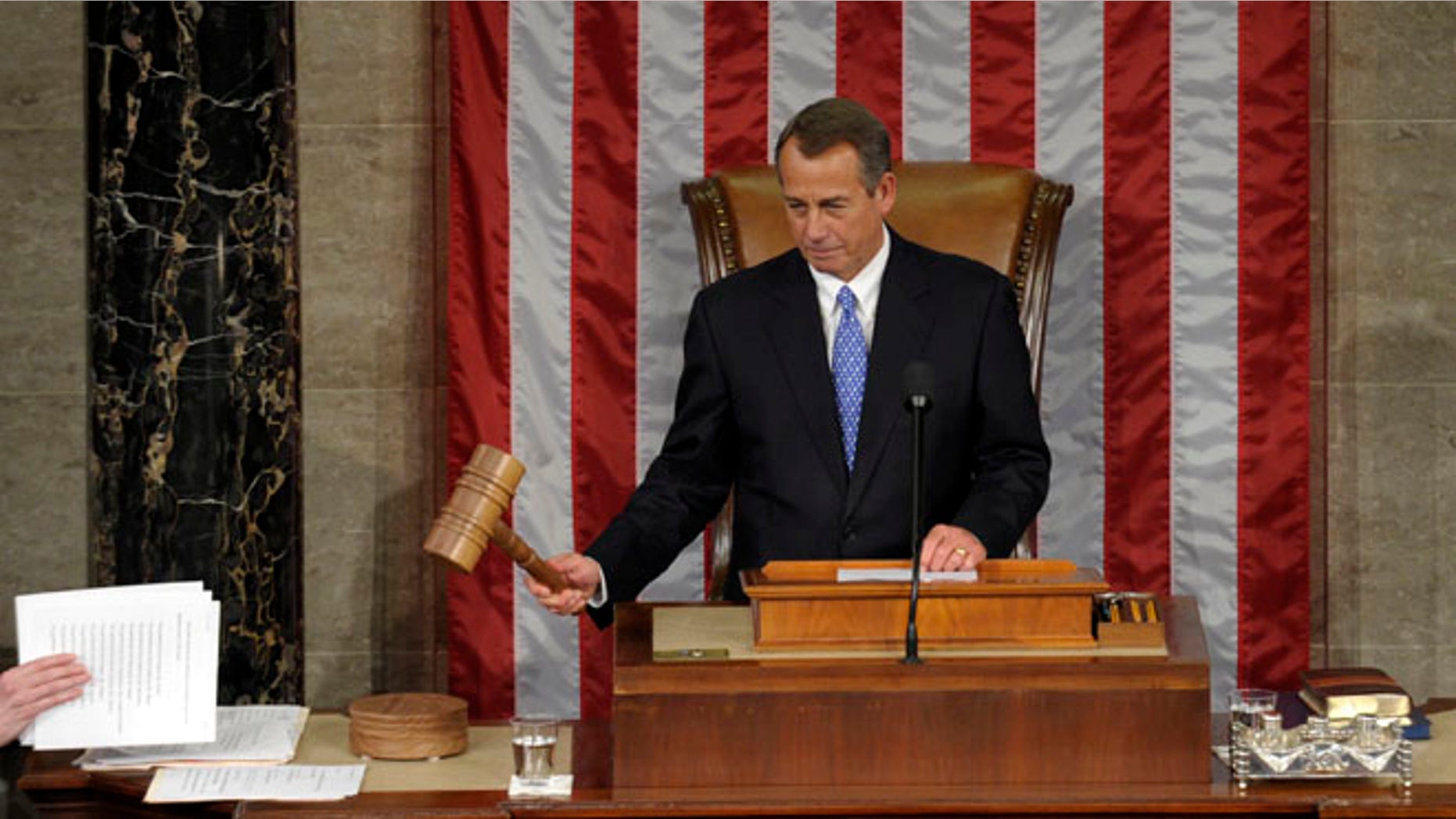 Dear Senate Democrats and Republicans, nice job working together on the immigration bill.
But we're going to do it differently – the right way.
That, in essence, is the message that Republican leaders in the House of Representatives sent to their colleagues in the U.S. Senate Wednesday and Thursday.
House Speaker John Boehner, R-Iowa, told reporters Thursday: "The House is going to work its will on immigration. We're not going to be stampeded by the White House or stampeded by the president. The Senate is working its will. A lot of good work [has] gone on over there. But the House is going to work its will."
On Tuesday, a Senate panel approved a bipartisan immigration measure that tightens border security, expands guest worker visas and provides a pathway to legalization, first on a provisional basis, and after about 13 years, permanent U.S. residency.
The bill, to which lawmakers proposed some 300 amendments, is now scheduled to go to the full Senate, which has a Democratic majority.
But fierce opposition to core parts of immigration reform – in particular, provisions dealing with giving undocumented immigrants a chance to legalize their status – is expected in the House, where Republicans have a majority and some conservatives are promising a fight against what they call amnesty.
Conservatives also say the Senate bill does not do enough to ensure that the border will be secure enough to stem future flows of illegal immigration.
On Wednesday, House Judiciary Committee Chairman Bob Goodlatte, R-Va., said the Senate bill "falls far short" of what is needed to end the problem of illegal immigration, and is unlikely to secure the border.
"While I commend the Senate for their continuing efforts to tackle the extremely difficult task of reforming our broken system, I must observe that S. 744 repeats many of the mistakes of the past," Goodlatte said at a hearing of his committee on the legislation. "We have serious concerns."
Goodlatte's critique was echoed by other Republicans on his panel. "I cannot find any deadline by which the border needs to be secure" under the legislation, complained Rep. Lamar Smith, R-Texas.
The Senate Judiciary Committee voted 13 to 5 to advance the measure to the full Senate, with three Republicans joining the Democratic majority.
The bill would aim to enact new border controls and enforcement mechanisms in the workplace, allow tens of thousands of workers into the country legally for high- and low-skilled jobs, and create a 13-year path to citizenship for the 11 million people already here illegally.
Senate Majority Leader Harry Reid, D-Nev., pledged Wednesday to bring the measure to the Senate floor in June after Congress returns from its Memorial Day recess. Minority Leader Mitch McConnell, R-Ky., said he would support a vote to begin debate on the measure, although he said he remained undecided about supporting it.
"I'm undecided about the bill, but I'm not undecided about the problem," McConnell said on Fox News Channel. "The border is unsecure and we need to fix it. So I've not decided yet whether this is the bill to do that, but we've got a serious problem along the border."
Meanwhile there were new setbacks for a bipartisan House group that has been working to finalize its own measure along the lines of the Senate bill.
The group of eight lawmakers, four Democrats and four Republicans, has been promising for months to release the legislation but has encountered numerous difficulties as it tries to get a deal that could get through the Republican-controlled House while also satisfying Democratic concerns.
Late last week, after reports that talks had stalled, lawmakers insisted they had an "agreement in principle." But on Wednesday lawmakers and aides said the group had new problems arising from a dispute over how to handle health care for immigrants here illegally.
Republicans in the group are trying to establish a system to ensure that no taxpayer money goes to pay for health care for people here illegally.
Democrats in the group thought they had come up with a mechanism that could satisfy that concern at least well enough to act as a placeholder so the group could release the legislation, two House aides said, speaking on condition of anonymity to discuss the private deliberations.
One aide described the solution as a fund to be paid for by fees in the bill to reimburse states and local governments any costs of health care for those in the country illegally.
But, according to the aides, House Democratic Leader Nancy Pelosi, D-Calif., and other Democratic leaders objected over concerns that the legislation moved too far to the right and into areas outside of the purview of the immigration group. That caused Democratic members of the group to back off the deal.
"They had agreed to that until Democrat leadership objected," Rep. Raul Labrador, R-Idaho, a member of the group, told reporters.
"What may be the story at the end of this session is that Obamacare killed immigration reform," Labrador said.
A House Democratic leadership aide, speaking on condition of anonymity to discuss private deliberations, said House Democratic leaders were not trying to interfere with the House immigration group, or slow it down, but simply trying to clarify the language.
Rep. Xavier Becerra, D-Calif., a member of the immigration group who also is a member of House leadership as Democratic Caucus chairman, said group members were still talking in pursuit of a deal.
"I think the eight of us are trying very hard to make a deal," Becerra said. "I think everyone, both the Republican and Democratic leadership, are working hard to try to get a deal that could get past the House."
Meanwhile, immigration advocacy groups were working to keep up the pressure for passage of an immigration reform bill. They mainly targeted their appeal at House Republicans.
Frank Sharry, Executive Director of America's Voice, said: "The Senate Judiciary Committee markup confirms what we already knew – this year's reform debate is a serious and bipartisan effort, while the marginalized anti-reform is sitting at the kids' table."
"Instead of gaining traction, they are spinning its wheels. When reform opponents hold rallies, no one shows up," Sharry said. "When they testify at congressional hearings, it's with the same tired cast of characters and the same discredited talking points.  And when they rally around a political candidate, that candidate often loses."
The Associated Press contributed to this report.