House Judiciary Dems urge Trump to interview with Mueller
House Democrats urged President Trump Thursday to talk to Robert Mueller as part of the special counsel's investigation into Russian meddling and potential collusion with Trump campaign associates during the 2016 presidential race.
Rep. Jerrold Nadler, D-N.Y., the ranking member on the House Intelligence Committee, and 15 other Democrats on the panel penned a letter to the president on Thursday, advising him to "submit to an interview."
"Although we disagree with you on a full range of matters, we all agree that it would be best for Special Counsel Robert Mueller's investigation to reach its conclusion as soon as possible," the letter read. "To that end, we write to advise you: stop stalling, stop blaming the investigation for your political troubles, and submit to an interview."
Nadler and the other committee Democrats referenced the recent revelations that there was an FBI informant communicating with members of the Trump campaign and reporting back to the bureau. While Trump dubbed the affair "Spygate" this week, the Democrat lawmakers suggested it was a "conspiracy theory" driven by Trump's "desire to bring the Special Counsel's investigation to an end."
"And that desire is perfectly clear," the letter read. "Provided he is free to follow the facts where they lead, the Special Counsel should complete his work as quickly as he can. But for all of your complaints about the length and reach of this investigation, you and your legal team continue to dance around the question of an interview with Mr. Mueller- a necessary precondition for completion of the investigation."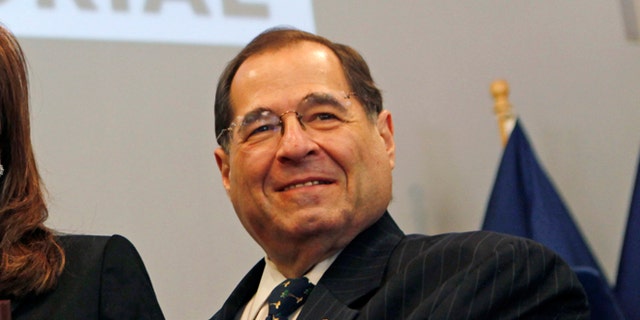 The letter suggested that Mueller could issue a subpoena for the president's testimony, and urged Trump to "avoid all of this unpleasantness" and be interviewed by the special counsel so that "Mueller can complete his work and issue his final report without delay."
Trump has repeatedly said he would be willing to sit down for an interview with Mueller, but has been advised by different, current and former, members of his legal team not to.
Trump's former head attorney representing him in the investigation, John Dowd, resigned earlier this year after voicing strong opposition to Trump doing an interview, sources told Fox News.
Trump's newest addition to his legal team, former New York City Mayor Rudy Giuliani has told Fox News this week that the president "wants to testify," but that they have not made a decision.
Earlier this month, Fox News obtained a full list of questions developed by Mueller's office, which include queries on former national security adviser Michael Flynn, former FBI Director James Comey, Attorney General Jeff Sessions and the 2016 meeting at Trump Tower between campaign associates and Russian figures.
Giuliani told Fox News earlier this month that many of the questions are not about Russia, but rather indicate that the special counsel's team wants to "trap" Trump "into perjury."
GIULIANI SAYS MUELLER TEAM 'DESPERATE' TO MAKE CASE, LAYS OUT TERMS FOR POSSIBLE TRUMP INTERVIEW
"Wasn't this an investigation about Russian collusion?" Giuliani asked. "Well, they lost that one. Not true. So now they're falling back to obstruction, which is not true either, and perjury, which is only true if you testify. And perjury can be in the mind's eye of the prosecutor, it's very dangerous."
Giuliani also said that scheduling a potential interview with Mueller was made more difficult due to Trump's schedule—specifically the high-profile, much anticipated summit with North Korean leader Kim Jong Un.
"How can we take three, four hours, three, four days out of that schedule?" Giuliani asked. "To prepare him for a deposition when he should be preparing to go to North Korea."
On Thursday, the president announced he had canceled the highly anticipated summit with the rogue regime, following "hostility" and threats from Kim. Trump warned that the U.S. would continue its "maximum pressure campaign," and warned that the U.S. military was "ready if necessary."
A spokesman for Judiciary Committee Chairman Bob Goodlatte, R-Va., did not immediately respond to Fox News' request for comment on the letter sent to the White House from the ranking staff.
Fox News' John Roberts and Chad Pergram contributed to this report.