Haley Holds Wide Lead in South Carolina GOP Gubernatorial Race Despite Affair Claims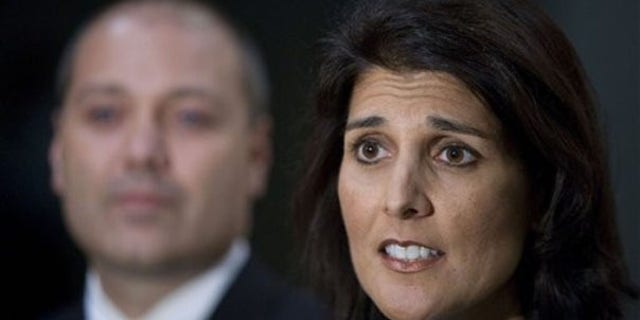 Race to Watch, Update:
South Carolina state Rep. Nikki Haley has taken a commanding lead over her competitors in the final stretch of the bare-knuckle race for governor as one of her challengers continued to fuel the drama over allegations that Haley had affairs with two men.
Haley, a married mother of two, is the apparent front-runner after coming from behind in the four-way race for the Republican nomination. The latest survey from Public Policy Polling, a Democratic polling outfit, showed Haley leading by 20 percentage points -- 43 percent to 23 percent for Rep. Gresham Barrett. Lt. Gov Andre Bauer and Attorney General Henry McMaster trailed behind both of them.
Aside from trying to become the first female governor of South Carolina, Haley has also faced the challenge of fending off accusations of extramarital affairs. First blogger and former Haley communications consultant Will Folks claimed he had a relationship with Haley. Then consultant Larry Marchant, who was working for Bauer until last week, claimed he had a one-night stand with Haley -- though he offered no evidence.
Bauer had challenged Haley, who denies all the allegations, to take a lie detector test. When she did not, Bauer took the test himself. He released results on Monday that he said shows he wasn't behind Marchant's claims.
"I wanted to prove I was telling the truth," he said in a written statement. The results of the test show Bauer denying that he urged Marchant to come forward -- but the test did not address the veracity of Marchant's allegations.
The four Republicans are all vying for the job Mark Sanford, who is term-limited, is leaving behind. Sanford is a Haley supporter who last year admitted to having an extramarital affair with a woman in Argentina. The scandal led to his divorce but he kept his job.
Polls opened at 7 a.m. ET and close at 7 p.m. ET.
The PPP poll of 998 likely state GOP primary voters was taken June 5-6. It had a margin of error of 3.1 percentage points.
Race to Watch:
Republican Gubernatorial Primary -- Gresham Barrett vs. Andre Bauer vs. Henry McMaster vs. Nikki Haley
The South Carolina gubernatorial contest has become a political spectacle as state Rep. Nikki Haley fends off allegations of affairs that emerged in the final weeks before the primary election.
She is leading in the polls against three other established candidates in the race for the seat held by outgoing Gov. Mark Sanford. That position in the race was threatened after blogger and former Haley communications consultant Will Folks claimed last month that they had a relationship.
Then lobbyist Larry Marchant, who was working for Haley primary opponent Lt. Gov Andre Bauer until last week, claimed he had a one-night stand with Haley -- though he offered no evidence.
Haley, who boasts the support of Tea Party groups and former Alaska Gov. Sarah Palin, has vehemently denied the charges. Palin stepped to her defense last month, claiming on her Facebook page that the attacks against Haley were typical for "conservative 'underdog' candidates who surge in the polls and threaten to shake things up."
Attorney General Henry McMaster and Rep. Gresham Barrett are also running for the GOP nomination for governor. The winner will face one of several candidates from the Democratic side: state Sen. Vincent Sheheen, state Sen. Robert Ford or Education Superintendent Jim Rex.
Other Races:
Democratic Senate Primary -- Alvin Greene vs. Vic Rawl
Republican Senate Primary -- Jim DeMint vs. Susan Gaddy
1st Congressional District Republican Primary -- Paul Thurmond vs. Tim Scott vs. Carroll Campbell vs. Stovall Witte vs. Larry Kobrovsky vs. Katherine Jenerette vs. Clark Parker vs. Mark Lutz vs. Ken Glasson
2nd Congressional District Republican Primary -- Joe Wilson vs. Phil Black
3rd Congressional District Republican Primary -- Joe Grimaud vs. Jeff Duncan vs. Neal Collins vs. Frank Vasovski vs. Richard Cash vs. Rex Rice
3rd Congressional District Democratic Primary -- Jane Dyer vs. Brian Doyle
4th Congressional District Republican Primary -- Bob Inglis vs. Christina Jeffrey vs. David Thomas vs. Trey Gowdy vs. Jim Lee