Haley accuses Russia of allowing Syria to deny needed aid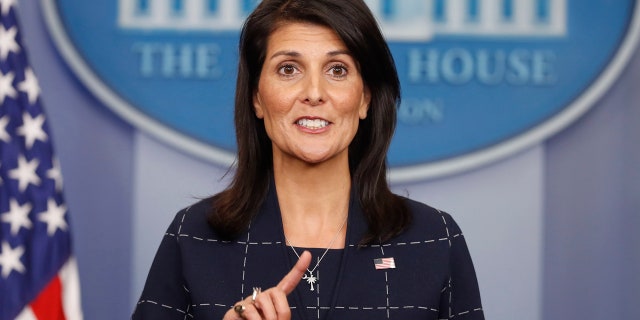 NEWYou can now listen to Fox News articles!
UNITED NATIONS – U.S. Ambassador Nikki Haley accused Russia on Thursday of providing cover for the Syrian regime's use of chemical weapons and denial of desperately needed aid to hundreds of thousands of besieged people — and she urged international pressure on Moscow "to stop this."
Russia's deputy U.N. ambassador Petr Iliichev retorted that Russia, Turkey and Iran are working to ensure compliance with a cease-fire in Syria — and he pointedly asked why the U.S. and its Western allies didn't say a single word about what they are doing to improve the situation.
The sharp exchange took place during the monthly Security Council meeting on the humanitarian situation in Syria.
Iliichev said earlier that, on the whole, the Dec. 30 cease-fire is holding, though there are movements of "terrorists and armed groups" and incidents undermining it that are affecting the delivery of aid.
U.N. humanitarian chief Stephen O'Brien told the council the already bad humanitarian situation is deteriorating, noting that not a single aid convoy reached a besieged area in Syria this month "due to a lack of authorizations," mainly by President Bashar Assad's government.
O'Brien also decried "starve and surrender" tactics being used primarily by the government to arrange local agreements with opposition groups under siege to evacuate people who have had no access to food or medical care.
While this has reduced the number of people in besieged areas to just over 620,000, O'Brien stressed that the evacuations "are not in line with humanitarian principles." He said many evacuees were forced to leave their homes and continue to suffer, some in areas which come under regular attack.
Haley accused Syrian troops of taking medical supplies, including baby formula and kidney dialysis equipment, off convoys and selling them on the black market at inflated prices, saying "this is a major business in Syria."
"Russia must live up to its promise to deliver real peace talks and a real political solution," she said. "The sieges of the Syrian people must be lifted. The war profiteering and the theft of medical supplies must be stopped. The Syrians in desperate need of humanitarian assistance must receive it."
Speaking last as this month's council president, Haley noted that many council members had called for pressure on the Syrian regime. But she said Assad — who "clearly believes it is necessary to starve hundreds of thousands of people in order to remain in power" — is the wrong target.
"All eyes and all pressure now need to go to Russia because they are the ones that could stop this if they wanted to," she said, urging council members not to continue "to give Russia a pass for allowing this terrible situation to occur."
She said she will continue to press for Security Council action even if Russia keeps vetoing resolutions on Syria, "because it is our voice that needs to be heard, because I can tell you the Syrian people don't care about diplomacy. ... They're just trying to live their very last days."
Russia's Iliichev, taking the floor after she spoke, asked Haley: "How are you bringing pressure to bear on your moderate or non-moderate opposition that you have influence on" to try to end the six-year conflict that has killed over 400,000 people.
He noted that O'Brien also referred to areas "that are surrounded or controlled by terrorists," where it is exceedingly difficult to deliver aid.
In his speech earlier, Iliichev said Russia doesn't share criticism of local agreements stressing that they save lives and avoid further casualties.
"The ongoing criticism of the Syrian government and the emotional calls to the country guarantors (of the cease-fire) including Russia don't help anything," he said.
"We're carrying out our obligations in good faith," the Russian envoy said. "There are other important players, too, who unfortunately aren't hurrying to meet us halfway. Only a collective approach here can create a positive effect."