Government's war on pizza? Looming ObamaCare menu rule has restaurant owners worried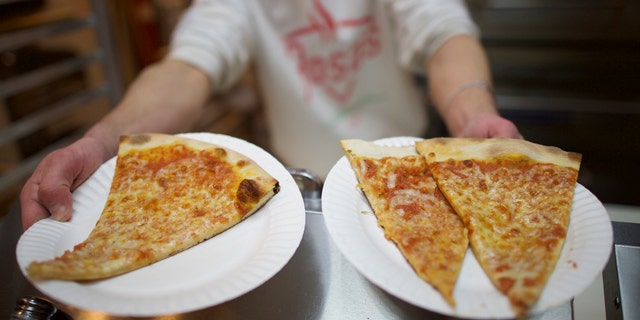 NEWYou can now listen to Fox News articles!
The government is about to make one of life's most difficult tasks – deciding on pizza toppings – even more complicated.
A new ObamaCare-tied regulation is poised to take effect in a matter of days that will require calorie counts on in-store menu boards. And while this presents customers with yet another factor weighing on their pizza decision-making, it poses an even bigger challenge for restaurant owners – who are blasting the regulation as a costly burden.
"There are over a million combinations of pizza toppings, and some of our stores aren't going to have enough wall space for these menu boards," Jim Gerety, the chairman of the Domino's Franchisee Association, told Fox News. "We are not against helping people make informed decisions. But the way these regulations are written isn't logical for our business."
'Some of our stores aren't going to have enough wall space for these menu boards.'
Jim Gerety, who owns 18 Domino's stores in the Midland-Odessa region Texas, says the cost and space associated with the new rule are a big concern.
While the rule won't literally lead to menus featuring a million calorie combinations, it will require restaurants to add considerably more information to those boards – some of which already is available online, Gerety noted. He said it doesn't make sense for an industry where most customers order online or over the phone.
The menu labeling rule, which takes effect on May 7, stems from the Affordable Care Act. It is yet another reminder that Congress' recent vote gutting the individual mandate was no de facto repeal of ObamaCare.
The rule specifically required the Food and Drug Administration to draw up regulations covering restaurants, convenience stores, grocers and movie theaters with 20 or more locations. Though part of large corporations, the franchisees often are local business owners. While the rule covers nearly all chain restaurants, the pizza industry contends it is disproportionately hurt because of the number of toppings combinations and its delivery-focused business model which renders in-store menus less important. And they worry about the consequences of running afoul of the rules.
"If I have a pizza maker doing the best he can, but he misses a pepperoni and falls out of the guidelines, there shouldn't be any criminality involved in that," Gerety said.
Under the Federal Food, Drug, and Cosmetic Act of 1938, knowingly misbranding food on menu items is a criminal offense punishable by imprisonment of up to one year. Another law, the Criminal Fine Enforcement Act, covers the food act and imposes a $100,000 penalty for misrepresenting food on a menu.
Obama's Office of Management and Budget even estimated in 2011 that with 14.5 million hours of compliance time, the menu labeling regulation was the third most burdensome rule added to the federal registry from the year before. The cost of implementing menu boards with calorie counts could be about $5,000 annually per store, says the American Pizza Community, an industry group.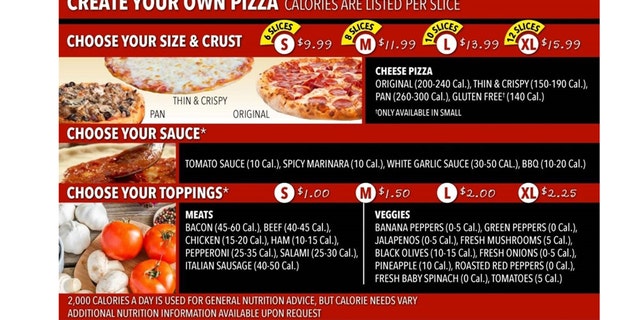 "These regulations are written for Applebee's or McDonald's, not for a business that primarily delivers," Tim McIntyre, chairman of the American Pizza Community, told Fox News. "We're just asking the FDA to realize we've got this thing called the Internet, and it's not going away."
McIntyre, also an executive vice president with Domino's, added that the regulations aren't written in a way to simply list the toppings. Rather, the rules require a calorie range for the different toppings.
Further, the most recent notice issued last November doesn't shield restaurants from litigation, he said.
"This is ripe for the plaintiff's bar to look for a statistically significant case of brand X, and accuse them of false information with calorie counts," McIntyre said.
The Obama administration delayed implementation of the rule twice since it was issued in 2014, and the Trump administration again delayed implementation last year.
Trump-appointed FDA Commissioner Scott Gottlieb, though, seemed poised to implement the rule during remarks March 29 in Washington, noting a 6-percentage-point increase in obesity among Americans over the last decade.
"Consumers are more interested than ever before to learn about the food they eat," Gottlieb told the National Food Policy Conference. He added, "Beginning on May 7, 2018, consumers can walk into these covered eating establishments across the country and know at a glance how many calories are in the foods they order for themselves and their kids."
In February, 32 Democrats joined House Republicans to pass the alternative Common Sense Nutrition Disclosure Act in a vote of 266-157. The legislation was sponsored by House Republican Conference Chairwoman Cathy McMorris Rodgers, R-Wash., and Rep. Tony Cardenas, D-Calif. Sen. Roy Blunt, R-Mo., sponsored a companion bill.
The bill allows business owners to give calorie ranges based on how an item is normally ordered rather than every possible combination for a sandwich or pizza. It would also consider as compliant online calorie counts, and give a 90-day window to correct any violations.
"This bill isn't about merits of calorie counts; it's about providing flexibility for businesses to provide that information in a way that makes sense for them and their customers," McMorris Rodgers said in a statement.
In a statement of administration policy, the White House also announced President Trump would sign the bill because it would "save American businesses from Obamacare's heavy-handed statutory framework."
"Further, it would modernize menu labeling by allowing businesses to provide information in the most useful way to customers, recognizing that Americans order food in the 21st century by phone, online, using mobile apps, and in person," the White House statement says.
However, the bill has many critics, such as the Center for Food Safety, a liberal advocacy group, which said in an action alert the legislation "would make it easier for restaurants to continue hiding the information."
"The bill would allow companies to provide calorie information based on their own made up serving sizes, weaken enforcement and accountability, and, for certain establishments, not require the information be provided in-store," the center continued.
Fred Lucas is the White House correspondent for the Daily Signal.