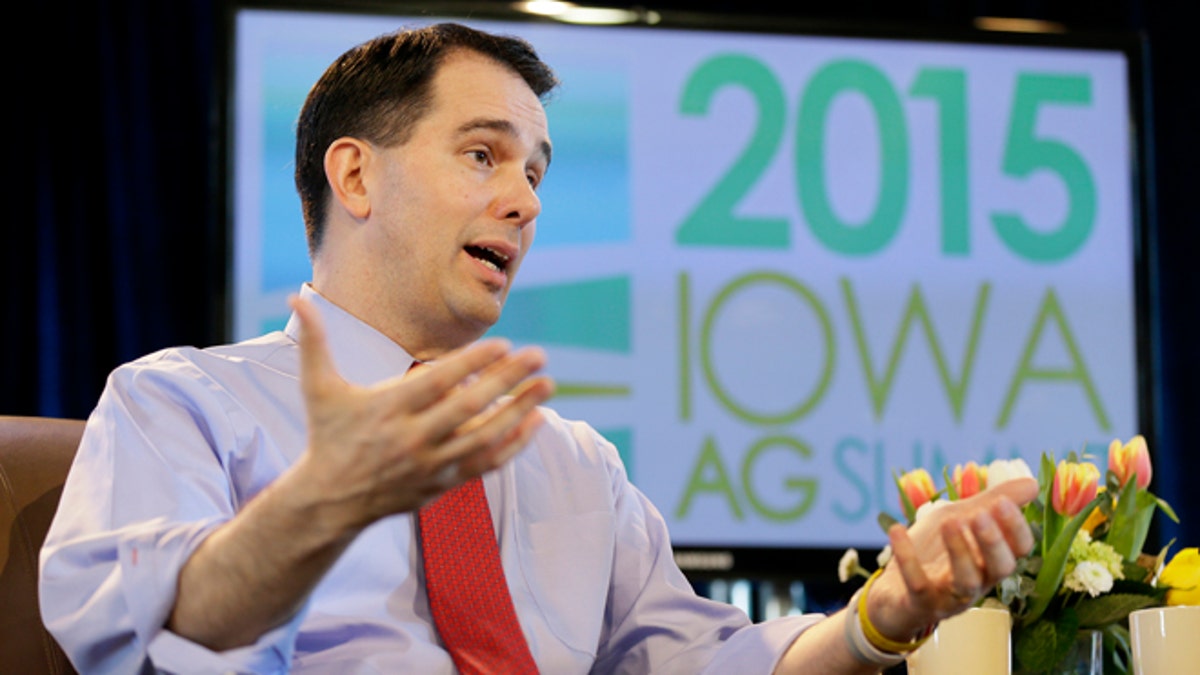 WASHINGTON (AP) – A dispute over Wisconsin Gov. Scott Walker's position on immigration erupted on Thursday, highlighting the Republican's struggle to appeal to conservatives on explosive issue as he prepares to launch a presidential bid.
The two-term governor has consistently opposed what he calls "amnesty" for immigrants in the country illegally, but his definition of amnesty has evolved. In a recent closed-door meeting with top New Hampshire Republicans, Walker said such immigrants should be allowed to stay in the country legally.
That's according to New Hampshire GOP chair Jennifer Horn, who organized the meeting and challenged a Thursday report in the Wall Street Journal that Walker said he supported giving such immigrants a pathway to citizenship.
"I specifically asked a follow-up question on the immigration reform issue, where he very clearly identified he was advocating a path for legal status but not citizenship," Horn said in an interview with the Associated Press.
For the GOP, there is perhaps no more contentious issue heading into the 2016 presidential contest than illegal immigration. Republican voters remain deeply divided and the nation's surging Hispanic population is expected to play a key role, particularly in swing states.
The distinction between a pathway to citizenship and legal status matters little to many conservatives, who support widespread deportation to handle the estimated 12 million immigrants in the country illegally.
Walker's position is largely the same as that of former Florida Gov. Jeb Bush, who has been widely criticized by the GOP's most passionate voters for supporting "amnesty." Bush says he would start by verifying control of the U.S.-Mexican border, but also supports allowing people in the country illegally to seek legal status by first pleading guilty to illegal entry and serving a sentence of fines and community service.
Horn said Walker's comments came as he and his wife shared dessert in a Bedford, New Hampshire, restaurant with roughly 10 leading Republicans.
In the half-hour discussion, Walker called for securing the border and allowing for more visas for high-skilled workers. He also said it was unreasonable to deport millions of immigrants in the country illegally, preferring a system that allowed them to pay back taxes and achieve legal status over time, according to Horn.
"The governor was very specific that he was not advocating for citizenship for illegal immigrants," Horn said.
However, in a 2013 interview with a Wisconsin newspaper editorial board, Walker said that offering such immigrants a pathway to citizenship "makes sense."
Earlier this month, he was asked during an interview on "Fox News Sunday" if he could "envision a world where if these people paid a penalty, that they would have a path to citizenship." The governor responded: "I believe there's a way that you can do that. First and foremost, you've got to secure that border or none of these plans make any sense."
On Thursday, Kirsten Kukowski, a spokesman for Walker's political action committee, said that Walker "has been very clear that he does not support amnesty and believes that border security must be established, and the rule of law must be followed."
"His position has not changed," Kukowski said. "He does not support citizenship for illegal immigrants."
Kukowski did not respond to a follow-up question about Walker's position on granting immigrants legal status, which is considered amnesty by many conservative activists.