GOP candidates line up to take on Romney in Utah Senate race
After 40 years, one of Utah's Senate seats will be back in contention after longtime Republican Sen. Orrin Hatch announced he was retiring.
Hatch is 84 years old and amid mounting speculation that he would not run for another term, former Massachusetts governor and 2012 presidential candidate Mitt Romney announced Feb. 16 he would vie for the seat.
The prospect of a political powerhouse like Romney winning the primary has not daunted the hopes of a flooded field of candidates who have filed alongside him to try their chances. The race is being called a "David vs. Goliath" situation. Ten candidates have filed to run in the hopes of besting the former governor. Some have political experience and some do not. Voters and party officials are wondering if they even have a chance.
"When there's an open seat, typically there are 12 to 15 people that throw their name in the hat, but I will say this election cycle, because of the name recognition, there are a lot of candidates that I've known that were interested in running for that seat that will not run against Mitt Romney because they read the tea leaves and they say I do not want to get defeated by Goliath and come back in six years or 12 years and run again as the guy who got trounced," said Rob Anderson, chair of the Utah Republican Party.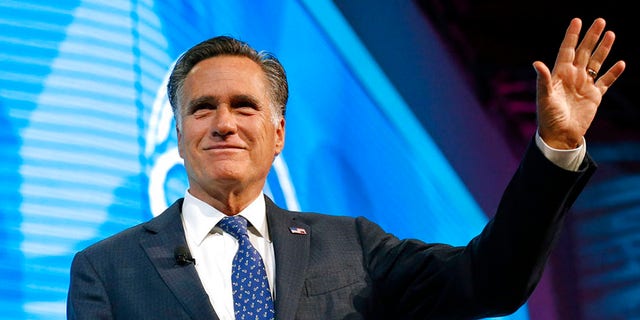 But with that name recognition comes withering criticism that Romney was too harsh on President Trump in the early months of the 2016 campaign. President Trump has since endorsed his candidacy, but for Utahns, those denouncements echo loudly.
"I believe he is as politically dangerous as he is physically attractive," said candidate Jeremy Friedbaum; a local restorer of grand pianos who has run in races previously. "He's truly dangerous, if he had gotten his way with not having anybody vote for Trump, we'd have Hillary Clinton as our president today. We'd lose the courts, corruption would be deeply entrenched…you shouldn't trust a man who tried to do that."
Other candidates have concerns that Romney's bid is seemingly like a planned "coronation" and want it to be a conversation about issues that affect Utahns instead.
But the Romney for Utah campaign disputes that notion.
"In a little over a month he's been to 21 of the 29 counties. He's made stops in 40 cities, he's put almost 5,000 miles on his truck, his 2002 Chevy. So we have been circling the state up and down. He's been working hard," said MJ Henshaw, a spokesperson for the campaign.
Those in Utah Republican political circles said State Rep. Mike Kennedy has the qualifications and is very well liked and can give Romney the strongest chance of a worthy challenge, but that his national recognition is next to none.
Kennedy grew up poor and has eight children. He's a doctor of law and medicine and describes himself as a "common man."
If elected, he said he would stand with the president even when times are tough – not just when it suits him.
"And not convenient and at the same time if there are disagreements," he said. "There's a way to respectfully disagree. I don't believe that throwing criticisms likes throwing rotten tomatoes at a poor actor on stage is the best way to go about things."
The Utah GOP picks its nominee through the caucus system. Candidates can appeal to delegates directly to capture their vote. At the nominating convention on April 21, if a candidate gets 60 percent or more of the vote, then no primary is even held and the winner would face-off against the Democrat in the general. But candidates do have another option to get on the ballot if they can get signatures as well, 28,000 are needed to qualify. If so, a primary would take place.
But that's not deterring some of the more obscure personalities from running, especially Brian Jenkins, an Abraham Lincoln impersonator. He filed to run dressed in a top hat and long black overcoat, complete with a dyed long beard.
He admits it is part publicity stunt and marketing ploy to get voters interested in Lincoln's life and philosophy,
"I'd probably walk around just like this on the Senate floor," he said.
Voters in this predominantly red state have grown more unfavorable to President Trump's job performance in recent months. The most recent Real Clear Politics average has it at 55.7 percentage points.
The race so far has opened old intraparty wounds dating back to the 2016 election with fraught, yet consistent quibbling as establishment and tea partiers come#MAGA types square off.
Kennedy, in his campaign video, offers the question:
"Do you honestly think an establishment insider is going to fix the problems in Washington and restore our values?"