George P. Bush says his uncle, grandfather could 'potentially' vote for Clinton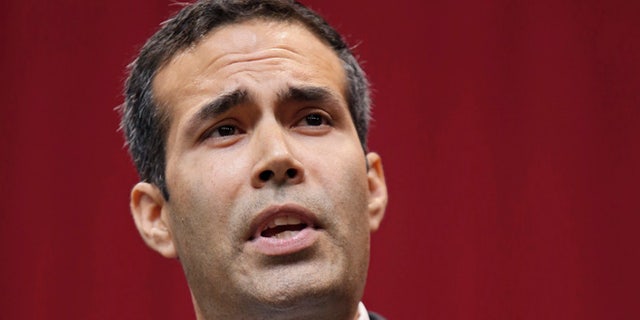 NEWYou can now listen to Fox News articles!
George P. Bush may be supporting Republican presidential nominee Donald Trump, but he said it's possible that his grandfather and uncle might be voting for the mogul's rival.
Speaking at an event of Tuesday, the Texas land commissioner – and son of former Florida Gov. Jeb Bush – said that his relatives, former presidents George H. W. Bush and George W. Bush, could "potentially" vote for Democratic nominee Hillary Clinton over their own party's choice for president.
"Potentially. But hard to speculate," he said, according to USA Today.
Neither of the former presidents has endorsed Trump. Neither has Jeb Bush.
Jeb Bush was once seen as the Republican frontrunner in this year's presidential race but his candidacy failed to gain traction.
George P. Bush quickly backtracked on his words when questioned later by The Associated Press.
"I don't know how they voted. I'm speculating, to be honest," he said.
In September, both Politico and The Guardian reported that Kathleen Hartington Kennedy Townsend, the eldest daughter of the late Robert F. Kennedy, posted on Facebook that George H.W. Bush had told her he was voting for Clinton. The Bush family has yet to confirm or deny the report.
George P. Bush is so far the only member of the Bush dynasty to openly endorse Trump.
While earlier in the summer the young Bush said he would not endorse Trump, he did an about-face in August during a GOP gathering in Texas.
"I know a lot of us in this room had dogs in the fight of the primary, leading up to the race. But you know what? It's time to put it aside," he said at the event. "From Team Bush, it's a bitter pill to swallow, but you know what? You get back up and you help the man that won, and you make sure that we stop Hillary Clinton."
That comment was marked change from an earlier one, when George P. Bush was quoted by the Austin-American Statesman as saying: "I, along with others, are not in a position to endorse at this time because of concerns about his rhetoric and his inability to create a campaign that brings people together."
The Associated Press contributed to this report.