From Jon Stewart to cable news, media missteps fuel backlash in Middle East war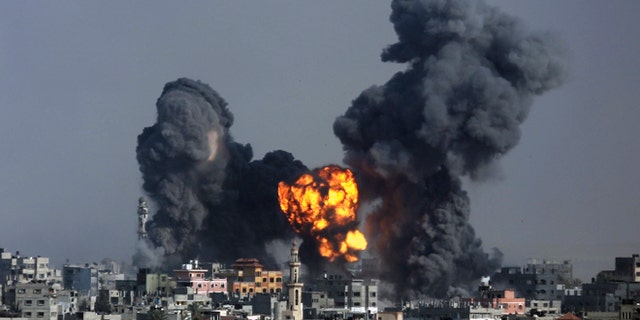 The media environment surrounding the conflicts in the Middle East and Ukraine has turned incendiary, and a number of journalists are getting burned.
It's understandable that passions are running high, given that more than 550 Palestinians and 27 Israelis have died in the war with Gaza, and 298 people were killed when the Malaysian jet was shot down, almost certainly by pro-Russian separatists. Any journalist who has written or spoken about the Middle East knows it is impossible to satisfy both sides, given the fierce levels of animosity.
The backlash was captured by Jon Stewart, who was roundly rebuked for a "Daily Show" bit about the conflict with Hamas that made serious if satiric points—such as that the Israelis are warning Gaza residents of bombings with non-lethal explosions (plus phone calls and leaflets, by the way) and that Gazans have nowhere to evacuate.
Times of Israel columnist David Horovitz ripped Stewart for kicking off the segment by saying "as the aerial bombardment from both sides continues … Tastes great. More killing."
"He's begun with talk of Israel being set to invade Gaza, but without any cited reason — such as, say, Hamas being a terrorist organization with a notorious track record of suicide bombings, individual killings, kidnappings, and incessant rocket fire. And, second, because the implication here is that the combatants — Israel and Hamas — are both happy to be back killing again, and that's just plain false."
Stewart came back with a segment in which a gaggle of correspondents pop up to denounce him — as a "self-hating Jew" and "Zionist pig," among other things -- every time he mentions the word Israel. Amid the shouting, he makes this serious observation: "Just merely mentioning Israel or mentioning in any way the effectiveness or humanity of Israel's policies is not the same thing as being pro-Hamas."
That is true, and Stewart is entitled to defend himself — but he retreats to slapstick comedy, jokingly giving up on the segment. He has, however, touched a sore spot that is also affecting real journalists.
On MSNBC, contributor Rula Jebreal ripped the cable channel, NBC News and other media organizations for an overwhelmingly pro-Israel tilt: "We are ridiculous. We are disgustingly biased when it comes to this issue. Look at how much airtime Netanyahu and his folks have on air on a daily basis. I never see one Palestinian being interviewed on these same issues."
Yes, Bibi Netanyahu has been all over the American airwaves, doing interviews with everyone from Brian Williams to Bret Baier. But Hamas officials, who favor the obliteration of Israel, aren't exactly racing to the cameras, and Palestinian leader Mahmoud Abbas has kind of sidelined himself on the West Bank.
Now Jebreal, an Italian-Palestinian journalist who once hosted a talk show in Egypt, is suggesting a form of retaliation. "My forthcoming TV appearances have been cancelled!" she tweeted. "Is there a link between my expose and the cancellation?" (Apparently not: she was on Chris Hayes' MSNBC show last night.)
CNN, meanwhile, yanked correspondent Diana Magnay from the Israeli-Palestinian fighting after this tweet: "Israelis on hill above Sderot as bombs land on #gaza; threaten to 'destroy our car if I say a word wrong.' Scum."
But did Magnay mean this group of Israelis were scum for what they said to her, or for cheering a military strike against Hamas, as the citizens of any country under bombardment might do?
A CNN statement said Magnay "deeply regrets the language used, which was aimed directly at those who had been targeting our crew. She certainly meant no offense to anyone beyond that group, and she and CNN apologize for any offense that may have been taken."
The network moved Magnay to Moscow, where she is now challenging the conclusion by U.S. officials that pro-Russian militants shot down Flight 17: "Well, how credible is the U.S. evidence? The evidence the U.S. has put out there — these tapings where we hear the pro-Russian separatists having a conversation with someone who is supposedly a Russian military official of some sort — it's difficult to prove that that is real… From the Russian perspective, all the evidence right now is fairly flimsy."
Covering the third war between Israel and Gaza since the Jewish state ended its occupation nine years ago is rather treacherous. Hamas, as you'll recall, began the current conflict by praising as a heroic act the killing of three Israeli teenagers returning from religious school. The Netanyahu government struck back with warplanes, but also condemned the subsequent killing of a Palestinian teenager by an Israeli mob and has arrested suspects in the case.
Israel's technological superiority has limited deaths on its side, since its Iron Dome defense system has shot down most of Hamas' rockets, which are aimed indiscriminately at civilians. Israel has tried to warn Gazan civilians of coming attacks, but with Hamas hiding weapons in such places as schools and hospitals -- along with inevitable mistakes -- the Gaza death toll has been high, subjecting the Israelis to international criticism as it tries to destroy the tunnels that Hamas uses to stage attacks.
Thus, with Wolf Blitzer reporting in Israel, a CNN banner asked: "Do Gaza Deaths Hurt Israel's Position?"
In New York magazine, Benjamin Wallace-Wells argues that social media have changed the playing field by quickly spreading images of dead Palestinian civilians around the world:
"Israel was so clearly losing the public-relations war that Prime Minister Benjamin Netanyahu complained to reporters, tersely, that Hamas uses 'telegenically dead Palestinians for their cause.'"

"If Netanyahu is so bothered by how dead Palestinians look on television then he should stop killing so many of them. But his complaint is in itself a concession. The story of the conflict between Israel and Palestine looks a little bit different this time around. Social media have helped allow us to see more deeply inside war zones — in this case, inside Gaza — and allowed viewers much fuller access to the terror that grips a population under military attack. ...
"The sheer imbalance in the human toll, in the numbers of dead, has been impossible to elide or ignore."
From the other side, former U.S. ambassador to Israel Michael Oren, now a CNN analyst, faults news organizations:
"More than a military strategy, Hamas has a media strategy. Calculatingly, Hamas employs primitive military tactics to mount a sophisticated media campaign that can threaten Israel's basic security. And in conducting that offensive, Hamas can count on one of the world's most powerful weapons: the international media.
Hamas fires hundreds of rockets at Israeli cities and towns and tries to attack Israeli farms via the sea and through tunnels…
"Throughout, Israel strives tirelessly to minimize Palestinian civilian casualties. Yet in spite of the hundreds of thousands of leaflets Israel dropped, the countless text messages and personal phone calls it made warning Palestinian civilians to leave targeted areas, tragedies still occur. Israel deeply regrets these losses and continuously hones its operations to make them more surgical still.
"In a war with Hamas, though, Israel's strength and morality can become vulnerability and guilt. By investing nothing in air raid sirens and bomb shelters, by hiding deep beneath neighborhoods and shooting near hospitals and mosques, Hamas ensures that Israel will invariably wound and kill civilians."
Oren argues that the media "must not allow themselves to act as accessories to Hamas's murderous strategy."
At the same time, the media cannot ignore the mounting casualties in Gaza, including women and children, even if they are part of a cynical attempt by Hamas to discredit Israel by putting its people in harm's way.
All the more reason why journalists must strive, with their daily casualty counts, to add context and perspective. They don't have the option, like a late-night entertainer, of turning this deadly war into comedic fodder.
Click for more from Media Buzz.