Fox News Poll: Clinton tops Trump by 7 points in Virginia
NEWYou can now listen to Fox News articles!
Although voters believe Donald Trump is better suited to handle top issues, Hillary Clinton is ahead in the battleground state of Virginia.
Clinton bests Trump by seven percentage points in the presidential race (44-37 percent), according to a new Fox News Poll of Virginia registered voters. That's within the poll's margin of sampling error.
The good news for Trump is that among just those voters "extremely" interested, he's up by three (45-42 percent). That's driven by the fact that more Republicans (43 percent) than Democrats (38 percent) say they are extremely interested in the presidential election.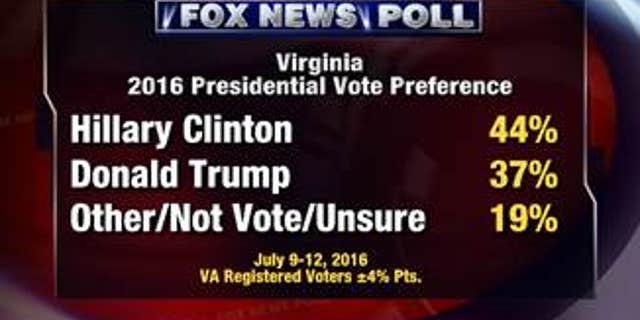 Clinton owes her edge to women (49-32 percent), blacks (83-5 percent), and voters over age 45 (45-39 percent).
Trump is preferred among whites (48-34 percent), men (43-37 percent), white evangelical Christians (64-23 percent), and whites without a college degree (57-28 percent).
CLICK HERE TO READ THE FULL POLL RESULTS
Large majorities of Democrats (85 percent Clinton) and Republicans (83 percent Trump) back their party's nominee.
Independents prefer Trump (34 percent) over Clinton (23 percent), yet many volunteer they are undecided (11 percent), will vote for another candidate (16 percent), or not vote (16 percent).
President Barack Obama won Virginia in 2012 by nearly four points over Mitt Romney, and beat John McCain by about six points in 2008. The state backed the Republican candidate in the three presidential elections before that.
Clinton's advantage is five points in a hypothetical four-way race: 39-34 percent over Trump. Libertarian Gary Johnson captures 10 percent and Green Party candidate Jill Stein gets four percent.
Most of those backing Clinton (86 percent) and Trump (88 percent) in the head-to-head ballot remain with them in the expanded race. Six percent of Trump supporters and five percent of Clinton supporters switch to Johnson. Three percent for each move to Stein.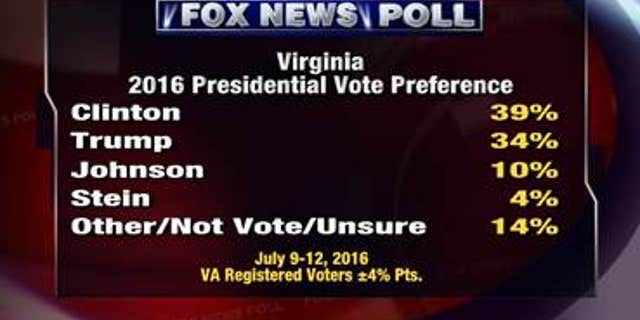 Voters narrowly think Trump would do a better job than Clinton handling almost every issue tested.
He bests her on the economy (47-43 percent), illegal immigration (47-43 percent), government spending (46-40 percent), and terrorism (45-43 percent).
Clinton is preferred over Trump by a double-digit margin on one issue: making nominations to the U.S. Supreme Court (51-37 percent).
Nearly 9-in-10 Virginia voters say the economy (86 percent) will be important to their vote for president. Roughly three-quarters feel that way about terrorism (76 percent) and government spending (72 percent). Nearly two-thirds ranks Supreme Court nominations at the same level (64 percent).
Temperament, experience, and empathy are clear advantages for Clinton.
Virginia voters are twice as likely to say the phrase "has the right temperament to serve effectively as president," applies to Clinton (54 percent) than Trump (27 percent). By 48-30 percent, more feel "qualified to be president" describes Clinton than Trump.
Forty-four percent think "cares about people like you" applies better to Clinton, while 31 percent say Trump. One in five, 21 percent, volunteers the response "neither."
Clinton narrowly tops Trump on being a "strong leader" (41-39 percent).
The two candidates tie on who is better described as being "honest and trustworthy" (32 percent apiece). One-third of voters say neither candidate is honest (34 percent).
The real estate mogul has a clear advantage on bringing change: 48 percent think Trump would do a better job on a "new direction for the country," while 35 percent say Clinton.
"Virginia is clearly in play right now," says Democratic pollster Chris Anderson, who conducts the Fox News Poll along with Republican pollster Daron Shaw. "A major challenge for Trump in closing the gap is convincing voters he'll be different temperamentally as president than he's been as a candidate."
Overall, both candidates are unpopular. Clinton is underwater by 13 points (43 percent favorable vs. 56 percent unfavorable), while Trump's ratings are more negative by 28 points (35 percent favorable vs. 63 percent unfavorable).
In addition, majorities of independents have negative views of them.
It could help Clinton that 49 percent of independents have a favorable opinion of Obama. Among all Virginia voters, 55 percent view Obama positively vs. 43 percent negatively.
The Fox News Poll is conducted under the joint direction of Anderson Robbins Research (D) and Shaw & Company Research (R). The poll was conducted July 9-12, 2016, by telephone (landline and cellphone) with live interviewers among a sample of 601 Virginia registered voters selected from a statewide voter file and has a margin of sampling error of plus or minus four percentage points for the total sample.