Fox News First -- End of summer Senate spectacular!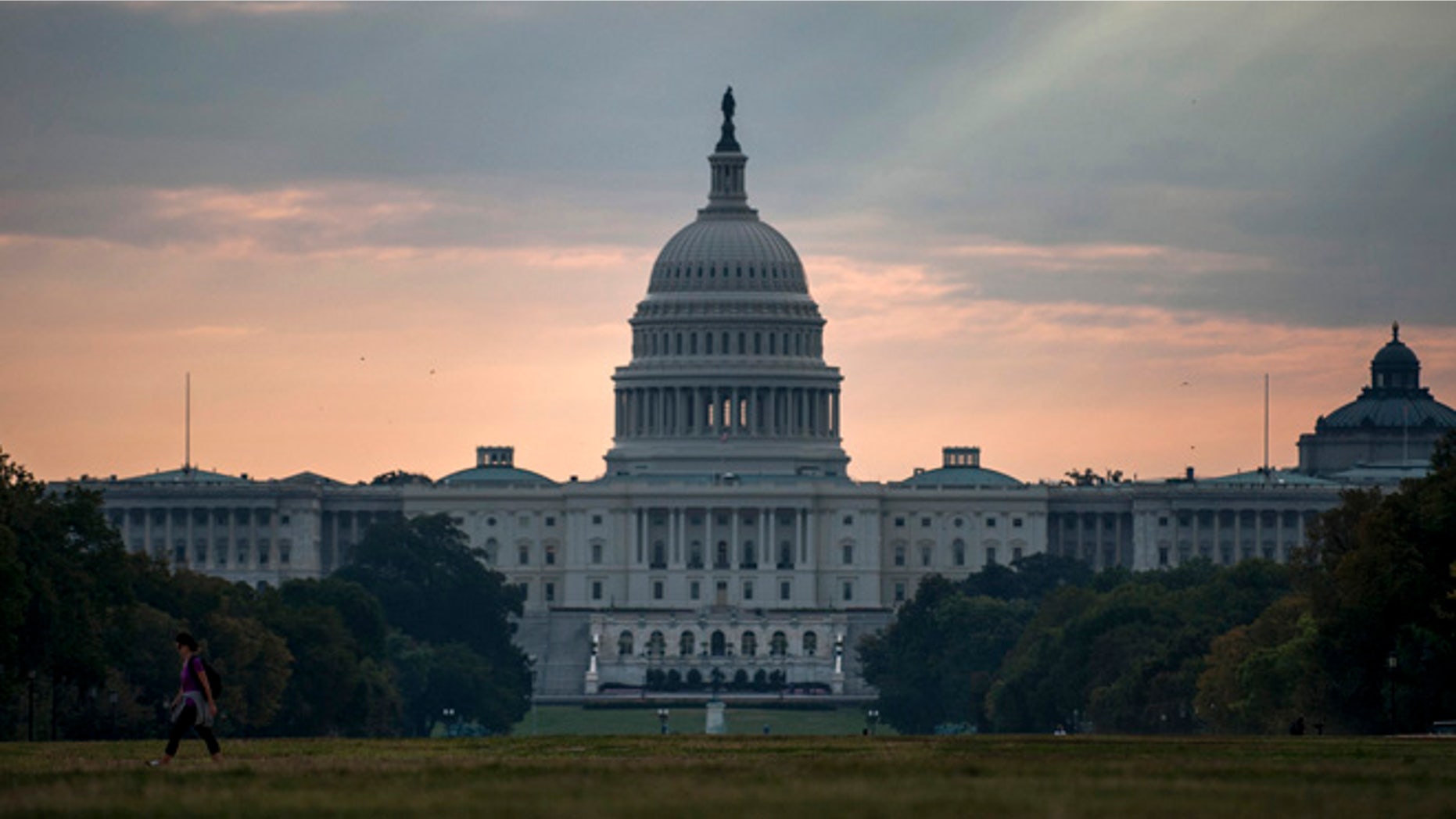 **Want FOX News First in your inbox every day? Sign up here.**
FOX NEWS FIRST -- END OF SUMMER SENATE SPECTACULAR!
We've all been passing the popcorn and marveling at the most astonishing presidential primaries of a generation. Angst and anger are simmering in both parties as establishment frontrunners falter and flail. For a rare moment, it seems like the future really isn't written. We know that what lies ahead will be ugly, but at least we have the gift of genuine uncertainty for once.

There's more to be done than just watching these reality shows play out, though. There's also the task of remaking the government in 2016.

Any poli-sci freshman can tell you about coattails in presidential years, and with 15 of 34 Senate seats up for election this cycle that look to be in play, the GOP's new majority is very much on the line. Democrats need to win five seats (four if they keep the vice presidency) of 10 potentially vulnerable GOP seats to regain control. And while Democrats have lots of places to go hunting, there are only two races, so far, where they are on defense.

You can put it this way: The chances of Democrats keeping the White House and Republicans holding the Senate are vanishingly small. And a rout by a Democratic candidate would put the GOP in no position to block the new president's agenda.

Similarly, it's hard to imagine a Republican presidential win that didn't keep a GOP Senate, or at least relative parity. If the red team wins the White House next year, the chances are good for the party to have a clean sweep of the House, Senate and presidency and a clear path for big policy changes.

So as you get away for the last taste of summer, take a look at the landscape for the Senate -- and then tuck this note away for later when the weather cools down and the races get hot.

GOP ON DEFENSE
Illinois - This has been the consensus choice for the first Democratic pick up from the start. Sen. Mark Kirk had every advantage when he got elected in 2010. He was running in a Republican wave election against a scandal-soaked Democratic nominee. Now, Kirk will have the opposite experience. Democrats are all but certain to nominate Rep. Tammy Duckworth, a disabled veteran with huge support in her party. Even worse for Kirk, he will be running alongside a Republican presidential candidate who can be expected to lose the state by as much as 20 points.

Wisconsin - In all likelihood this will be a re-match. Former Democratic Sen. Russ Feingold, who held the seat for three terms before his defeat at the hands of incumbent Sen. Ron Johnson in 2010 wants his spot back. Johnson swept to victory on the Tea Party wave six years ago and has cut significantly into an early spring Feingold lead in the polls. With the race tightening, the ace-in-the-hole for Feingold could be presidential-year turnout in the Badger State, which hasn't voted for a Republican presidential nominee since 1984.

Ohio - Former Ohio Democratic Gov. Ted Strickland is looking to make history as the oldest person ever elected to the Senate, and early polls suggest he may do just that. Incumbent Sen. Rob Portman, however has lived up to his reputation as one of the hardest working politicians in the game. He has erased much of Strickland's early advantage, and with outside groups already targeting the well-known Democrat on economic issues, expect this one to stay in the toss-up category. You can safely bet that the seat will go with the party the wins the state's electoral votes.

Pennsylvania - Republican incumbent Sen. Pat Toomey, who won his seat by just 2 points in 2010, has built a solid base of support in the blue state. Meanwhile Democrats face what is likely to be a hard-fought primary before taking Toomey on. Former Rep. Joe Sestak has been running for more than a year, but many Democratic leaders consider him erratic and have looked hard for an alternative - enter Katie McGinty, former chief of staff to Gov. Tom Wolf. While Toomey was once consider the most vulnerable of blue state Republicans, the RCP polling average puts him more than 10 points ahead of Sestak.

New Hampshire - Granite Staters are currently flooded with candidates running for president, but they also face an interesting race in their own backyards. Republican Sen. Kelly Ayotte has gone from rising star to powerhouse since her 2010 win and so far faces no primary challengers. Democrats have just one shot to make this race competitive: Gov. Maggie Hassan, who has continued to push off a decision as she tangles with the state Legislature. Insiders expect she will make the run, but her delay could be costly. Ayotte has consistently beaten Hassan in head-to-head polling and has been a tireless campaigner throughout the summer.

Florida - Sunshine State politics are always entertaining and with Rep. Alan Grayson making a run for Sen. Marco Rubio's vacated seat, 2016 will prove to be no exception. The Democratic establishment has its answer to the bombastic Grayson with Rep. Patrick Murphy. With still over a year to go, the DSCC has already endorsed Murphy to try and avoid the ugliness that's already playing out. On the Republican side, current Lieutenant Gov. Carlos Lopez-Cantera was a top recruit for the seat, but faces several primary challengers, and is by no means a guarantee. The simplest way to see this toss-up race: whichever party wins Florida's electoral votes will likely win not just the White House but also this Senate seat.

North Carolina - Democrats in the Tar Heel State are scrambling to find a challenger against incumbent Sen. Richard Burr. The party already received a setback when 2014 candidate Kay Hagan announced she would not run again earlier this year. Hagan lost to current Sen. Thom Tillis by 1.5 points in 2014, and was viewed as the strongest challenger to Burr. Without her and with the GOP expected to hold the state on the presidential level, Dems are left looking for a long-shot.

SAFE GOP SEATS RANKED BY 2012 VOTE
Utah: Sen. Mike Lee // Romney+50
Oklahoma: Sen. James Lankford // Romney+34
Idaho: Sen. Mike Crapo // Romney+32
Arkansas: Sen. John Boozman // Romney+24
Alabama: Sen. Richard Shelby // Romney+23
Kansas: Sen. Jerry Moran // Romney+22
North Dakota: Sen. John Hoeven // Romney+20
South Dakota: Sen. John Thune // Romney+18
Louisiana: Open seat (Sen. David Vitter running for governor)// Romney+17
Alaska: Sen. Lisa Murkowski // Romney+14
South Carolina: Sen. Tim Scott // Romney+11
Missouri: Sen. Roy Blunt // Romney+10
Indiana: Open seat (Sen. Dan Coats retiring) // Romney+10
Iowa: Sen. Chuck Grassley // Obama+5

POWER PLAY: POLITICS OF TRIUMPH
Put down politics has become intense in the Republican field lately. Who will survive the searing attacks and who will get burned? The Hill's Kevin Cirilli and the Washington Examiner's Ariel Cohen join Chris Stirewalt with their take. WATCH HERE

[Cohen and Cirilli also help Chris explain what the heck has politicians spending so much time courting Puerto Ricans this cycle. WATCH HERE.]

WITH YOUR SECOND CUP OF COFFEE…
Do you hate the new Google logo? You are not alone. New Yorker's Sarah Larson explains why the new kiddie font is so jarring. She writes, "The new logo retains the rainbow of colors but sheds the grownup curlicues: it now evokes children's refrigerator magnets, McDonald's French fries, Comic Sans. Google took something we trusted and filed off its dignity. Now, in its place, we have an insipid 'G,' an owl-eyed 'oo,' a schoolroom 'g,' a ho-hum 'l,' and a demented, showboating 'e.' I don't want to think about that 'e' ever again. But what choice do I have? Google—beneficent overlord, Big Brother, whatever you want to call it—is at the center of our lives. Now it has symbolically diluted our trust, which it originally had for all the right reasons."

Got a TIP from the RIGHT or the LEFT? Email FoxNewsFirst@FOXNEWS.COM

POLL CHECK
Real Clear Politics Averages
Obama Job Approval: Approve – 44.7 percent//Disapprove – 51.4 percent
Directions of Country: Right Direction – 28.7 percent//Wrong Track – 63.3 percent

DEMS ON DEFENSE
Nevada - With the pending retirement of Senate Minority Leader Harry Reid, Republicans have their best chance to flip a blue seat. Reid handpicked his designated successor, former Attorney General Catherine Cortez Masto, and has used his control of the state party to clear her path. Republicans hoped popular Gov. Brian Sandoval would make a run, but he waved off the chance. The disappointment was short-lived, though. Popular Rep. Joe Heck, who represents a competitive district just outside Las Vegas, is a top-drawer recruit.

Colorado - Sen. Michael Bennet may yet face some steep competition for a second term. Republican prosecutor George Brauchler, having recently won a conviction for Aurora movie theater shooter, is considering a bid. But the GOP primary still may yet unravel. Remember the 2010 election when botched primaries spared Bennet.

SAFE DEM SEATS RANKED BY 2012 VOTE
Hawaii: Sen. Brian Schatz // Obama+43
Vermont: Sen. Patrick Leahy // Obama+36
New York: Sen. Charles Schumer // Obama+27
Maryland: Open seat (Sen. Barbara Mikulski retiring) // Obama+25
California: Open seat (Sen. Barbara Boxer retiring) // Obama+21
Connecticut: Sen. Richard Blumenthal // Obama+18
Washington: Sen. Patty Murray // Obama+14
Oregon: Sen. Ron Wyden // Obama+12

ONES TO WATCH
Georgia - Considered a safe red state, Republican Sen. Johnny Isakson looks to be on his way to a third term in 2016. His only declared challenger is Derrick Grayson, a familiar face in Georgia politics. Grayson ran in 2014 as a primary challenger to now-Sen. David Perdue, but only took 1 percent of the vote. On the Democratic side, there's not much cooking. But, if Democrats can make the state's presidential contest closer this year and can field a candidate with clout, Isakson could face some trouble – especially if a more serious primary challenge develops.

Arizona - Sen. John McCain's bid for a sixth term already has conservatives in an uproar. State Sen. Kelli Ward has thrown her hat in the ring as a primary challenger, and others are sure to follow. Rep. Anne Kirkpatrick looks to be a shoo-in for the Democratic nomination. The blue team is hoping that McCain faces yet another painful primary and that, with the help of a split GOP and a growing Hispanic population, this could be the year to flip the seat.

Kentucky - The Bluegrass State could get interesting. This bright red state is an unlikely flip for Democrats unless Sen. Rand Paul's plan to run for his seat and the presidency simultaneously goes awry. The state GOP recently voted to switch to a caucus system for its presidential primary to allow Paul to dodge a state law that forbids seeking two offices simultaneously. It should be safe for the GOP, but you know what they say about the best laid plans…

North Dakota - Republican Sen. John Hoeven is a safe seat for Republicans, but fellow Senator, Democrat Heidi Heitkamp, may pose a conundrum for her party. Heitkamp is debating a run for the governor' mansion, which would leave her Senate seat open. Democrats don't appear to have anyone on the bench that could hold that seat for them, and that means a likely flip to red.

FOR YOUR SUNDAY VIEWING PLEASURE
#mediabuzz: Carly can - Host Howard Kurtz has an interview with Carly Fiorina on how she got herself to the main debate stage. Watch "#mediabuzz" Sunday at 11 a.m. ET, with a second airing at 5 p.m.

Fox News Sunday: Dangerous days for police - As America watches and worries over an increasing number of deadly attacks on police officers, host Chris Wallace sits down with the top cops from two cities where crime is up and tensions are high, Philadelphia and Milwaukee. Also, former Vice President Dick Cheney and his daughter, Liz, continue their book tour. Watch "Fox News Sunday with Chris Wallace" airs at 2 p.m. and 6 p.m. ET on Fox News. Check local listings for air times in your area.

CANADIAN CHICKENS DEEMED UNTRUSTWORTHY
CKOM: "A Dalmeny care home may have used a chicken farm to destroy sensitive medical records, Saskatchewan's privacy and information commissioner found out during his report into privacy concerns at the home. Commissioner Ron Kruzeniski found out Spruce Manor Special Care Home hired a chicken farm in May, 2012 to shred private documents… The agreement also did not say how the farm intended to keep the documents secure and confidential or how and when they would be destroyed…It's unclear if any files were ever sent to or destroyed by the chicken farm…"

AND NOW, A WORD FROM CHARLES…
"I think we have to start with a journalistic note, which is that you [Bret Baier] posed the question…Trump supporters and Trump himself thought was somehow unfair…I think what we saw today was retroactive vindication, not only of the legitimacy of your question but its importance. We had a whole day devoted to this. And I think you asked the right question at the right time and now we have a different answer." – Charles Krauthammer on "Special Report with Bret Baier." Watch here.

Chris Stirewalt is digital politics editor for Fox News. Want FOX News First in your inbox every day? Sign up here.