FL businessman running for U.S. Senate calls Obama 'an animal,' refuses to apologize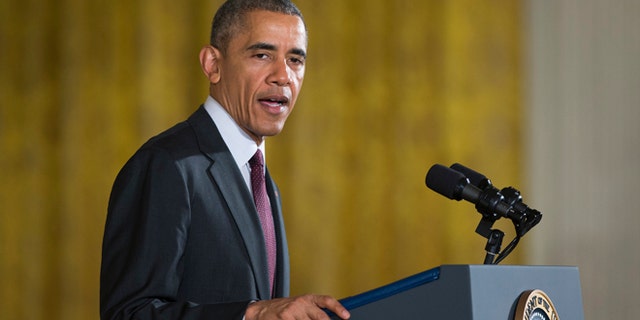 NEWYou can now listen to Fox News articles!
A Florida businessman seeking to replace Sen. Marco Rubio in the U.S. Senate is unapologetic about comments he made calling President Barack Obama "an animal."
Carlos Beruff, a construction developer, made the remark during a speech to a Republican group last week when he said the president had hurt the country with his military policy.
"Unfortunately, for seven and a half years this animal we call president, because he's an animal, OK ... has surgically and with thought and very smart, intelligent manner, destroyed this country and dismantled the military," Beruff said in his speech, which was captured on video. The Huffington Post was the first to report the story on Sunday.
In a statement on Monday, Beruff refused to back down and even took a shot at U.S. Rep. Patrick Murphy, a Democrat, who called on Beruff to apologize for his racially-charged remark.
"I will not be lectured by this young kid Congressman Murphy who has never had a job other than the one his dad bought for him in Congress but I do appreciate the publicity that Murphy is giving to my critique of President Obama's failure to protect America," Beruff said.
Both Beruff and the GOP candidate running against the Cuban-American businessman quickly called the remarks insulting.
"In the U.S. Senate, our diverse state deserves better than Mr. Beruff's clear record of bigotry," Murphy said, while U.S. Rep. David Jolly, a Republican, said that while he believes Obama's policies have "weakened our leadership on the world stage and have weakened us economically here at home" there was no reason to call him an "animal."
"Referring to the president of the United States as an 'animal' is an alarming insult of questionable intent and has no place in American politics," Jolly said in a statement.
Todd Wilcox, another one of the GOP candidates also seeking the post, said Beruff's comments weren't going to solve the nation's problems.
"We can win the debate of ideas without sounding like school children," said Wilcox in a statement. "Name calling the president of the United States for shock value isn't going to keep us safe from terrorist threats or tackle our skyrocketing debt."
The White House declined comment.
Based on reporting by the Associated Press.
Like us on Facebook
Follow us on Twitter & Instagram