Ex-contractor Stephen Kim pleads guilty in leak case, faces 13 months in prison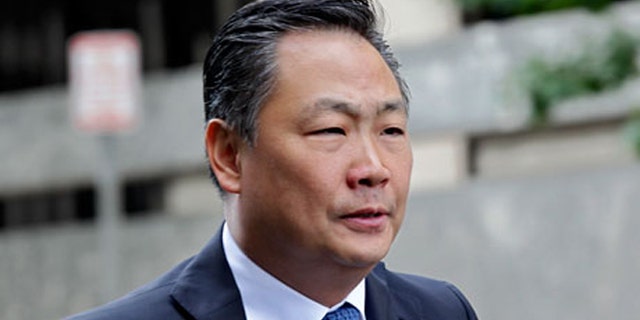 NEWYou can now listen to Fox News articles!
Former government contractor Stephen Kim pleaded guilty Friday to leaking classified documents, as part of a plea deal that includes more than a year in prison.
Officials announced the terms of the deal Friday afternoon. Kim is expected to be sentenced to 13 months in prison.
With the plea deal, a Justice official said, the "government's investigation and prosecution of this matter has concluded."
Kim was accused of leaking classified information to a Fox News reporter in 2009 about North Korea potentially planning another nuclear test.
The case itself raised questions about the Obama administration's aggressive pursuit of leakers and its treatment of reporters handling that information.
Kim was charged under the Espionage Act. The government cited the same World War I-era law in suggesting the Fox News reporter, James Rosen, was a criminal "co-conspirator" in the case.
Court documents from 2011, which surfaced last year, showed that the Justice Department made a series of claims against Rosen in the course of seeking a search warrant for his personal emails.
In one affidavit, an FBI agent claimed there's evidence the Fox News correspondent broke the law, "at the very least, either as an aider, abettor and/or co-conspirator." Rosen was never charged.
Under criticism from media advocacy groups and elsewhere, the Justice Department later backed down and overhauled the way it deals with journalists involved in leak cases.
Kim's attorney Abbe Lowell, in a statement, also stressed Friday that while his client pleaded guilty, "the information at issue was less sensitive or surprising than much of what we read in the newspaper every day."
"At the time of the disclosure and during the case, many former government officials and media commentators noted that the information was nothing significant, that much of it was in public sources, and that the prosecution of this information was another example of the 'over-classification' of information by the government," Lowell said. "A great deal of harmless information is 'classified,' even when it is widely available to the public."
Lowell also questioned why the Espionage Act, with its "crushing penalties," continues to be used in such cases.
Kim's sister, Yuri Lustenberger-Kim, said in a separate statement that her brother "has suffered deeply in terms indescribable in words, fighting charges that could imprison him for more than 15 years."
"It destroyed his career. It tainted his reputation and honor," she said. "We had to make a difficult choice given that our resources are exhausted, both financially and emotionally, and because we want Stephen to have a second life, a chance to plan and anticipate life like every human being deserves."
The prosecutor in the Kim case, though, defended the government's actions against the leaker and said Kim violated an oath.
"Today Stephen Kim admitted to violating his oath to protect our country by disclosing highly classified intelligence about North Korea's military capabilities," U.S. Attorney Ronald Machen Jr., said in a statement. "Within hours of the dissemination of a top secret intelligence report about North Korea, he exposed its secrets, which were then broadcast to the world. As this prosecution demonstrates, we will not waver in our commitment to pursuing and holding accountable government officials who blatantly disregard their obligations to protect our nation's most highly guarded secrets."
The sentencing for Kim will be in April.
Fox News' Shayla Bezdrob contributed to this report.