Despite anger in London, Trump finds support in England's pro-Brexit working-class towns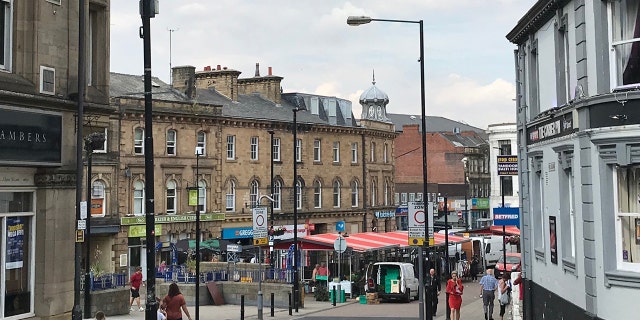 NEWYou can now listen to Fox News articles!
BARNSLEY, England – President Trump's three-day visit to the United Kingdom will be greeted by throngs of protesters marching through London, many carrying expletive-laden placards and with an enormous "Trump baby" balloon flying overhead.

Meanwhile, liberal media voices in the U.S. and U.K. assure their audiences that Brits are overwhelmingly united against Trump and his policies.

But here in the north of England, particularly among those who supported Brexit -- Britain's departure from the European Union -- opinions of Trump are far more nuanced, with many even offering strong support of the president.
"If he came here, I'd shake his hand, absolute brilliant businessman," Dean Roberts, running a market stall in Barnsley, told Fox News. "He's going to upset a lot of people, that's what we want, he's a true leader."
'If he came here, I'd shake his hand, absolute brilliant businessman.'
Just as Trump, who arrived Thursday in London, won by breaking through the political divide bringing in Democratic voters with his tough talk on issues such as immigration and trade, a similar phenomenon occurred in the U.K. In many towns that traditionally vote for the left-wing Labour Party, voters overwhelmingly embraced Brexit -- an issue that had for years been pushed primarily by voices on the right.

Barnsley, in South Yorkshire, is one such working-class town which overwhelmingly votes Labour. But, in 2016, 68 percent of voters voted for Britain to leave the E.U. Perhaps, then, it was not surprising to find a number of residents here with positive views of the president -- particularly his dislike for political correctness.
BRITAIN AMBASSADOR DEFLATES HYPE OVER TRUMP BABY BALLOON, CALLS PROTEST 'IRRELEVANT' AND OUT OF TOUCH
Amber Rose Roberts, Dean's daughter and a model, was happy to have Trump in the country and had a message for the incoming billionaire.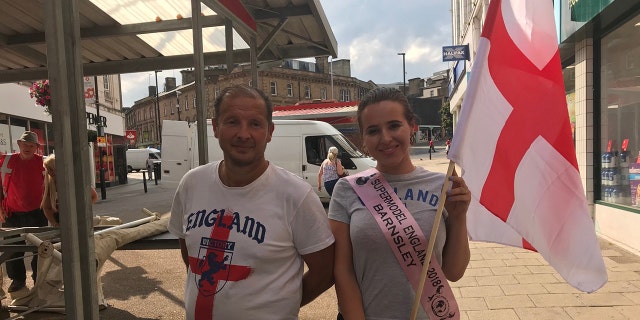 "Well done on being so strong and in a powerful role. You've upset some people, but you've also really got some of the community together and feel proud to be American," she said, as they packed up the stall.

Amid the negativity surrounding Trump's visit, polling suggests support for the trip. A YouGov poll released Thursday shows 50 percent of Brits support a working visit, with only 37 percent suggesting it should be scrapped. That being said, 77 percent of those surveyed said they have an unfavorable view of Trump.
As in the U.S., views toward the president vary by region.
In Oldham, a working-class town just north of Manchester, many residents were hesitant to talk about issues to do with Brexit or Trump, particularly in earshot of other people. This was similar elsewhere in the country, where some who spoke with Fox News would glance over their shoulder before making a positive remark about Trump, while others would lower their voices when talking about issues to do with immigration.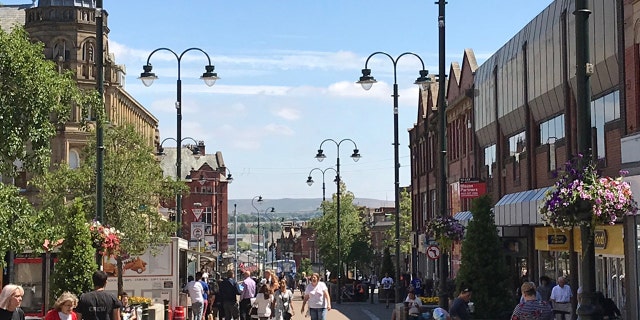 In these towns, there was almost unanimous frustration with the pace of Britain's departure from the E.U. In London, Prime Minister Theresa May's government spiraled into crisis after Foreign Secretary Boris Johnson and Brexit Secretary David Davis both resigned after refusing to back May's Brexit plan -- arguing it was too soft and would leave Britain still connected to the bloc.

Some residents in these northern towns, while not always agreeing with Trump, said that they at least liked how he fought for his country and were drawn to his "America First" slogan.

"He's for America, and I think May should be for Britain but she isn't," Eugene Bibby, the owner of a domestic appliance repair shop in Oldham's Tommyfield market, said.

"Most of the guys I speak to around here agree with [Trump]," he said as he fixed a vacuum cleaner, and noted that immigration was one of those issues that resonated the most. "You've got to control it, haven't you? You can't just allow everyone in."

Kainat Usman, 17, said that she thought Trump was being treated unfairly down in London, even if she objected to many of his policies.
TRUMP QUESTIONS MAY BREXIT PLAN
"To be honest, despite how racist he can be, I don't think I have anything bad to say about him because at the end of the day everyone's different and he's doing his job the way he thinks is best for him," she said. "I don't agree with everything he says, but everyone just pinpoints the bad things he does, they don't look at the good side of him, because he's not a bad person."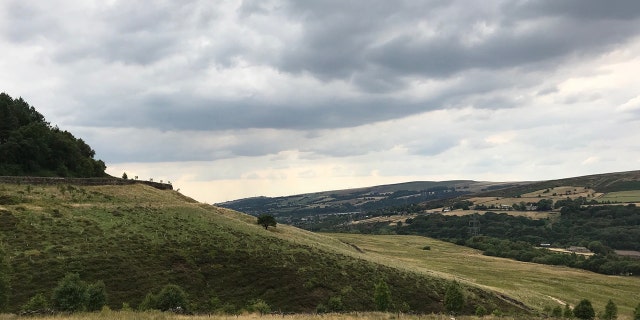 Others weren't so sure about that assessment. "I tell you what I think, I think he's a d--k," said one woman who declined to be identified.

Duncan Stewart, smoking outside a Barnsley pub, said he wasn't a fan of Trump and was particularly concerned about the tariffs that Trump was slapping on aluminum and steel.

"He wants everything, right, but he won't give 'owt back," he said. "And I don't agree with what he's doing with Mexico, he wants to build that great big wall and make them pay for it."
Stewart also had little time for Theresa May and her approach to Brexit: "She sits there with a little f-----g grin on her face, but f--- all's happening."
Trump briefly waded into the Brexit debate Thursday during a press conference in Brussels, before departing for London, suggesting the plan is not in line with what Brits voted for.
"I would say Brexit is Brexit...the people voted to break it up," Trump said. "So I would imagine ... that's what they'll do but maybe they're taking a bit of a different route. So I don't know if that's what they voted for."
As for the planned London protests, he said residents in the U.K. "like me a lot and they agree with me on immigration. I think that's why you had Brexit in the first place, because of immigration."
In Burnley, bordering Lancashire and West Yorkshire and where voters backed Brexit with 66 percent of the vote, residents Fox News spoke to on Wednesday appeared more interested in England's World Cup soccer game that evening against Croatia than goings on in London.

Market stall owner Simon Maxwell said he wasn't particularly bothered about Trump's visit either way.

"I think it's just the character he is that he seems to attract all this attention, I think deep down he might have some good policies and know what he's doing, but it doesn't come across that way, does it?" he said. "So he's treated as a bit of a joke."
James Banister, proudly wearing a Burnley F.C. cap on a bench in town as he waited for his wife to finish shopping, said he was a lifelong Labour supporter who backed Brexit in 2016. He said Trump deserved to be greeted with respect, and pointed to Britain and America's historic alliance as the reason why.

"We owe President Trump courtesy to come into our country in the memory of all the thousands of thousands of people who fought in the two world wars on our side," he said.