Community banks, lenders cast doubt on Obama push to wind down Fannie, Freddie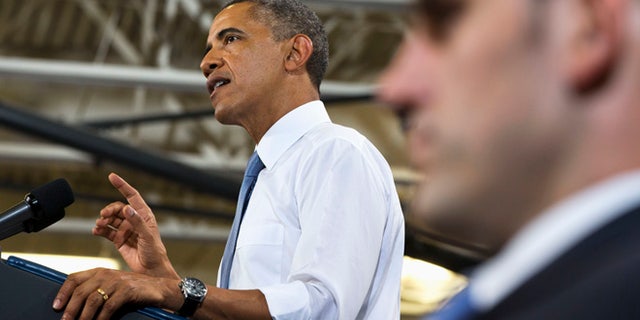 NEWYou can now listen to Fox News articles!
Community bankers and mortgage lenders across the country are viewing with skepticism President Obama's call to do away with government-backed mortgage giants Fannie Mae and Freddie Mac, as the president unveiled his latest housing plan during a speech in Phoenix.
The president, after touring a construction site in Arizona, endorsed the call by many in Congress to phase out Fannie and Freddie, while still calling for 30-year mortgages to be available to borrowers. The government-backed mortgage giants were caught in the housing crisis which ended in a $187 billion taxpayer bailout.
The idea is to have the private sector play a bigger role in guaranteeing loans.
"For too long, these companies were allowed to make huge profits buying mortgages, knowing that if their bets went bad, taxpayers would be left holding the bag," Obama said of Fannie and Freddie. "Private capital should take a bigger role in the mortgage market -- I know that sounds confusing to folks who call me a socialist."
Daily politics news delivered to your inbox: sign up for our newsletter
But some lenders worry that the still-fragile U.S. housing industry is not ready for such a change.
"Removing them entirely would be devastating," Kelly Powers, vice president for advocacy at the Arizona Mortgage Lenders Association, told FoxNews.com.
Powers argues that there isn't enough private capital to step in and take over, and the results on lending could be damaging.
"It would make it much more difficult for people to borrow," she said. "There would be less liquidity and less players in the game. The requirements would go up and people won't be able to qualify for loans."
The Arizona capital where Obama spoke was among the hardest hit in the region and lost $7 trillion in homeowner equity after the housing bubble burst in 2008. Since then, the market has rebounded some, home prices have gone up and foreclosures have dipped down.
Many, on both sides of the aisle, argue that financing the housing industry should be left to private banks and that the government should not shoulder the responsibility or risks. They tie the financial crisis that rocked the country to Fannie and Freddie, and say they want to do away with them altogether.
House Financial Services Committee Chairman Jeb Hensarling, R-Texas, has described Fannie and Freddie as the product of a "government laboratory" and one that exposes taxpayers to "unlimited risk."
Hensarling's committee last month passed a bill that would end Fannie and Freddie. A committee spokesman said Tuesday that their bill would end "the largest bailout in history" and, by phasing out the government's role in housing finance, give consumers more choices when shopping for mortgage products.
Powers said she wants to see changes in the way Fannie and Freddie are run, but she doesn't want to operate without a government safety net.
"None of us want to go through this again," she said, referring to the housing crisis. "Fannie and Freddie have been tainted. We need it revamped and fixed."
Independent Bankers of America President and CEO Cam Fine says that if Fannie and Freddie go, a government guarantee will probably still be needed.
"You don't have to have a Fannie and Freddie, but you need to have a government backstop," Fine told FoxNews.com.
Fine, whose organization represents 7,000 community banks across the country, believes it is possible for there to be a robust housing market but says it won't be easy.
"It is extremely complex and it would be a delicate venture to get all of the moving parts in place," Fine said. "It would take a great deal of coordination and cooperation among private investors, mortgage producers, properly funded and established and all of that would have to be done simultaneously."
Complicating matters are possible political changes on the horizon.
"Congress will probably pass some sort of housing policy bill between now and the end of Obama's term," Fine said. "But we're a long, long way away from that happening."
Obama's plan offers striking similarities to a bipartisan effort spearheaded in Congress by Sens. Mark Warner, D-Va., and Bob Corker, R-Tenn.
Their plan gets rid of Fannie and Freddie within five years and replaces them with a system that relies on the private sector to buy mortgages from lenders. The government would only step in to pay out mortgage guarantees after private capital has been exhausted.
Fine says he's been contacted by representatives working with the Corker-Warner office. He says he's also been contacted by the Obama administration.
Separately, the Department of Justice announced Tuesday it was suing Bank of America for defrauding investors in connection with sale of more than $850 million residential mortgage-backed securities. According to the Justice Department, the bank offered and sold the securities after failing to conduct due diligence on the mortgage loans.