California Dems decry 'bullying,' death threats from the left after shelving health bill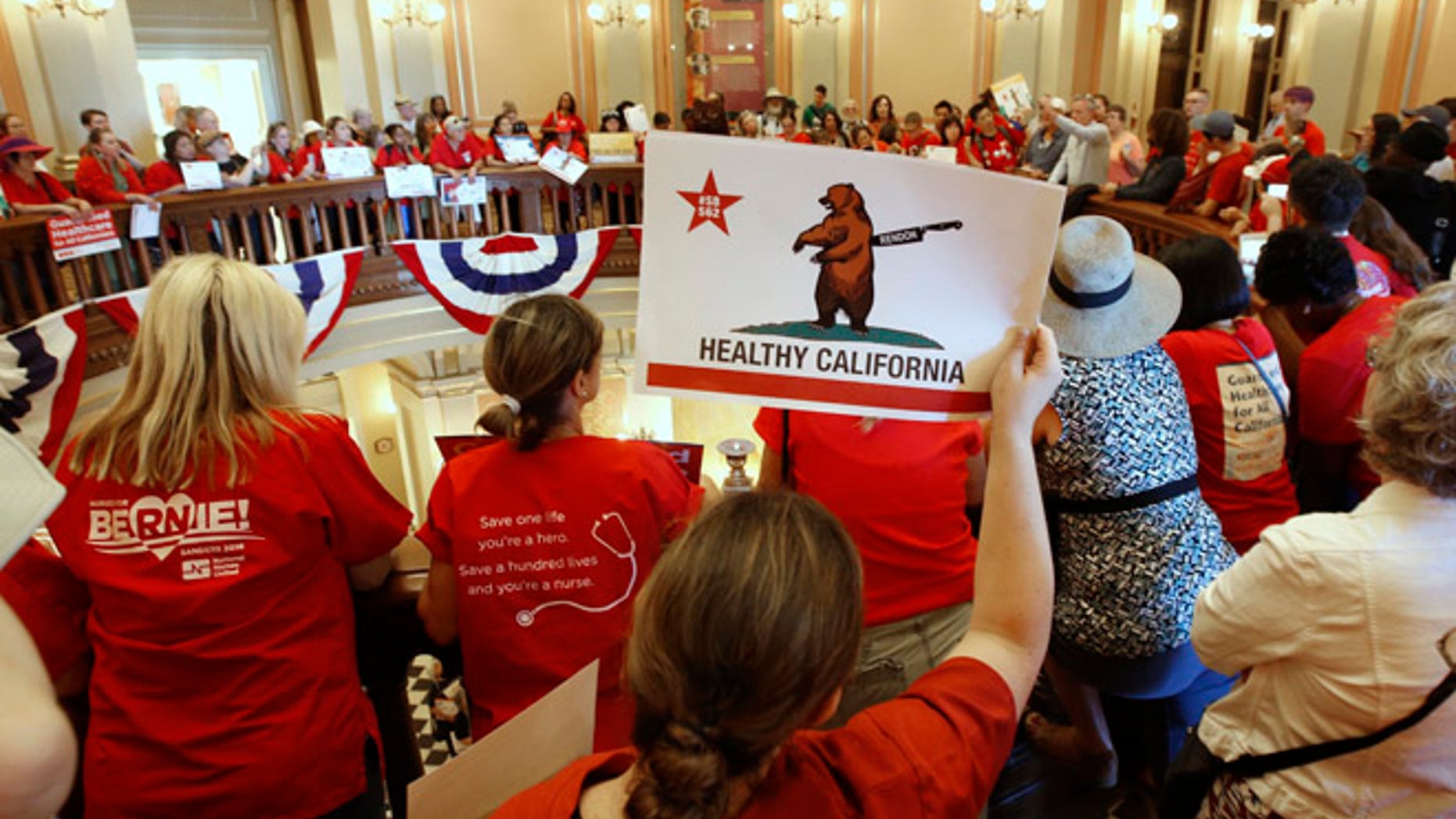 California Democratic lawmakers are facing a brutal backlash from union activists and others on the left after shelving a universal health care bill – a debate that has grown so intense that lawmakers say they've faced death threats and other violent rhetoric.
Assembly Democrats publicly decried the "bullying tactics" in a written statement over the weekend, maintaining that lawmakers are committed to improving health care but need to have an "open discourse."
"In recent days, we have become alarmed and disheartened by bullying tactics, threats of violence, and death threats by a few who disagree with the decision of Speaker Anthony Rendon to postpone the advancement of SB 562," they said, referring to the scrapped single-payer health care bill. "While it is appropriate for persons of varying views to express concern, disapproval or disfavor about the delay, it is never acceptable to engage in those tactics."
Rendon announced on June 23 that he was shelving legislation to set up a government-run, single-payer health care system in the state. This prompted an immediate backlash from the California Nurses Association, which had backed the $400 billion plan.
On social media, the union circulated the image of a California bear with a knife stuck in its back. On the blade was Rendon's name. The protests and rhetoric escalated from there.
One tweet that gained attention in local media said, "I pray someone checks his schedule for baseball practice" – an apparent reference to the Rep. Steve Scalise shooting outside Washington last month.
Rendon also confirmed that he's faced death threats over the decision to halt consideration of the bill.
"It is shameful how the proponents of SB 562 have provided false hope to people who are suffering," he said in a statement to the Mercury News and East Bay Times.
The Mercury News quoted a spokesman for the nurses union saying "no one that we know was involved" in making threats such as the one that referenced the Scalise shooting.
But the union has remained defiant.
RoseAnn DeMoro, executive director of the association, tweeted:
"#Dems are telling activists trying to fight for lives that speaking up to Dems is 'Bullying'.. 'Shut Up & Sit Down'.. Nope #SinglePayer."
The statement from Assembly Democrats, though, suggested that their critics on this issue are adopting tactics they once condemned.
"The political campaign of 2016 was filled with verbal attacks and even calls for violence. These are tactics that we all abhor. Let us not become the persons that we detest," they said.
The bill in question had passed the Senate, but Rendon put a halt to it amid questions over how the plan would be paid for. He described the bill as "woefully incomplete."
The government-run health care plan would cost $400 billion annually – supposedly paid for by a combination of repurposed state funds and new tax revenue. Under the plan, medical care would be provided for every California resident, including those without legal immigration status.
"It certainly wasn't a bill," Rendon told The Hill. "There was absolutely no funding attached to a $400 billion proposal, no service delivery mechanism."
Vermont independent Sen. Bernie Sanders, a proponent of a single-payer system, said he is "extremely disappointed" with the decision, having hoped California would lead the country toward universal health care.
Fox News' Samantha Mendiguren contributed to this report.