Blagojevich's daughter calls Obama 'spineless' for not pardoning dad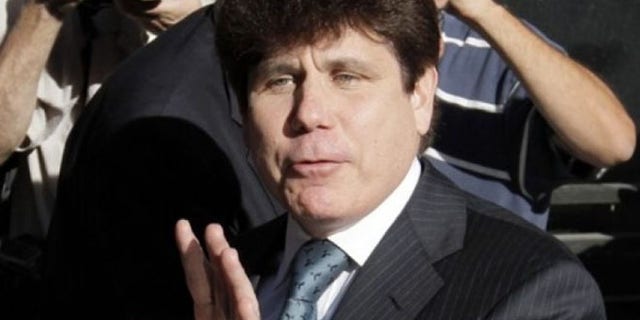 NEWYou can now listen to Fox News articles!
The oldest daughter of Rod Blagojevich, the disgraced former governor of Illinois, posted on Facebook Thursday that she was unhappy that former President Barack Obama did not pardon her father.
"You've broken my heart once again, and you've betrayed the concept of justice like many other heartless individuals before you," Amy Blagojevich, 20, wrote in the post, according to The Chicago Sun Times.
She continued: "Turns out you are just like the rest — selfish and spineless."
Blagojevich is in the fourth year of a 14-year sentence on corruption convictions, including for trying to sell Obama's U.S. Senate seat after he became president.
Obama released a list of his final acts of clemency and the list didn't include Blagojevich. A presidential commutation was one of Blagojevich's last chances to be released from prison early.
The ex-governor petitioned Obama for a commutation, and both Amy and her sister wrote letters asking Obama to act. The pardon was always considered a longshot, particularly given Blagojevich's involvement in an effort to trade an appointment to Obama's former Senate seat for campaign cash.
Obama's decision means President Donald Trump could be left to decide the fate of Blagojevich, who appeared on Trump's "Celebrity Apprentice" TV show in 2010.
Amy Blagojevich noted in the letter the emotional toll on her family over the past eight years. She lamented that Obama did and said nothing of Blagojevich's ordeal during that time.
"Everyone seems to be mourning your exit from office," Amy wrote in the lengthy post, posted on her mother's Facebook page. "I'm glad you're gone. I'm not delusional — you're not a saint. You were a mediocre president with unoriginal ideas."
The Associated Press contributed to this report