Biden chases Clinton in Iowa visit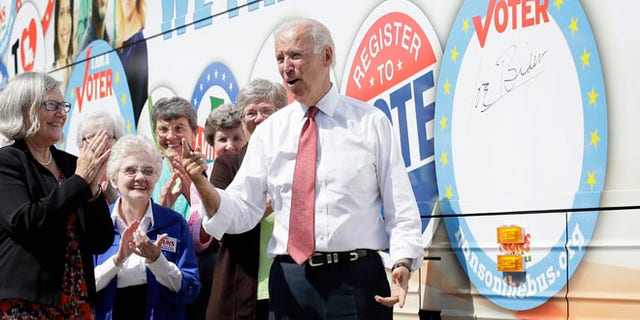 Vice President Joe Biden visited Iowa just days after Hillary Clinton touched down in the politically important state, stoking speculation about his possible interest in a 2016 White House run.
Technically, Biden was in Iowa on Wednesday to attend a kickoff event for a Nuns on the Bus, "We the People, We the Voters" tour. It's supported by NETWORK, a National Catholic Social Justice lobby.
The White House called it an official visit. But it comes after Bill and Hillary Clinton on Sunday attended the "Steak Fry" for retiring Sen. Tom Harkin – it was Hillary Clinton's first visit to the state since she lost the first-in-the-nation caucuses in Iowa in 2008.
Though no presidential campaign decisions have been made, Clinton received a warm welcome from about 10,000 Iowa Democrats.
The vice president also has not ruled out a run for the White House in 2016. And his Iowa visit served as a reminder that he is still considering the idea of a presidential run by keeping close ties in the vital state.
On Wednesday, Biden delivered a largely partisan speech. He began by telling an audience of about 300 people, including union leaders and Iowa Democratic ticket candidates, how the group of religious sisters has pushed for health care reform.
"The Nuns on the Bus fought like the devil," said Biden.
The group of politically active liberal-leaning Catholic nuns is embarking on a 36-city tour of the nation to "engage voters and encourage voter registration." Less than seven weeks ahead of the midterm elections, Biden's remarks pushed the Democrat's agenda, while at times taking shots at Republicans. Although called an official visit, which means the bill is footed by the American taxpayer, the VP's comments didn't remain bipartisan.
"Our Republican friends say they care about it [the middle class] but they value finance," said Biden, quickly cutting himself off and then adding, "take a look at what each of us are proposing."
The vice president's remarks focused primarily on economic issues, income inequality, and raising the minimum wage. "This isn't a populist rant this is about how you build America, and America does better, everybody does better when everyone is in on the deal," said Biden.
Biden said that America has not valued the middle class, even saying some Democrats haven't understood the problems of the middle class people.
"We've not been talking like we understand their problems, even the Democrats haven't been talking enough nationally about understanding the problem," said Biden, "we talk about recovery, and there is recovery, what we don't talk enough about is [that] the middle class people don't feel it."
He vowed to help the middle class and working folks, saying he's determined to restore the American dream and "deal the middle class back in."
"There's nothing inherently bad about corporation or wealthy people, they're just as patriotic as other folks, but something happened, things are out of whack," said Biden.