99 Days to Decide: Pro-Life PAC Learns Endorsed Candidate Is Pro-Choice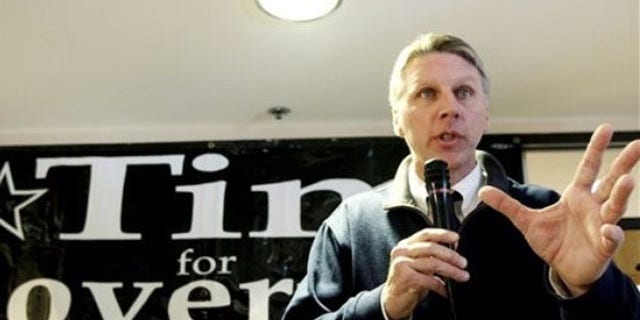 A pro-life Massachusetts group is taking a second look at its recent endorsement of gubernatorial candidate Tim Cahill after finding out he's supported abortion rights.
Though Cahill indicated that he backs a number of proposed restrictions in the questionnaire filled out for the Massachusetts Citizens for Life Political Action Committee, he has generally backed abortion rights.
PAC Chairwoman Madeline McComish said Monday that the endorsement stands and for the moment the group is not reconsidering. But she said the organization wants Cahill to "clarify" his positions before mobilizing activists in support of him.
"It's contingent on his reaffirming these issues," she said.
Cahill, the Massachusetts state treasurer, is an independent candidate for governor. McComish said Cahill's opponents, Democratic Gov. Deval Patrick and Republican Charlie Baker, are "totally pro-abortion."
Cahill spokeswoman Amy Birmingham said the campaign fully expects to retain the Citizens for Life PAC's support, comparing the endorsement to the group's backing for Republican Sen. Scott Brown, "who is openly pro-choice but in terms of his positions on other alternative methods, the restrictions were more along the lines of what they felt."
She would not elaborate on Cahill's current abortion stance, saying only that Roe v. Wade is "the law of the land and he would do nothing to overturn that."
The endorsement announcement last week made no reference to Cahill's abortion rights background. In it, the group called him "an outstanding advocate for the unborn, the disabled and the elderly" and pledged 100,000 activists to support his campaign.
"Cahill holds pro-life positions on all aspects of the issue," the statement said.
The PAC based its endorsement on an interview and the questionnaire Cahill filled out, in which he sided with abortion restrictions in just about every instance. He said he would sign legislation banning partial-birth abortion, legislation making an unborn child a second victim in a crime against a pregnant woman, legislation banning sex selection abortion and legislation requiring women to have an ultrasound before having an abortion.
But while Cahill's website makes no mention of his abortion views in the "issues" section, a version of the site from late May posted by the blog Red Mass Group showed that he previously stated: "I believe in and support a (woman's) right to choose. I also believe that abortion should be safe, legal and rare."
McComish said the PAC never asked him about his stance on Roe v. Wade because he would not be in a position to deal with that as governor. That being the case, she said his support for the landmark Supreme Court decision legalizing abortion is not troublesome to the PAC provided he supports abortion restrictions at the state level.
Birmingham said the abortion section was removed from the campaign website along with many other items and that a more "thoughtful" and "thorough" abortion position will be published in a new version of the website in the coming weeks.
"We're constantly updating our website," she said.