15-year-old victim of Boko Haram takes her story to Capitol Hill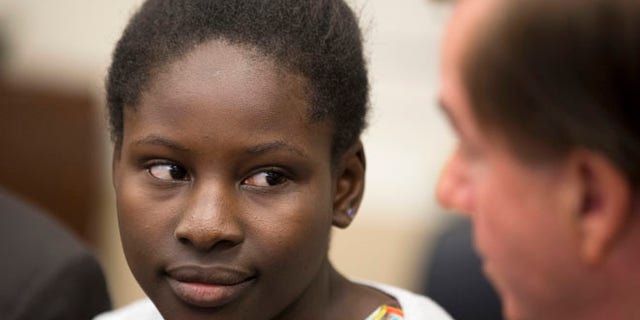 NEWYou can now listen to Fox News articles!
WASHINGTON – A little girl forced to watch as members of Boko Haram butchered her father and shot her brother showed true grit Wednesday when she recounted the details of her nightmare on Capitol Hill.
Deborah Peter, 15, told her story to members of the media before attending a House hearing where lawmakers debated ways to help counter the Islamist group behind last month's kidnapping of nearly 300 schoolgirls in Peter's hometown of Chibok, Nigeria.
The hearing was at times a showcase opportunity for lawmakers, but Peter's dramatic story captured most of the attention.
On Dec. 22, 2011, three men came to her home in Chibok. The men, carrying guns, pounded on the door around 7:30 in the evening and demanded to see her father, a Christian pastor.
"They told him to deny his faith and he told them he couldn't," Peter, who was then just 12 years old, said.
That's when the men, who are members of the Islamist radical group Boko Haram, shot her father three times in the chest. He was lying on the floor, dying, when her brother Caleb started screaming.
"Then they shot my brother twice," Peter said.
After that, Peter says she went into shock. The men forced her to the ground and made her lie between the bloodied corpses. She stayed there all night. It's where another pastor found her the next morning.
That pastor, a friend of her father's, was able to get enough money together to pay people to take Peter out of the region. Her mother was forced to stay behind.
The pastor who helped Peter was killed two years later by Boko Haram.
"I want the world to understand what happened to me," Peter said in a statement. "I hope the kidnapped Chibok girls will take courage from my story, and know more of what God says, and know what it means to stand strong in the face of bad people."
Peter's visit to Capitol Hill came one day after reports that Boko Haram launched overnight raids in three villages near her hometown, killing 48 people.
One resident, Apagu Maidaga, told The Associated Press that residents of that village hid in the bush and watched while the extremists set fire to their thatch-roofed mud hut homes.
"We saw our village up in flames as we hid in the bush waiting for the dawn; we lost everything," he told the AP.
Most of the victims were said to be women and children.
Hours before those attacks, the terror group set off twin bombs that claimed at least 118 lives in the central city of Jos.