Manchin calls for bipartisan debt ceiling talks: 'We're writing checks our children can't cash'
'$94,000 per individual in America is unbelievable,' Manchin said of the state of the debt on 'Special Report'
West Virginia Sen; Joe Manchin, one of the few moderates in the caucus, joined "Special Report" Tuesday to urge substantive, bipartisan negotiations on the U.S. debt ceiling, warning that the feds are putting future generations further and further in debt.
"We should be talking about it," Manchin said of Democrats, including President Biden, negotiating with Republicans.
"I mean, this is a time to recognize when you have a debt ceiling and you have to raise it. We've accumulated a lot of debt and we have to pay our bills. First of all, we know we're going to pass the debt ceiling – we're not going to default. So let's get that out of the way. But in doing that, let's agree to take seriously the obligations we have. We're writing checks our children can't cash."
Manchin estimated the average American essentially holds a $94,000 stake in the national debt, calling such a situation "unbelievable."
BIDEN SAYS PEOPLE THINK HE'S 'STUPID' JUST BEFORE GETTING CONGRESSMAN'S NAME WRONG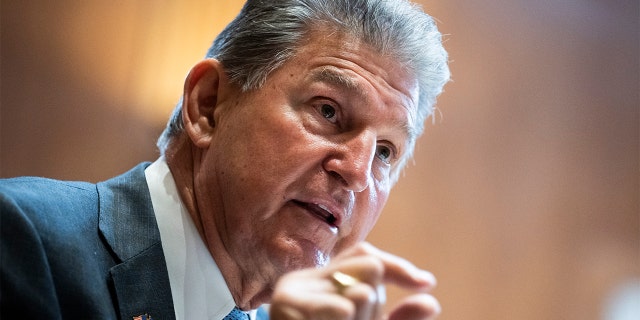 While Biden has publicly bristled at the idea of negotiating in certain aspects on the debt ceiling, Manchin said that if the president and House Speaker Kevin McCarthy again sat down together as they recently had at the White House, there is a possibility of a fruitful solution.
He said there are some points the pair are "like-minded" on and pointed out Biden engaged in similar negotiations in 2011 while vice president.
MCCONNELL: BIDEN'S HARDLINE DEBT CEILING STANCE CLASHES WITH PAST WILLINGNESS TO NEGOTIATE
"For two years [afterward] we had basically a reduction in our debt. Then it took back off again," Manchin said. "So the right persons are there if they want to talk and make it happen. I don't think we should have theatrics as far as 'are we going to raise it or not' – Yes, we will, but we should have also some commitments and obligations."
The senator claimed the U.S. military came to lawmakers and suggested that if a budget had been passed by September 30, there could be 5 to 10% savings in their particular appropriations – saying it had to do with contracts and other related expenditures.
"The reason for that, it's basically, you know, you're saying you have a contract for someone to come service your electrical equipment or your furnace -- The contract runs out. Then you call them after the contract ran out and say, 'Can you come fix my furnace?' -- I'll guarantee that one visit might be as much as the entire contract you had," Manchin said.
"That's what we're talking about on a much bigger scale."