Woman surprised with Disney World proposal and wedding in span of 24 hours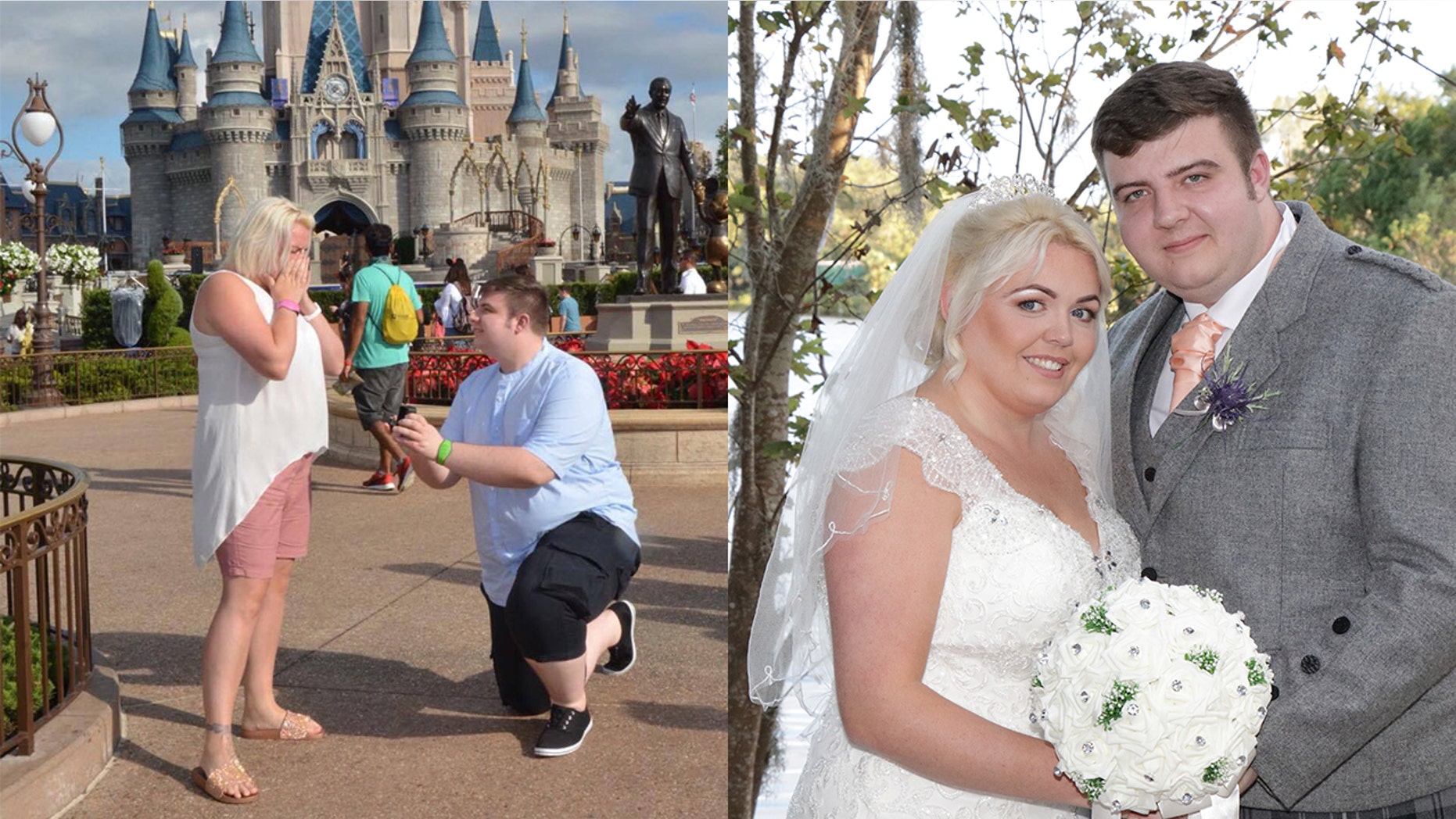 A Disney-loving woman got a fairy-tale proposal and the wedding of her dreams all within 24 hours all thanks to her boyfriend's secret planning.
Nicole Tully and Bryan Stewart from Scotland were on vacation at Disney World in Florida when Stewart popped the question in front of Cinderella's castle.
"As we stood in line to get our photo taken, Bryan went down on one knee and proposed. All I could do was cry tears of joy," Tully told the Daily Record.
WHY DISNEY STAFFERS REPORTEDLY POINT WITH TWO FINGERS
After Tully said yes, Stewart sprung to action arranging a surprise wedding for the next day.
Stewart had begun planning for the wedding prior to the trip, letting Tully's family in on the secret two weeks before and getting their help to arrange the details. He came up with the idea after the coupe joked about eloping in Las Vegas, but Tully wanted their family to be there for the special day.
"The idea came to me about six weeks ago. I'd been planning to propose for almost six months," Stewart said. "Nicole is a Disney fan and I just thought the fairy tale setting of the castle would be amazing for the proposal. I asked Nicole's mum and dad for permission and they were OK with the plan. The rest of our families and Nicole's best friend were willing to come out at short notice.
"It all fell into place," he said.
Tully's family and friends helped with the details, even tricking her into finding a wedding dress when she was dress shopping for her cousin's wedding. "Her mum just went in and bought it after she left, then brought it over to Florida."
The wedding guests traveled to Disney World in secret and surprised Tully the same day as the proposal. They decorated the couple's villa in preparation for the big reveal. "We got back at about 10 p.m., turned the lights on and everyone jumped out to surprise her. She was shell-shocked," Stewart said. "Her family and best friend Robyn were there and I told Nicole we were getting married in the morning. She burst into tears and gave me a massive hug. It's been amazing."
FOLLOW US ON FACEBOOK FOR MORE FOX LIFESTYLE NEWS
Tully was completely shocked by the whole thing, but said she loved every part of it.
"Bryan did so well and I wouldn't have changed a thing. He organized the most perfect engagement, wedding and honeymoon. I've enjoyed every moment and it's something I'll never forget."