Wife of late North Face founder says she'll build on husband's environmental legacy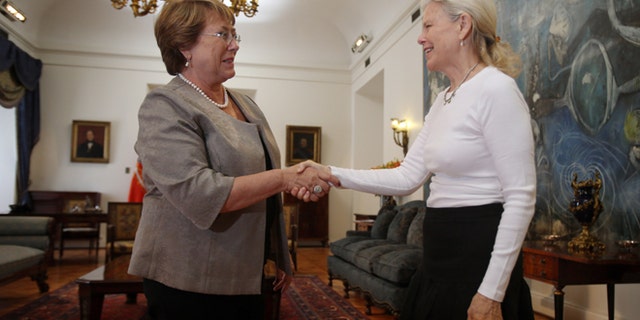 SANTIAGO, Chile (AP) – The widow of American conservationist Doug Tompkins, who died last month while kayaking in South America's Patagonia region, says she'll build on her husband's legacy of protecting threatened ecosystems in Argentina and Chile.
Kristine McDivitt Tompkins said in a telephone interview from Puerto Varas in southern Chile that since her husband died at age 72, she has been working non-stop to permanently protect from development the millions of acres they acquired over a quarter-century.
McDivitt Tompkins met with Chile's President Michelle Bachelet on Thursday to discuss the proposed handover of pristine properties to create a string of national parks in Patagonia. In December, she met with new Argentine President Mauricio Macri to donate to the country 150,000 hectares (370,000 acres) of threatened wetlands near the border with Brazil to create Ibera National Park.
"It's very hard to imagine a life without Doug as my husband, but I know that the work that we started we're going to finish," McDivitt Tompkins, a former CEO of outdoor clothing company Patagonia Inc., told The Associated Press on Tuesday in her first interview since her husband's death. "The idea of stopping, slowing down or changing our plans never occurred to me."
In conservation circles, the high-school dropout Tompkins is revered as a kind of environmental messiah. A globe-trotting rock climber and skier in his youth, in the early 1990s he got divorced, abandoned the corporate fast lane and moved to the Chilean wilds after cashing out shares in two major retail clothiers he founded: The North Face and Esprit.
Shortly after, he and McDivitt Tompkins, his second wife, started quietly gobbling up large tracts of land to protect a 3,000-year-old forest in Patagonia. Along the way they earned the opposition of loggers, power companies and nationalist Chileans who fueled rumors that the "gringo" millionaire was trying to steal Chile's water resources or perhaps was a CIA spy.
True to his adventurer's roots, Tompkins was out on a lake with longtime friends including Patagonia founder Yvon Chouinard when their kayaks capsized in freezing waters on Dec. 8 and he died hours later from hypothermia.
Over the years, he and his wife had invested more than $375 million in conservation, donating part of their land holdings in the two South American countries to create four national parks protecting upward of 1.2 million hectares (3 million acres) — an area three times the size of Rhode Island.
Lately, they were engaged in their most-ambitious deal yet: donating land to Chile to create or expand eight more parks in Patagonia totaling 4.5 million hectares (11 million acres), or about 15 times the size of California's Yosemite National Park. Those properties include a former sheep ranch, Estancia Valle Chacabuco, where Tomkins was buried.
A memorial gathering for Tompkins is planned later this month in San Francisco, where he developed his business career.
McDivitt Tompkins said she now plans to continue dividing her time between Argentina and Chile.
She said that once-harsh views about the couple's suspected motives have now eased, meanwhile South Americans are more aware of the value of keeping land off limits to extractive industries. Case in point: Chile's Senate, which years ago threatened to strip Tompkins of his holdings, has unanimously agreed to grant him honorary citizenship posthumously.
"Ideas that are new take time to simmer and be accepted and that's probably a good thing," said McDivitt Tompkins. "But I think over time, Doug will be seen not only as one of the great conservationists but an extraordinary individual."
"Whatever he undertook," she added, her voice breaking, "he did with 100 percent commitment."