Whales Dying At Record Pace Off Argentina's Coast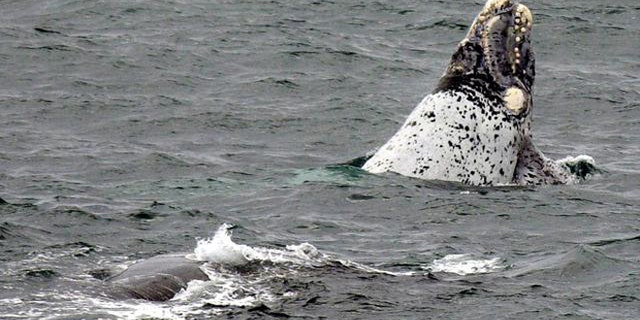 South America's Southern Right Whales are dying in record numbers off the coast of Argentina's Patagonia region and scientists are struggling to figure out why.
The Buenos Aires-based conservation group Whale Conservation Institute ICB reported that in 2012 there were 116 whale deaths reported, including 113 whale calves, in 2012 – almost double the 61 whale deaths it recorded in 2011. The deaths have caused the total population of these whales to drop by about 3 percent.
After centuries of over-hunting by whalers, the WCI admits that the whale population is slowly recovering but the trend of deaths has had an alarming impact on the local ocean life.
"Although Southern Right Whale populations are recovering, many threats affect their present and future in our oceans," The WCI said on its website. "Most importantly, Southern Right Whales are dying in unprecedented numbers on their nursery ground at Península Valdés in what are the most extreme mortality events ever observed in any baleen whale."
The group said their statistics indicate that the grounds where the whales live –and the whales themselves – have become less healthy. The NGO believes that global climate change has led to less krill, which the whales feed on, and gulls eating chunks of skin off living whales, which can cause infections.
Every year hundreds of Southern Right Whales make the migration to their mating grounds in the bays of the Península Valdés, which has been labeled a UNESCO World Heritage site. The migration draws thousands of tourists to the area who hope to catch a glimpse of the giant mammals in the nursery.
Southern Right Whales measure about 46 feet in length and weigh up to 50 tons. There are believed to be around 4,000 whales residing in the southern Atlantic Ocean.
Along with the Southern Right Whales, their North American counterparts are also in danger of dying out.
The North Atlantic Right Whales, which divide their time between their summer feeding grounds off the coast of New England and their winter calving areas in the southern United States, have been slowly recovering since overhunting decades ago.
The National Oceanic and Atmospheric Administration wants to make permanent rules that were implemented five years ago to protect the 450 or so whales that call those waters home from collisions with ships.
"Right Whales are among the most endangered species in the world, and are highly vulnerable to ship collisions," NOAA said in a press release. "The existing rules, which reduce an ocean-going vessel's speed to 10 knots or less during certain times and locations along the East Coast from Maine to Florida, have reduced the number of whales struck by ships since 2008, when the speed limits began."
Follow us on twitter.com/foxnewslatino
Like us at facebook.com/foxnewslatino