Walmart apologizes after woman accuses employee of harassing her over her service dog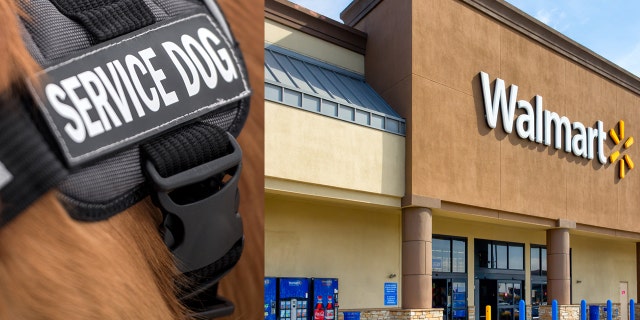 Walmart has apologized to a customer after she accused an employee of verbally harassing her over her service dog, Kona, while at a store in Utah.
Ashley Fitzpatrick said an employee stopped her at the door on Monday night at the Walmart store in Spanish Fork because her dog was off-leash. According to Fitzpatrick, Kona's training requires her to remain off-leash.
WALMART PULLS CONTROVERSIAL 'IMPEACH 45' CLOTHING FROM WEBSITE AFTER HARSH FEEDBACK
Fitzpatrick told KUTV that that the employee suggested that Fitzpatrick was faking her disability and did not need a service dog.
Fitzpatrick says she suffers from depression and anxiety and has Kona to help curb panic attacks and perform pressure therapy.
"Even though it's a mental disability, it's just as debilitating," Fitzpatrick, who has been working with Kona for about a year and a half, told KUTV. "There have been weeks where I haven't left the house, and now it's to the point where I'm out every day."
Once Walmart found out about the incident, store managers from the Spanish Fork location apologized to Fitzpatrick. Walmart corporate also released a statement to Fox News:
"We're committed to providing a safe shopping experience for those shoppers and associates relying on assistance from service animals. We appreciate our customer bringing this to our attention and have apologized to the customer."
FOLLOW US ON FACEBOOK FOR MORE FOX LIFESTYLE NEWS
Walmart store manager Mat even reached out to Fitzpatrick to have a sit-down discussion over the incident. According to a Walmart source, Fitzpatrick and Mat had a very positive interaction.
"I had the pleasure of meeting Ashley and her wonderful dog Kona this afternoon. Walmart is committed to providing a safe and enjoyable shopping experience for our customers who rely on service animals, and we look forward to working with Ashley and Kona to drive awareness and provide support for the service animal community. Kona is a beautiful fantastic support for Ashley and I am thankful that we were able to come to a resolution to turn this into a positive experience," Walmart said in an updated statement on Facebook.