Victoria's Secret Angels share their workout tips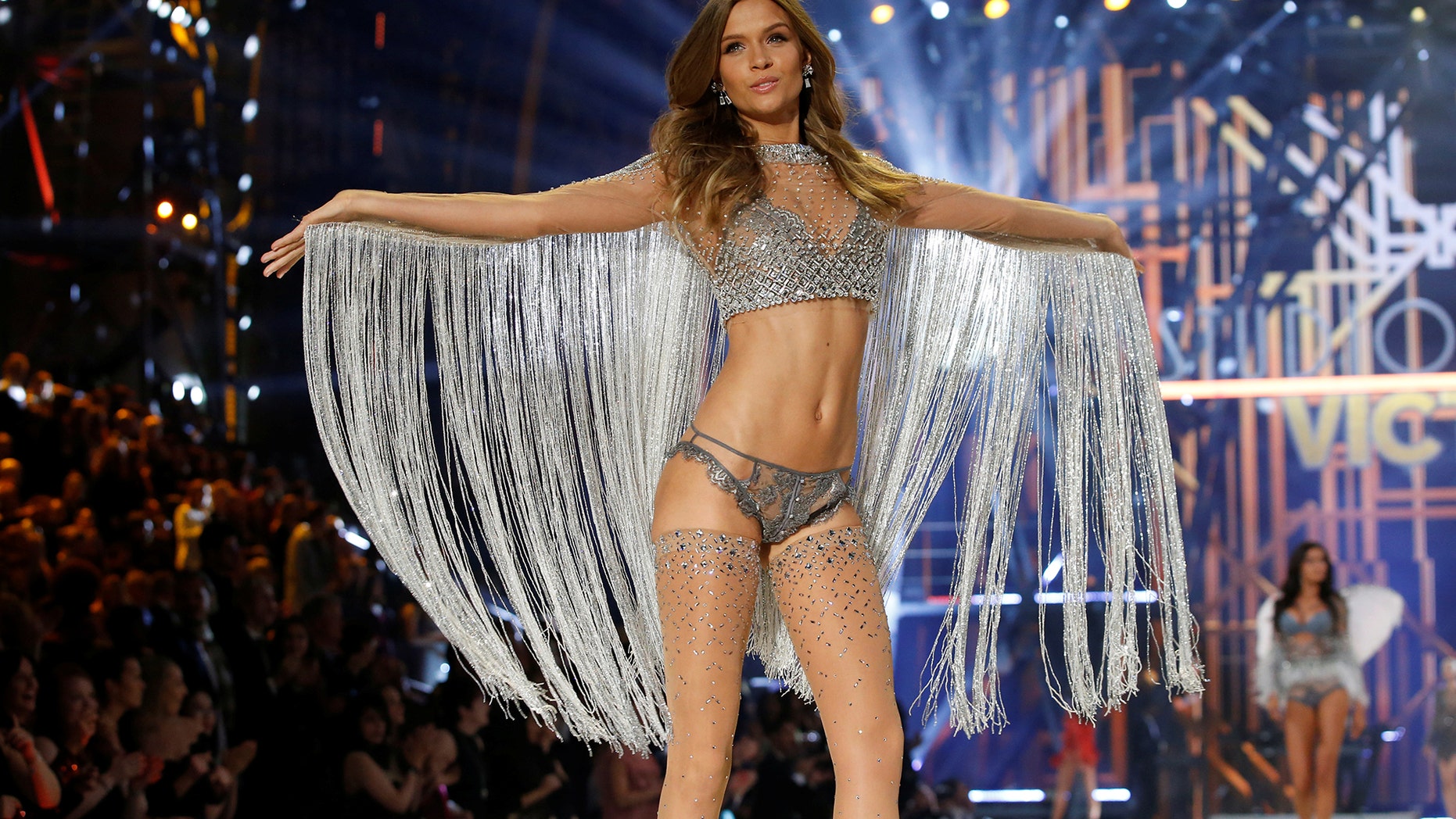 While the rest of us are frantically trying to get into shape for swimsuit season, Victoria's Secret models put in long hours doing squats, curls and crunches to be bikini-ready all year long. Here, four of the beauties spill their fitness secrets just in time for the launch of the brand's "White Hot Summer" sport collection.
The weightlifting lady: Josephine Skriver
Workout regimen: "I mix heavy weight training with boxing and high intensity interval [HIIT] cardio training," said the 24-year-old native of Denmark. "In an ideal week, I box once, HIIT train once, and do weights three or four times. I train for about an hour or two at a time. When I weight-train, I just target one or two areas, whether it's arms, core, legs or just butt."
Favorite move: The blond beauty loves doing split squats — feet in a staggered stance, rear foot elevated on a bench and dumbbells in each hand. You then bend the front knee.
"They really hurt," she said. "But, I'm slowly getting addicted to the pain you feel when working out hard because I know I'm going to see results. I actually hate waking up and not feeling sore."
Trouble spot: "Burpees will be the death of me," she said. "Burpees target a few different muscles, so they're very difficult, but great for you. It's a love-hate relationship for sure."
Fitness goal: "My proudest moment was when I finally did my first pullups and pushups," Skriver said. "I have always had strong legs, but when I started my weight training journey, I couldn't even do one single pushup." She nailed pushups early last year, and this past November she did her first pullup.
#Fitspiration: "Don't be afraid of weights," she said. "I think a lot of girls have the wrong idea about weights. For most people, it won't make you look superbroad like a bodybuilder, but it will make you tighter and toned."
RITA ORA DISHES ON HOW SHE MOTIVATES HERSELF TO EXERCISE
The resistance band babe: Lais Ribeiro
Workout regimen: "I work out three to six days a week and normally around 90 minutes per workout," said Ribeiro, 26, a native of Brazil. "I'm all about trying new things and varying my workouts. I recently started to do pilates because it's a great way to complement the other workouts I do."
Favorite move: "I love using resistance bands focusing on abs, outer thighs and glutes," she said. "I typically do three reps of 20, rotating between glute bridges with feet wide, clams with heels together [opening and closing your legs like a clamshell], duck walks, side steps and jack squats." The latter — in which you do a squat, then move your legs in and out like a jumping jack — are her favorite before a shoot. "[They] make my booty and thighs look super-toned."
Trouble spot: "I don't love cardio, but I do it because it's good for the body and my health," she said. "Also, I hate cutting out sweets, which I really love."
Fitness goal: "One of my favorite moments was when I stepped onstage for my first Victoria's Secret show in 2010," Ribeiro said. "It felt like all that work finally paid off. I had long legs that I worked hard all year to keep, and it felt great being able to show them off."
#Fitspiration: "Keep the balance between health and happiness — and also to choose the exercises that you love most so it doesn't seem so hard."
CHRISTIE BRINKLEY REVEALS HER SECRETS FOR ROCKING A BIKINI AT AGE 63
The sexy yogi: Stella Maxwell
Workout regimen: Lotus pose and downward dog are the 27-year-old's go-tos for staying toned and balanced. "I love yoga," said the Belgium-born Angel. "I'll film a class with my teacher, bring my mat with me, and just do it anywhere."
Favorite move: "I really like jumprope and headstands," she said. "I love jumprope because it's a challenge to time yourself to see how long you can keep going. I love headstands because you get a natural high from being upside down. It's a nice way to readjust your whole body."
Trouble spot: "I travel a lot, so it's hard to always fit in a workout," said Maxwell, who grew up in New Zealand. "But, I try to have just 10 moves I can do anywhere in 30 minutes to sneak it in."
Fitness goal: "when I was able to do yoga without struggling," she said. "It took awhile to learn the poses and understand the language. I was always one step behind, and then finally I was able to keep up. It's a dream of mine to be a yoga teacher one day."
#Fitspiration: "Change your routine regularly because your body gets used it, and it won't benefit you after a while," Maxwell said. "Mix it up — legs, arms and butt — so you work your total body and stay balanced."
FOLLOW US ON FACEBOOK FOR MORE FOX LIFESTYLE NEWS
The partner princess: Jasmine Tookes
Workout regimen: "I try my best to work out about five days a week," the 26-year-old California native said. "On Mondays I'll do legs, Tuesday will be upper body, Wednesday is core/abs focused, Thursday is another leg day and Fridays are about my butt. I love working out at DogPound with a bunch of the other Angels. [Josephine Skriver] and I actually have a fitness account on Instagram, JoJa, where we share our favorite partner workouts."
Favorite move: Squats with a controlled BandBell bar — like a weightlifting bar with weights hanging from either end — that she has to keep as steady as possible.
"I'll do about six sets increasing the weight up to the third set and decreasing the weight to the sixth set," she said. "This is where I see the most results when it comes to building a nice butt. It [also] helps to define my legs when I'm walking down a runway."
Trouble spot: Tookes may love working her booty, but can't stand doing arm or upper-body exercises. "I really dislike being sore the next day considering you use your arms for everything," she said.
Fitness goal: "Never try and follow someone else's exact routine because everyone has a different body," Tookes said. "For me, I do a lot of weight training, and this works great for me because I am lean and want to build muscle mass. Find what's best for you and keep it up!"
#Fitspiration: Tookes' proudest fitness moment was when she completed a Tough Mudder race in Philadelphia in 2015 with fellow models Romee Strijd, Stella Maxwell and Sara Sampaio. "It really took a lot of strength to get through all of the obstacles," she said. "But I felt great after I ran across the finish line."