United Colors of Benetton slammed for using migrants in ad campaign
United Colors of Benetton is causing a stir online with yet another controversial campaign featuring images of migrants recently rescued from the Mediterranean.
Rising to popularity in the '80s and '90s for its colorful knits, and famed for their provocative advertisements, the Italian fashion brand's latest stunt is being slammed as "unacceptable and disrespectful" on Twitter.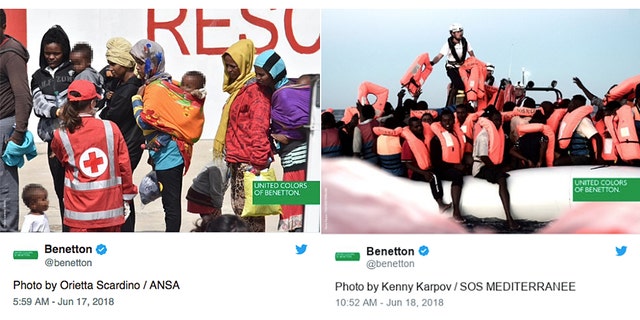 According to BBC, the two photographs shared by Benetton that are currently under fire depict a group of women carrying babies and children meeting a Red Cross worker, and a group of men in a lifeboat clamoring for life jackets from a volunteer.
MELANIA TRUMP'S 'I REALLY DON'T CARE' JACKET CAUSES STIR ON BORDER VISIT
Shot on June 9 by German charity SOS Méditerranée during a "rescue of hundreds of migrants," the photos were then shared to Benetton's social media accounts, and posted in Italian newspaper La Repubblica with their signature green logo in the lower right corner.
SOS Méditerranée was quick to condemn the fashion label's unauthorized use of the images.
"SOS Méditerranée is completely dissociated from this campaign showing a photograph taken while our teams were rescuing people in distress at sea during an operation conducted on June 9," the organization tweeted on June 19.
"SOS Méditerranée condemns the personal initiative of the photographer who provided this photograph."
"The dignity of survivors must be respected at all times. The human tragedy at stake in the Mediterranean must never be used for any commercial purposes," they added.
In the days since, Benetton has deleted the image of the male migrants from their official Twitter account, but left the image of the woman and children published, The New York Post reported.
This is not the first time a campaign designed by Italian photographer Oliviero Toscani strucks a nerve.
GIRL'S FLORAL DUCK TAPE PROM DRESS MAY EARN HER $10K
From offending the Roman Catholic Church in 1991 with a photo of a nun and a priest kissing, to choosing a photo of an AIDS victim and a gay activist in a hospital bed for a campaign just a year later, Toscani and his controversial campaigns with Benetton have had a long history.
Benetton eventually ties with the photographer in 2000 over a particularly contentious campaign titled "We, On Death Row," featuring images of American prisoners sentenced to death, though he was rehired in February 2018, the Post reported.
FOLLOW US ON FACEBOOK FOR MORE FOX LIFESTYLE NEWS
Meanwhile, Twitter continues to chastise Benetton's "unacceptable and disrespectful" use of the migrant photos for commercial gains, with some even calling for a #BoycottBenetton.
"Benetton [is] doing this to raise their own brand awareness — they could have donated money to the rescue organizations but chose not to. This is not something designed to help others. I only hope they feel ashamed enough to make a donation," one user wrote.
"This picture reminds me those advertisements of Benetton in the 90's," another agreed.
Benetton did not immediately return Fox News' request for additional comment on the photos.