Under Armour reportedly run like a frat house with employees expensing strip club visits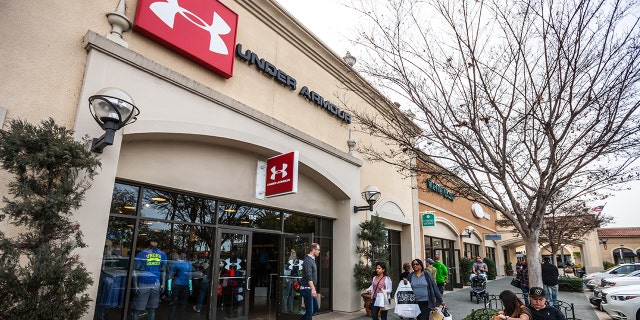 Under Armour is scrambling to do damage control amid reports that its chief executive has run the company like a frat house.
For years, Chief Executive Kevin Plank and other execs took athletes and co-workers to the Scores strip club that's down the street from Under Armour's Baltimore headquarters — with some billing the company for the sleazy outings, according to a report.
"On some visits, employees charged hundreds of dollars there to the company," the Wall Street Journal reported, citing unnamed sources.
The jiggle-joint jaunts were just one example of a history of hostile behavior toward women at the company under Plank, according to the explosive article.
RYANAIR FIRES 6 CREW MEMBERS FOR 'STAGING' VIRAL PHOTO OF STAFF SLEEPING ON AIRPORT FLOOR IN SPAIN
It also cited allegations of sexual misconduct by male executives — including by Plank's brother, Scott, who resigned in 2012, according to the Journal — and concerns about women's pay and promotions.
"It's false to report that Kevin Plank used corporate dollars" at strip clubs, an Under Armour spokesman told The Post on Tuesday. Under Armour spokeswoman Kelley McCormick added that Plank "didn't conduct business at strip clubs or use company funds at such venues."
In February, Under Armour's finance chief, David Bergman, told employees in a memo that they would no longer be reimbursed by the company for expenses including gambling, limousine services and "adult entertainment," the Journal reported.
Elsewhere, however, Plank for years hosted annual parties at his horse farm in Maryland on the eve of the Preakness Stakes. Managers typically invited young female staffers based on their physical attractiveness — a practice known as "stocking the pond," the report said.
Last year, there were go-go dancers wearing "cutoff shorts and midriff tops," according to the report.
"This characterization misrepresents the tasteful nature of the annual Preakness party, which included teammates and significant others, partners, athletes and public officials," McCormick told the paper.
Nevertheless, some attendees said they felt uncomfortable, and Plank didn't hold the event this year, according to the report.
FOLLOW US ON FACEBOOK FOR MORE FOX LIFESTYLE NEWS
Under Armour co-founder Kip Fulks stepped down from his role as chief products officer last year after he violated a company policy by having a romantic relationship with a female subordinate, the report said. Fulks later left the company.
"We have addressed these serious allegations of the past and will continue to address workplace behavior that violates our policies," McCormick said. "We are committed to providing a respectful and inclusive workplace."