U.S. visitors to Havana find connections between 2 countries run long and deep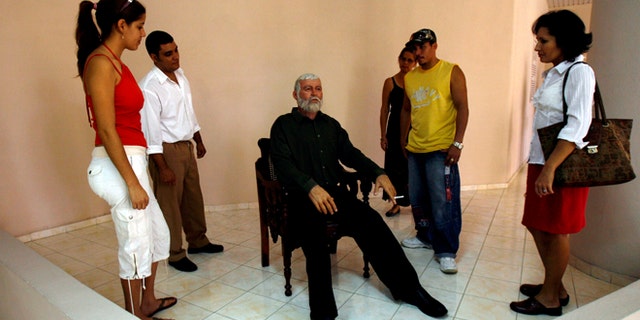 NEWYou can now listen to Fox News articles!
HAVANA (AP) – This week's reopening of embassies and resumption of diplomatic relations between the United States and Cuba opens a new chapter in the countries' complicated relationship.
But any visitor to the Cuban capital can see that connections between the two nations run long and deep just by taking stock of all the attractions showcasing American culture and history. Despite decades of hostility, some of these sites even seem to celebrate Americans, while others reflect an anti-U.S. point of view.
Here's a look:
___
HEMINGWAY
American writer Ernest Hemingway lived in Cuba on and off for years and worked on some of his most famous books here, including "For Whom the Bell Tolls" and "The Old Man and the Sea." One of Havana's biggest tourist attractions is his estate at Finca Vigia, visited by literary pilgrims from around the world and Cubans alike. You can't enter the home, but large open windows provide a good look inside. Liquor bottles and magazines artfully placed amid sofas and tables suggest Hemingway will be back at any moment. Also onsite is Hemingway's boat, the Pilar.
Photos of Hemingway posing with trophy fish and with revolutionary leader Fidel Castro decorate many bars and hotels, including the Ambos Mundos hotel in Old Havana, where you can tour a room Hemingway lived in. And two Havana bars attract a steady stream of tourists in part thanks to Hemingway's famed drinking declaration: "My mojito in La Bodeguita, my daiquiri in El Floridita." The handwritten quote, allegedly scribbled by Hemingway himself, is framed over the bar at La Bodeguita del Medio. The Floridita features a Hemingway statue.
Other sites include a yacht club named the Hemingway Marina and a Hemingway monument in the nearby fishing village of Cojimar.
___
U.S. PRESIDENTS
Several sites around Havana reference U.S. presidents, but not all are complimentary.
Inside the Museum of the Revolution, caricatures of Ronald Reagan, George H.W. Bush and George W. Bush are displayed in "Cretins Corner." Outside the museum sits wreckage from a U.S. spy plane shot down over Cuba in 1962 during the Cuban Missile Crisis, a defining moment in John F. Kennedy's presidency.
Abraham Lincoln is honored with two statues: a miniature sculpture outside an English-language school, Escuela de Idiomas, on Avenida de los Presidentes between 17th and 19th streets in the Vedado neighborhood, and a bust in the Parque de la Fraternidad on the Paseo del Prado.
Even Havana's domed Capitolio building will look familiar to Americans. It was modeled on the U.S. Capitol in Washington.
___
THE ROSENBERGS
Julius and Ethel Rosenberg were executed by the U.S. government on charges of passing atomic secrets to the Soviet Union. Their deaths were protested around the world; they left behind two young children and newly released 1950 grand jury testimony suggests Ethel may have been innocent. In Havana, a brick memorial at Zapata and Paseo streets is decorated with their images, a flock of doves and the words, "For peace, bread and roses, we will face the executioner. Ethel and Julius Rosenberg, murdered June 19, 1953."
___
MOBSTERS, MOVIE STARS AND BASEBALL PLAYERS
Many hotels display pictures and stories from Havana's pre-revolutionary heyday as a glamorous playground for mobsters, movie stars and baseball players, from a plaque about Babe Ruth in the Hotel Plaza lobby to a photo exhibit at the Hotel Nacional that includes Nat King Cole, Frank Sinatra and Fred Astaire. The Nacional's official history notes that in 1946, it was the site of a meeting of Mafia bosses. The gathering later inspired part of "The Godfather: Part II."
Black-and-white photos also decorate Sloppy Joe's, an Old Havana bar once frequented by Hemingway and other celebs. Sloppy Joe's also figured in a piece of British culture, the book and film "Our Man in Havana," Graham Greene's story of a bumbling spy.
___
JOHN LENNON, HONORARY NEW YORKER
John Lennon was British but New Yorkers consider him one of their own: He lived and died in Manhattan. One of Havana's prettiest parks, John Lennon Park, has a bench where fans can pose with a sculpture of the singer. When tourists approach, an attendant places spectacles on the statue's face. An inscription in Spanish quotes from Lennon's song "Imagine": "You may say I'm a dreamer, but I'm not the only one."
___
USS MAINE
The battleship USS Maine was destroyed in an explosion in Havana harbor in 1898 that killed 266 men. "Remember the Maine!" became a rallying cry for the Spanish-American War. America's victory over Spain liberated Cuba, which had been a Spanish colony, but also led to U.S. intervention in Cuban affairs.
A monument to the Maine, with two soaring white columns, sits on Havana's seaside boulevard, the Malecón. A bronze eagle that crowned the monument was ripped down during an anti-U.S. protest in 1961, and the bird's head is now kept inside the diplomatic mission that just became the U.S. Embassy. The rest of the eagle is with the office of Havana's city historian. Some say U.S.-Cuba relations will be fully normalized when the eagle is put back together and once again crowns the monument.
Like us on Facebook
Follow us on Twitter & Instagram