The mental benefits of yoga take this long to kick in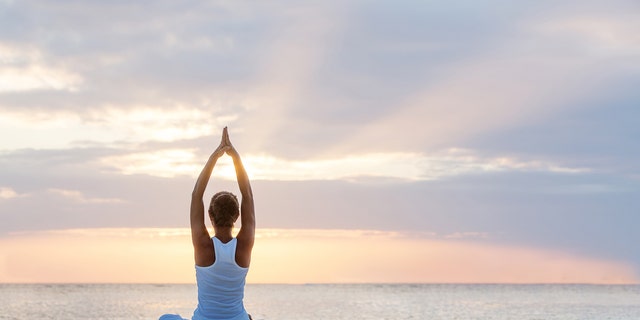 If you're trying yoga for its touted mood boosts, but don't feel immediately better post-Down Dog, hang in there: The mental health payoff may come later — months, even, after rolling up your mat, new research finds.
The study, published in the journal Psychological Medicine, found that depressed subjects who took hatha yoga classes reported alleviated symptoms three to six months after picking up the practice.
THE 6 BEST FOODS TO EAT BEFORE DOING YOGA
Researchers divided subjects with major depression into two groups: For a minimum of 10 weeks, one group took up hatha yoga, and the other took part in health education classes. The subjects, all of whom also take antidepressant medications, were then tracked for six months.
"We did not see statistically significant differences between hatha yoga and a control group (health education) at 10 weeks," said study author Lisa Uebelacker, PhD. "However, when we examined outcomes over a period of time, including the three and six months after yoga classes ended, we found yoga was superior to health education in alleviating depression symptoms."
'SALTY' YOGA MAY HELP YOU SLEEP BETTER
Interestingly, study participants weren't required to keep practicing yoga after that first 10-week stretch — meaning that some of them may have stopped at that point, but had the benefits kick in later. But researchers predict that sustained yoga practice will continue to lessen depression symptoms over time.
This isn't the first time research has pointed to the trendy workout's mental health benefits. A smaller study published in the Journal of Alternative and Complementary Medicine in March found that people who participated in yoga and breathing classes twice a week reported decreased symptoms of depression.
FOLLOW US ON FACEBOOK FOR MORE FOX LIFESTYLE NEWS
Plus, as The Post reported in March, yoga may be the key to thriving in old age, as this 98-year-old yoga teacher shows. We'll bow to that.