The Daily Spike: Things to remember when your puppy goes on vacation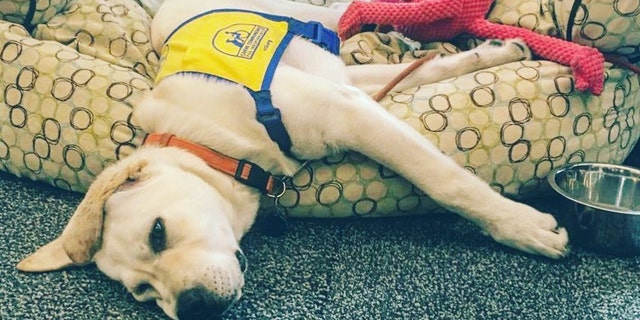 Summertime means it's time for a vacation. I'm headed North to Alaska to visit friends and get in touch with the great outdoors.
It's too long of a trip for Spike, the dog I'm training for Canine Companions for Independence, to take at his young age, so he gets to go on his own vacation in New Jersey.
But I haven't been apart from Spike for more than 24 hours, and I'll need him to be ready for his first extended sleepover.
WHY ONE FAMILY CHOSE TO TRAIN A SERVICE DOG
Luckily, Spike will be staying with my friend Helga who has puppy-sat many Canine Companions pups. She lives nearby, and is good friends of Caryl Swain — the master and puppy-raiser of Spike's brother Swain. That said, Spike will get to spend tons of time with his bro, so I'm not sure who's going to have more fun on their getaway.
Helga knows all about Canine Companions, but I had put together a few simple guidelines all puppy-owners should follow. And they don't just apply to service puppies, mind you, but any dog, so when your time to vacation arrives, you'll be prepared too.
Supplies
I think Spike would put this as his top tip. Make sure you provide plenty of your puppy's food and feeding instructions to your puppy-sitting friend. The fewer disruptions to your puppy's schedule, the better time they will have.
Pack some of your dog's favorite toys, bowls, toothbrush and any medications or supplements your dog gets on a daily basis, too.
Set the house rules
You will want to make sure you, your puppy and your puppy-sitterare on the same page as far as rules and routines go. Anything concerning sleep, acceptable toys or treats, and familiarity with commands should be discussed. For instance, Spike is not allowed on the furniture at home, and I don't want him to get up to some bad habits while on vacation!
THE IMPORTANCE OF LETTING YOUR PUP TAKE A NAP
Provide emergency contacts
Write down the contact information for your puppy's veterinarian, any known medical conditions or medicines, and your own contact information. Too much information is a good thing when entrusting your furry friend to your human friend.
Keep calm
Try to make pick-up and drop-off as neutral as possible. Your emotions affect your dog, so when I drop Spike off, I'm going to do my best to keep things mellow. An ear scratch and a "have fun and be good" is the perfect tone for not getting Spike emotionally charged, even though I desperately want to give him a giant squeeze and tell him 18 times how much I love him. Just keep it cool.
Ask for updates
Ask your puppy-sitter or the kennel to send occasional updates and photos. It will give you peace of mind, and allow you to have a good time and not worry about your pet.
FOLLOW US ON FACEBOOK FOR MORE FOX LIFESTYLE NEWS
Speaking of updates, I just landed in Alaska and it's BEAUTIFUL. I also got my first Spike update and photos. He's having a ton of fun with his brother Swain, hanging out in a kiddie pool (first time) and showing off some of his commands by being a good boy and posing for photos. This made my day, and now I can go off and enjoy my vacation while he enjoys his.
For more information about Canine Companions for Independence, visit CCI.org.