The 6 dishes health nuts order at Olive Garden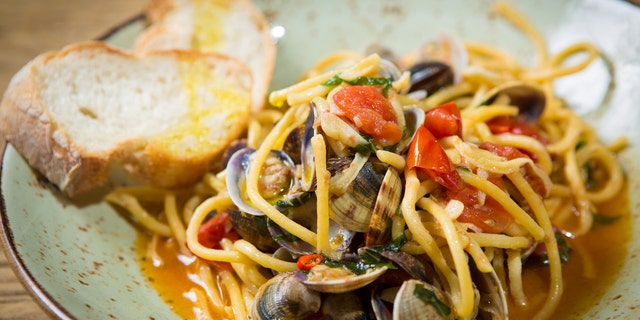 Yes, you can have a hearty, healthy-ish meal at Olive Garden! Just watch out for words like "unlimited," which pop up over and over on this menu — even too much salad and breadsticks can result in that over-stuffed feeling. And be wary of anything with pesto, garlic sauce, or alfredo, as those tend to be higher in fat and calories, Tara Collingwood, MS, RDN, official nutritionist for runDisney, told Fox News. Now go ahead and try one of these meals, approved by health nuts across the country!
Minestrone Soup and House Salad with Grilled Chicken
Olive Garden is known for its soup and salad, so here's a version that amps up your meal's nutrition. When you start with the minestrone soup, the lowest-calorie (110 per serving) soup on the menu, you may fill up and eat a smaller meal. "Studies have found that warm liquid calories are more filling than cold ones, which is great news if you love soup," Maggie Moon, MS, RDN, author of "The MIND Diet," told Fox News. As for the salad, request the dressing on the side — the fat it contains helps you absorb important vitamins, so go with a few drizzles. A side of grilled chicken adds lean protein to your meal. The soup-and-salad combo comes with breadsticks, but limit yourself to just one because each has 140 calories and 460 milligrams of sodium. "This meal still has a lot of salt, so drink plenty of water," Moon advised.
THE HEALTHIEST ITEMS AT YOUR FAVORITE FAST FOOD RESTAURANTS
Herb-Grilled Salmon
The salmon boasts heart-healthy omega-3 fats and is an excellent source of protein. Plus, the calories, fat, and sodium are lower than those of many other Olive Garden dishes. Order not one but two sides of broccoli because a double portion is only 40 calories yet provides 4 grams (16 percent of the daily value) of fiber, Tammy Lakatos Shames, RDN, and Lyssie Lakatos, RDN, dietitians, personal trainers, and co-authors of "The Nutrition Twins' Veggie Cure," told Fox News. "Broccoli contains sulforaphane, which has been shown to prevent and fight a wide variety of cancers in test tube research," they said.
Cucina Mia!
This "pasta your way" option lets you customize a healthier pasta bowl by choosing the type of pasta, sauce and protein. Opt for whole-grain linguine for extra fiber, marinara sauce in lieu of a creamy or oily one, and grilled chicken or sautéed shrimp for a lower-fat protein. Go with the shrimp option, and that's 550 calories and 13 grams of fat for the whole dish. "If you overload your dish with heavy, creamy sauces and ingredients, you could be getting a lot of extra calories, fat and sodium," Bonnie Taub-Dix, RDN, author of "Read It Before You Eat It," told Fox News. Case in point: The asiago garlic alfredo sauce alone contains 940 calories and 91 grams of fat!
HOW EATING CARBS CAN HELP YOU LOSE WEIGHT
Cod Piccata
Here's a dish that offers 37 grams of filling protein for 370 calories, one of the lowest entrée calorie counts on the menu. "Since the protein takes longer to digest than carbohydrate-filled meals, it tides you over longer and helps to keep hunger at bay," The Nutrition Twins said. Lower the saturated fat by asking the kitchen to go lighter on the butter — and do the same with the salt for a lower-sodium dish.
Chicken Margherita
Ask for a lunch portion of this grilled chicken dish, and you're looking at a meal for 370 calories. You also get a hearty serving of protein, at well over half the daily value. While the sodium content isn't low, at 700 milligrams, it is one of the lowest-sodium counts on the menu.
FOLLOW US ON FACEBOOK FOR MORE FOX LIFESTYLE NEWS
Linguine di Mare
You get close to a day's worth of protein and more than half a day's worth of fiber from this 570-calorie dish that's a mix of shrimp, mussels, whole-grain linguine and tomato sauce. "It's one of the best choices on the dinner menu for balanced nutrition," Moon said. The dish is higher in sodium and added sugar, so balance out the rest of your day with low-sugar and low-sodium home-cooked meals.
Amy Gorin is freelance writer and owner of Amy Gorin Nutrition in Jersey City, NJ. Connect with her on Facebook, Instagram, Twitter, and Pinterest.