Teen girls dealing with mental health crisis need 'connection' most, doctors say
Mental illness hits teens hard — resources ahead of time may help
This story discusses suicide. If you or someone you know is having thoughts of suicide, please contact the Suicide & Crisis Lifeline at 988 or 1-800-273-TALK (8255).
The mental health crisis has affected thousands of Americans — hitting teenage girls harder than most.
Whether it's the negative impact of social media, incidents of sexual violence or pure sadness, teenage girls are experiencing a crisis of mental health in more ways than one.
Preventing a mental health breakdown is thought to be better than treating one, as doctors and experts interviewed by Fox News made clear.
TEEN GIRLS ARE STRUGGLING WITH MENTAL ILLNESS AT RECORD LEVELS, WITH MANY 'PERSISTENTLY SAD,' DATA REVEALS
Fox News correspondent Gillian Turner joined "Special Report" on Thursday evening to discuss ways to help teen girls through their mental health struggles.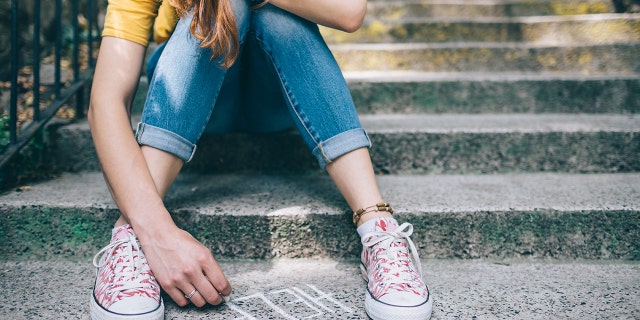 Dr. Anisha Abraham of the American Academy of Pediatrics (AAP) spoke with Fox News about the top ways adults can help teen girls.
"Making sure that we take the time to get young people into resources before it becomes a life-threatening emergency is so key," she said.
Connection might be the most important, she said.
SUGRE OF TEEN GIRLS EXPERIENCING SEXUAL VIOLENCE IS 'DRAMATIC,' WITH OFFICIALS CALLING IT 'CRISIS'
"Fostering relationships, even having one or two adults that can really believe in young people and support them, can be really, really helpful," she said.
Although getting teenagers to open up about their feelings and potential struggles might be difficult, Dr. Janette Nesheiwat recommended facilitating a judgment-free space.
"That first step [is about] opening up the lines of communication," the Fox News contributor said regarding effective ways to get teens to speak about what they're going through.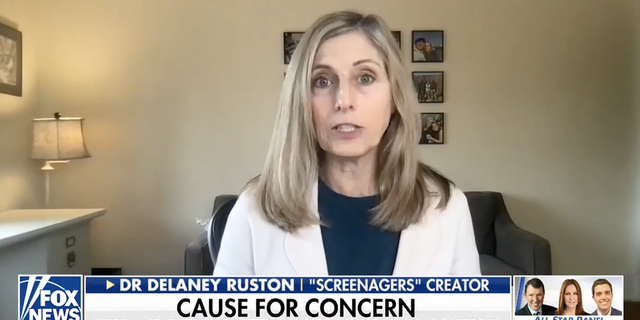 Some examples might be to begin asking them about their day, how school was and how they are feeling — but teens tend to be easier to read, according to one doctor.
Dr. Delaney Ruston, who created "Screenagers," a 2016 movie about the choice to give a teen a phone, told Fox News there can be telling signs when a teen is struggling.
TEEN GIRLS SPEND MORE TIME ON 'SENSITIVE' SOCIAL MEDIA CONTENT THAT CAN HARM MENTAL HEALTH, REPORT SAYS
When people are not "feeling well, they lose their motivation to do things that used to give them pleasure," she said.
"Don't accept the 'I'm fine, Mom' — watch their behavior." 
Some of these signs, said Dr. Ruston, might be a shift in mood, a dramatic shift in body weight, a lack of motivation, bad grades or poor sleep.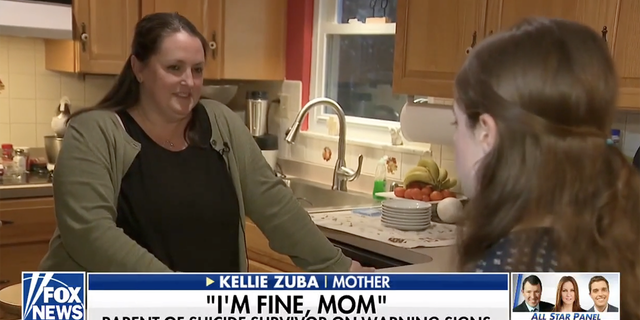 Kellie Zuba is the mother of teen Caroline, who has attempted suicide and been hospitalized six times for mental health concerns.
Zuba told Fox News that consistently checking in on children is important to ensure they're OK.
"Don't accept the 'I'm fine, Mom' — watch their behavior."
CLICK HERE TO GET THE FOX NEWS APP
She added, "It can happen to anyone."
Turner also mentioned using the pediatrician as a guide if you think your child might be struggling with mental health issues.
CLICK HERE TO SIGN UP FOR OUR LIFESTYLE NEWSLETTER
Call 988, the National Mental Health Crisis Lifeline, if you or someone you know needs help.
Alexandra Rego of Fox News contributed reporting.