Spanish town weighs fining medieval church $17,500 for 'noisy' bells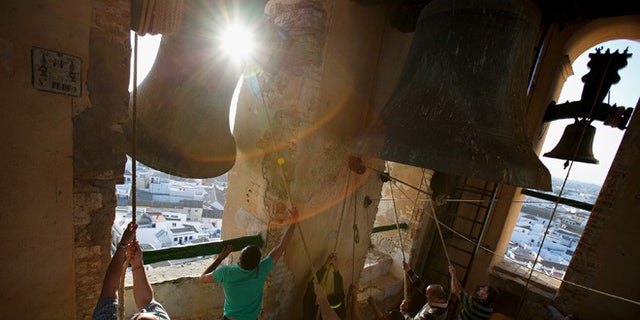 NEWYou can now listen to Fox News articles!
MADRID (AP) – A small Spanish town is considering fining a medieval church 16,000 euros ($17,500) because its bells are "too noisy."
The town hall of Mostoles, southwest of Madrid, said Tuesday that following complaints from residents, town technicians measured the noise level of the chimes of Our Lady of the Assumption Church and found they were some 30 decibels above the 55 rate permitted by town regulations.
Experts say normal conversation produces 55-60 decibels while an airplane in flight produces 110-120 decibels.
Parish priest Ignacio Torres told the El Pais newspaper the bells have always been tolling in the town, and that they were usually only rung at noon and before evening Mass. He said he had no idea how the church would pay the fine if enforced.
Like us on Facebook
Follow us on Twitter & Instagram