Spain Hunting For Winner Of $6.3M Lottery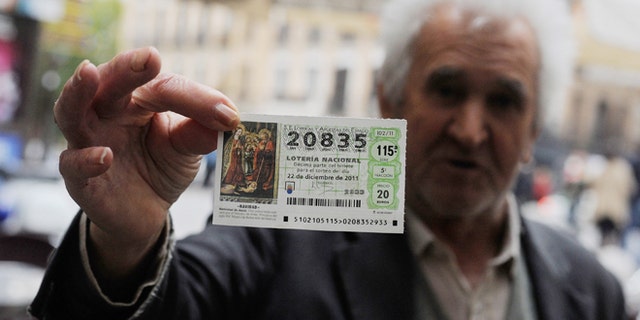 Madrid – Attention Spain: There is a missing millionaire on the loose.
Somebody bought a lottery ticket in the northern city of La Coruña that won 4.7 million euros ($6.3 million) — but lost the ticket in the shop. After failed attempts to track the winner down, the city is now making a public plea for the buyer to step forward. Fortune hunters beware: Anybody trying to claim the prize will have to prove knowing where and when the ticket was purchased.
The ticket for the June 30, 2012, drawing was found in one of the city's authorized lottery agency outlets by another customer, who handed it to the manager of the store. The manager informed authorities, who are now publicizing the story to get leads.
The city this week released an official notice about the ticket on its website list of lost-and-found items such as cellphones, keys and wallets.
"I'll be the first Spanish mayor who's searching for a millionaire not to ask for money but to give it," La Coruña Mayor Carlos Negreira joked in a statement.
Authorities are not revealing where the ticket was bought or the time of purchase so that they can question people claiming to be the owner, and try to determine whether they're telling the truth. Like many Spanish cities, La Coruña has dozens of lottery outlets.
Many people in Spain play their own series of numbers, so people will also be questioned about their lottery playing history and what numbers they usually choose. However, it's also possible that the ticket purchaser paid for a ticket with random numbers generated by the lottery machine.
La Coruña, population 246,000, is an international tourism destination, so the ticket could also very well have been bought by a visitor.
Prizes for small Spanish lottery winnings can be claimed at lottery agencies, but bigger amounts like the jackpot for the lost ticket must be claimed at regional lottery headquarters.
La Coruña is required by law to try to find the winner: An 1889 Spanish statute states that municipalities must safeguard lost winning lottery tickets and make every effort to find the legitimate buyer.
The search will last up to two years — and if the owner of the ticket doesn't show up in that time, the jackpot goes to the person who found it.
Based on reporting by The Associated Press.
Follow us on twitter.com/foxnewslatino
Like us at facebook.com/foxnewslatino