Southwest employee personally delivers lost luggage and heartwarming note to cancer patient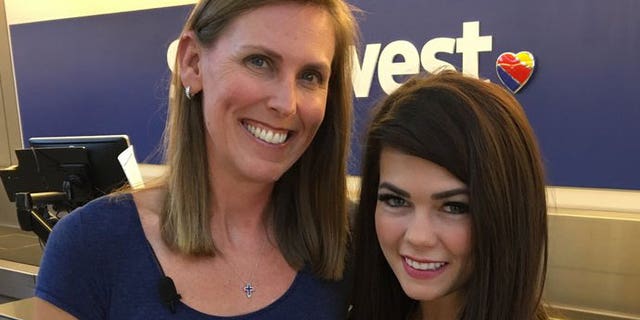 Flying home from Nashville to Pittsburgh on a rerouted Southwest Airlines flight, Stacy Hurt's suitcase was misplaced in transit. To top it all off, the bag contained essential items for her 9 a.m. chemotherapy appointment the next day.
Hurt, who has been battling colon cancer since 2014, naturally panicked and phoned the airline.
"I had a lot of items in the suitcase that I needed and wanted for chemotheraphy," Hurt told CBS Pittsburgh. "One of them was medication. But many of them were personal items to me. I just started getting very emotional, and I started to cry."
ASHLEY JUDD SAYS AIRPORT SECURITY WORKER TOUCHED HER
Though Hurt didn't know it then, there was a "guardian angel" on the other line: Sarah Rowan, who had been working as a customer service agent for Southwest's Pittsburgh office for just six months.
Despite the frustrating situation, Rowan told ABC News that Hurt was "as sweet as can be" on the phone, and immediately empathized. Rowan's own father, Frank, passed away from complications with Hodgkin's lymphoma and leukemia in 2011.
"He was the strongest man I've ever known," Rowan told People. "A lot of what I see in Stacy is what I saw in my dad. I felt a very strong connection with her from the start."
Thought the night was getting late, Rowan promised to locate the luggage by morning. Around 2 a.m., Hurt's bag arrived at Pittsburgh International Airport, but couriers had already left for the night.
"I looked up her address, and it was about 25 minutes from where I live," Rowan told HuffPost. "Me getting the bag to her was more important than getting into bed half an hour earlier," said Rowan, so she drove it there herself.
The next day, Hurt awoke at her home in Bridgeville to find her suitcase on her porch with a heartwarming note.
WOMAN STUCK ON PLANE TO CALIFORNIA RATHER THAN PARIS
"Sorry for the delay getting your bag to you. Myself and my Southwest family are thinking of you amd wishing you all the best. Kick that cancer's BUTT!" Rowan wrote.
Sharing the photo on Facebook, Hurt wrote that this unexpected act of kindness moved her to tears. Hurt later told People she felt compelled to share this story to remind her fellow cancer warriors of all the good people out there who have their backs. Southwest also commended Rowan's compassion.
"We are very proud of Sarah's kind, empathetic actions that represent the best of Southwest hospitality and the legendary customer service that our wonderful employees aim to deliver every day," the airline said in a statement to ABC News.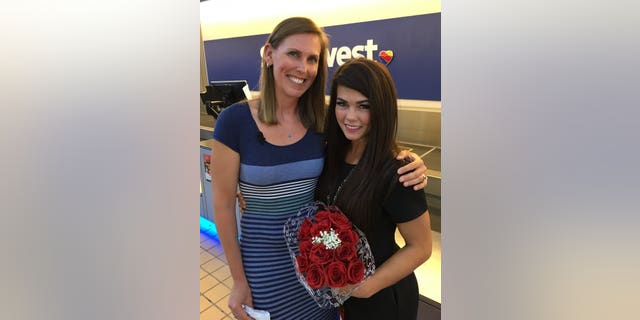 FOLLOW US ON FACEBOOK FOR MORE FOX LIFESTYLE NEWS
Weeks later, on August 9, the two new friends met for the first time where it all began, at Pittsburgh International Airport. "She just epitomizes everything good," said Hurt.