South Florida Billionaire Wants To Build North America's Tallest Flagpole In Downtown Miami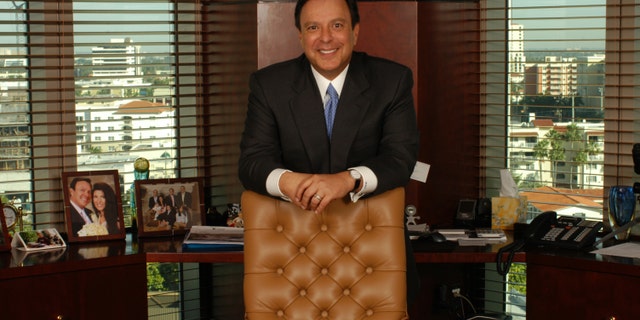 NEWYou can now listen to Fox News articles!
At 40 stories tall, the flagpole would tower over all but the tallest buildings in downtown Miami. It would be taller than every single flagpole on the continent.
And flying above city, as Mike Fernandez points out, would be an enormous, 400 pounds or more, Stars and Stripes on which every star would be taller than six feet.
"It's an act of gratitude," Fernandez told Fox News Latino. "A good way for people living here who do not forget their roots to show how much we appreciate this adopted land of ours."
And it wouldn't cost the city of Miami a dime since Fernandez—a billionaire entrepreneur and investor who is the chairman of the Coral Gables private equity firm, MBF Healthcare Partners—wants to put up the estimated $5 to $10 million construction costs.
"Just the land and maintenance costs," Fernandez said.
He said that the flagpole was something he had been thinking about "for a long time" and has talked about with his children.
"We Latinos haven't been as generous with the money we have made as maybe we should have been," he said.
He didn't spring into action, however, until he saw a news report in June about a Wisconsin insurance company, Acuity, that constructed a flagpole in Sheboygan that stood 400-feet tall and was believed to be the tallest in North America.
He called the contracting firm that helped engineer and build the Sheboygan pole, then got in touch with people in the Miami municipal government.
On Wednesday, Fernandez toured potential sites with Miami's city manager, Daniel Alfonso, and city commissioner Francis Suarez. "Dealing with the city can be a challenge sometimes," he said. "Everything moves so slowly. It's all still very preliminary."
Nevertheless, the project is down to two final possible sites, the one he favors is between American Airlines Arena and the Pérez Art Museum Miami.
The term "flagpole" may be somewhat misleading. The structure would be the girth of a wind turbine, and there would be a staircase on the inside of the "pole." It would be built out of 350,000 pounds of steel, and, at the top, would be something resembling a turret on a tank that could spin around, allowing the flag to follow the wind in any direction.
"When I spoke to the engineers, I was worried about whether the pole would be able to withstand a hurricane," he said. "They told me that the most dangerous winds for a flagpole are those that fluctuate between 4 and 7 miles per hour. After a while metal fatigue weakens the steel."
Fernandez, 62, was born in the city of Manzanillo, on the eastern end of Cuba. "We came from very humble beginnings," he said. "My father was a sandwich maker."
In 1964, when he was 12, his parents came to New York City. His mother learned English working in a factory, and his father found work as a door-to-door salesman.
After a stint in the U.S. Army, Fernandez started as a salesman himself in South Florida in 1975. Since then, "I've been able to build 24 companies—all of which have been sold to publicly-traded companies."
He added, "When it gets to a certain size, it becomes too hard for me to run. So I fire myself."
Gratitude is a topic that comes up frequently when speaking with Fernandez—whether it's to his country or to the people who have helped him in the past.
Last week, he took out a one-page ad in the Miami Herald explaining why people in the U.S. should stand with Israel.
"The person who first gave me a job was Jewish," he said. "My father, my mother—we all got a lot of opportunities here from Jews. I am very grateful for that."
He has returned to Cuba twice since 1999, and he finds it depressing. "The country has gone backward in time," he said. "Cuba has failed principally at three things: breakfast, lunch and dinner."
But he favors repealing the U.S. Embargo.
"I'm a pragmatist," he told FNL. "In business, if something isn't working, you stop doing it after a month. After 50 years, I think we can say the Embargo isn't working."
What if he encounters community resistance, the way David Beckham and the new Miami Major League Soccer expansion team did when they suggested a waterfront stadium near American Airlines Arena?
Fernandez laughed. "This isn't a business," he answered. "We don't need any parking."