Singapore hotel hosting Trump-Kim summit is on secluded island with pirate ties
Singapore's 5-star Capella Hotel on Sentosa Island is soon going to make history as it welcomes two world leaders on June 12. President Trump and North Korean dictator Kim Jong Un agreed on the venue for their historic summit, which will mark the first-ever meeting between a U.S. president and a leader from the rogue nation.
Press secretary Sarah Huckabee Sanders confirmed the location of the summit in a tweet Tuesday, adding, "We thank our great Singaporean hosts for their hospitality."
Trump and Kim's highly anticipated meeting is scheduled for June 12 at 9 a.m. local time — or 9 p.m. ET on June 11 — after a flurry of on-again-off-again action.
The resort is made up of both modern and colonial-style buildings that overlook a green 30-acre rainforest with the South China Sea as a backdrop.
"Our architects, Foster + Partners, have ingeniously woven the best of old and new Singapore into an astonishing, breathtaking fusion," Capella Hotel explains on its website. "You'll be received by our hotel staff in two historic bungalows named Tanah Merah, or 'red earth' in Malay."
The island itself is known for its high-end golf courses, amusement parks and award-winning spa. Here are five things you should know about the popular hotel and island.
Pop stars have stayed there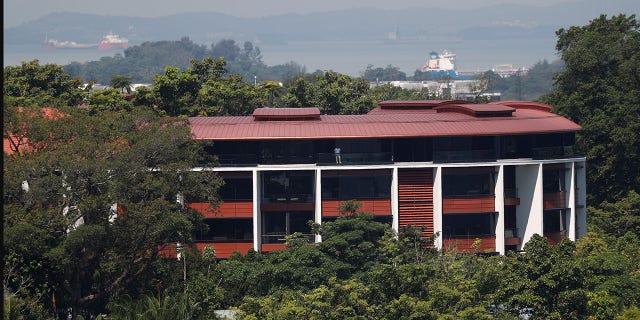 Madonna and Lady Gaga had short stays at the Capella Hotel when they toured in the area, according to the Bangkok Post, though the newspaper did not elaborate on dates the celebrities were guests.
It's totally secluded
The hotel is located a quarter mile off the coast of the city-state.
Only one raised, 710-meter road connects the island to Singapore and it can be blocked from traffic, the Bangkok Post reports.
"The location of Capella hotel which is separated from [the] mainland may serve as a virtual wall to keep out security threats from approaching the summit," Muhammad Faizal Abdul Rahman, a national security researcher in Singapore, told This Week in Asia on June 5.
It's owned by a Singapore property firm
Singapore real estate agency Pontiac Land Group, owned by the local Kwee family, owns the island resort. The firm also manages "the Ritz-Carlton Millenia Singapore, Conrad Centennial Singapore, Regent Singapore [and] A Four Seasons Hotel," according to research site 4Hoteliers.
Four Kwee siblings — worth a combined $5.5 billion — bought the Cappella Hotel group from former Ritz Carlton president Horst Schulze back in 2017, Forbes reports.
It doesn't typically host political gatherings
Unlike the local Shangri-La Hotel, the Capella Hotel isn't known to hold high-level political chats.
That's why officials were first leaning toward the Shangri-La, which hosts an annual international security summit and was the venue for a 2015 meeting between Chinese President Xi Jinping and Taiwanese President Ma Ying-jeou.
However, a U.S. advance team was spotted at the Capella Hotel last week meeting with North Korean officials in preparation for the summit, possibly giving the venue a test-run before the big day.
The island once served as a pirate hideout
Sentosa Island used to be crawling with pirates. In fact, the island was once called the Seashore of Pulau Blakang Mati, translated to "island of death from behind."
"Accounts vary as to the origins of the name. One version holds that the name is a reference to early piracy and bloodshed nearby; another speaks of the island being the 'paradise' of 'warrior spirits' whose bodies were entombed at the adjacent Pulau Brani," the National Library Board (NLB) of Singapore explains in a post online.
Over the years, the island has been a fishing village, a military site and a prison camp, holding prisoners of war during World War II's Japanese occupation of Singapore, according to the NLB of Singapore. Since then, the island has transformed into a tourist destination, focused on leisure activities such as fine dining, shopping, golfing, among other activities.
The Associated Press contributed to this report.