Service dog meets Pluto at Disney World in adorable viral video
A service dog had a magical experience on a recent trip to Walt Disney World after meeting his favorite character, Pluto, and video of the encounter has gone viral.
Atlas, a Golden Retriever, accompanied his 22-year-old owner Julian Gavino on their weekly visit to the theme park Friday night.
PASSENGER THINKS AIRASIA'S UNIFORMS ARE REVEALING TO THE POINT OF BEING 'DISGUSTING,' CLAIMS MALAYSIAN SENATOR
Gavino, who's in a wheelchair due to Ehlers Danlos Syndrome type 3, took Atlas to meet Pluto at the Japan Pavilion at Epcot Center.
He told ABC News Atlas has a small stuffed Pluto toy at home and he is often chewing on the stuffed yellow dog that he "loves so much."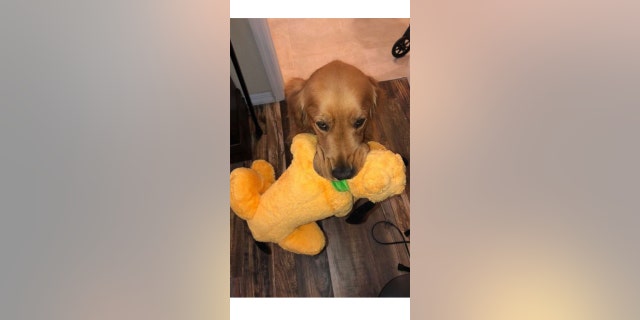 But when Atlas got to meet the real-life Pluto, things got to a whole new level. Gavino posted video of the adorable meeting between the two dogs on Facebook, which shows Pluto kneeling down playing with an excited Atlas whose tail just never stops wagging.
"Atlas was more than excited to meet his best pal look-alike," Gavino wrote on the Facebook post.
The popular video had received nearly 3,000 likes as of Monday morning, with hundreds of comments about how cute the two pups are.
FOLLOW US ON FACEBOOK FOR MORE FOX LIFESTYLE NEWS
"Okay this just made me cry it's so precious," one user commented.
"SO CUTE, I CAN'T," another person wrote.
Looks like both doggos had their day made.