Rhode Island man impersonates wedding officiant, 'marries' couple in fake ceremony before stealing bridesmaids' credit card info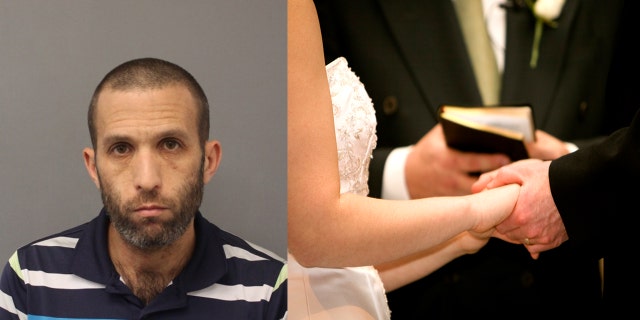 Achieving "happily ever after" is going to take a second try for one Massachusetts couple, who were shocked to discover that their wedding officiant was an unlicensed fraud with a lengthy criminal record — weeks after the big day.
Earlier this week Yarmouth police arrested James Stern for impersonating a justice of the peace, as he illicitly married Ashley Veilleux and David Mellen during their Sept. 15 nondenominational wedding ceremony at the Red Jacket Inn in South Yarmouth, Cape Cod, MassLive.com reported. But the couple's nightmare didn't end there — they're also accusing Stern of ripping off the bridesmaids by stealing their credit card information.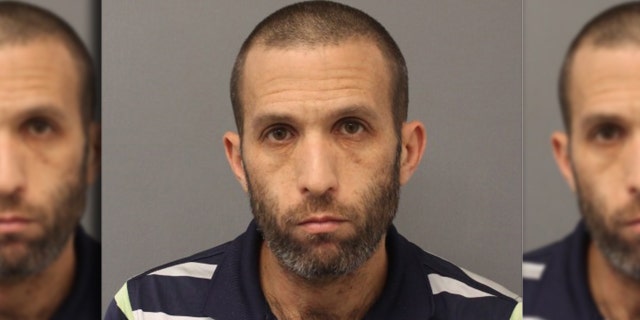 The bride told MassLive the bizarre turn of events came as a total surprise, as her online research indicated that Stern was fully accredited. He even was recently voted "the top officiant" in Newport County by a local magazine, Veilleux said.
BRIDEZILLA CLAIMS TO HAVE SECRETLY FATTENED UP BRIDESMAIDS BEFORE WEDDING TO BE 'CENTER OF ATTENTION'
"I was originally researching photo booths and uplighting, and James Stern's business 'An Amazing Day' was highly recommended on the Knot and WeddingWire. It stated on their sites that he had won multiple awards and had excellent reviews by others," Veilleux told Yahoo Lifestyle.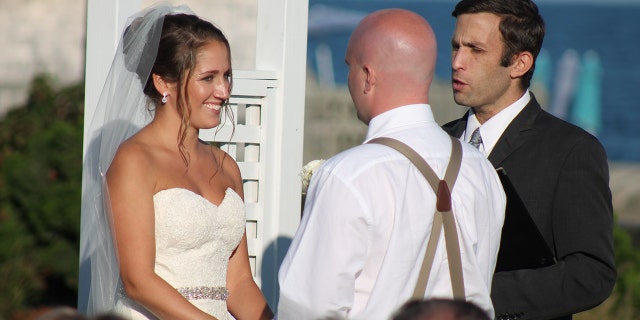 According to NBC News 10, she made the nauseating discovery when she went to pick up her marriage license — and learned it did not exist.
"He's now going to be a part of my videos and my photos and forever a part of my day and it's hard to think about that," Veilleux told the outlet.
Veilleux divulged that though 39-year-old Stern was "highly involved ahead" of the big day, he became difficult to contact after he was paid and arrived to the ceremony looking "unkempt," Yahoo reports.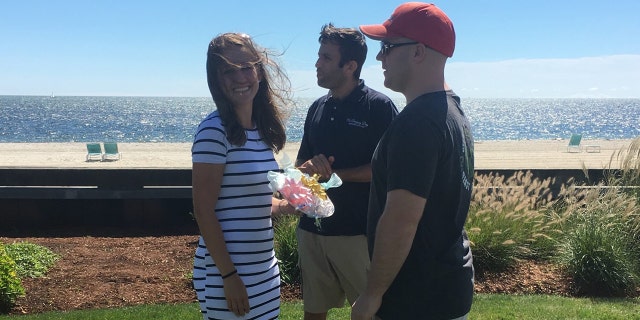 Veilleux elaborated on how Stern managed to somehow steal the credit card information from some of the bridesmaids during the nuptials.
"[The] bridal party had been provided with a locked room to store their belongings. Later that same evening, several bridesmaids reported the misuse of their credit cards," the Yarmouth Police Department wrote on Facebook.
A continued investigation from the police proved that Stern, of Portsmouth, R.I., has 51 entries on his record in Massachusetts for crimes including "identity fraud, fraudulent use of a credit card, and related larceny charges," which date back to June 1994. Stern also has an active warrant for burglary in New Jersey and a "lengthy criminal history" in Rhode Island and Connecticut, according to a Facebook post.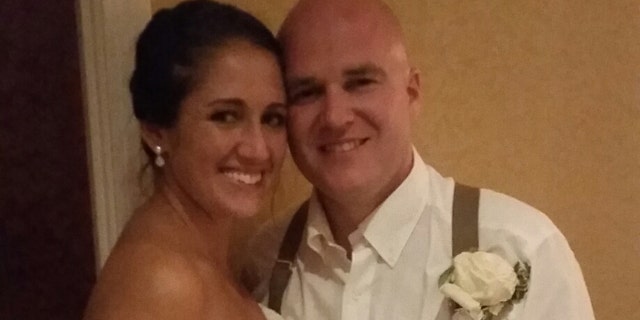 After sharing the story on social media, Veilleux was devastated to learn that she and Mellen were not the only ones scammed by Stern. The bride has gotten in touch with other couples who were tricked by Stern, who are taking action of their own and trying to find their marriage licenses reportedly filed by the crook, Yahoo reports.
Moving forward, Stern is set to appear in court on Oct. 31, police say.
FOLLOW US ON FACEBOOK FOR MORE FOX LIFESTYLE NEWS
Veilleux and Mellen, meanwhile, are preparing for another marriage ceremony with an intimate guest list at a restaurant in Cape Cod, Yahoo reports.
"I feel like we have turned a negative situation into a positive one," Veilleux said. "This man is forever in our photos and videos, we can't change that, but we can share with others and have been making a difference."