Report: Proposed Texas Mexican-American heritage textbook is 'blatantly racist'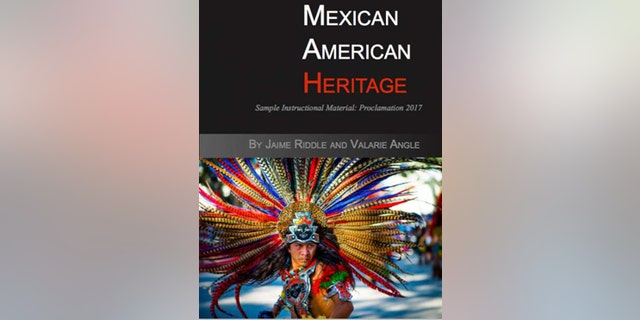 NEWYou can now listen to Fox News articles!
A group of historians and educators in Texas have labelled a proposed high school textbook on Mexican-American heritage as "blatantly racist;" saying it is full of errors and should not be used in schools.
A report put out by the experts alleges that the textbook, entitled "Mexican American Heritage," promotes the stereotype that Mexicans are inferior, contains 141 factual errors and relies on authors who have no expertise in Mexican-American studies.
"This textbook is a complete disaster and should not even be considered a textbook but rather a political manifesto aimed at distorting the perceptions of our most valuable resources — our children," said Ruben Cortez, a current member of the state board who convened the group of teachers and historians to review the book, according to the Dallas Morning News.
Along with presenting the 54-page report, the educators and historians called the textbook a "political Trojan Horse" pushed by conservative former Texas state Board of Education member Cynthia Dunbar.
Dunbar, the CEO of the book's publisher, Momentum Instruction, rejected claims of racism and said that there is no hidden agenda in the book.
"We have no agenda other than trying to make sure that book presents the best material for the students," Dunbar told the newspaper. "I'm not sure really now what [Cortez and the group's] agenda is, because they were more concerned with the press conference than they were with errors."
Dunbar added that she reached out to many of the teachers and historians who compiled the critical report to check for inaccuracies but was told they didn't want to comment until after the news conference.
She added that while Momentum Instruction is making some edits to reword passages and add material some felt was omitted, Dunbar said the only factual error she knows of is a passage suggesting that English is the official language of the United States.
The group, however, said that the minor changes do little to fix language that is condescending and offensive. The book states that Chicanos fighting for civil rights were out to "destroy this society," and that Mexican industrialists did not hire locals because they were seen as "lazy."
"Mexican laborers were not reared to put in a full day's work so vigorously," the book states. "There was a cultural attitude of 'mañana,' or tomorrow."
Cortez asked the Board of Education to reject the proposed text and reopen bids for a new one. The board will decide whether or not to adopt the textbook in November.
"This racially offensive textbook is a glimpse into [Dunbar's] distorted reality of what the Hispanic culture represents to her," Cortez said, according to the Austin American-Statesman. "Her actions are morally reprehensible, and we cannot allow it to enter into our Texas public schools."
Like us on Facebook
Follow us on Twitter & Instagram