Rare Picasso Tapestry, His Biggest Piece In The U.S., Gets A New Domain In NYC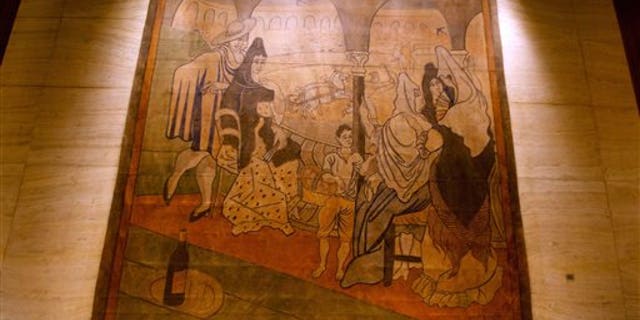 NEWYou can now listen to Fox News articles!
After 55 years hanging in the Seagram Building, and a lot of debate, one of New York City's largest pieces of art will have a new domain.
"Le Tricorne," a stage curtain painted by Spanish artist Pablo Picasso as part of a ballet set, has been residing in the glass-walled hallway of the building -where the renowned Four Seasons restaurant is located - since 1959.
After weeks of negotiations between the owner of the building, Aby Rosen, and the New York Landmarks Conservancy, which owns the piece, the 19-by-20-feet curtain will be moved to the New York Historical Society while the restaurant undergoes a few necessary repairs.
The conservancy feared the artwork was too fragile and could be damaged during the move.
However, its president Peg Breen said the arrangement will benefit all involved. "The public wins and many people get to see it," Breen said. "It's New York's Picasso, and was given as a gift to the city."
The huge tapestry is the largest work by Pablo Picasso in the United States.
It was acquired in 1957 by Phyllis Lambert, daughter of Seagram founder Samuel Bronfman, who was also involved in the design of the building. Vivendi purchased the company and its art collection in 2000, but agreed to the conservancy owning the Picasso artwork as a gift.
The New York Landmarks Conservancy is one of the oldest organizations in the country and has given more than $40 million dollars in grants and technical assistance over the years, which in turn have contributed to $1 billion worth of preservation projects in New York.
Picasso painted the tapestry for Sergei Diaghilev's Ballets Russes production of Le Tricorne in Paris in 1919. The stage curtain, largely associated with the Four Seasons restaurant, was valued at $1.6 million by Christie's.
The curtain will be exhibited in the New York Historical Society's Dexter Hall gallery, which is used for installations of works from the permanent collection.
Breen says she is thankful for all the help Rosen will be giving with the relocation of the piece, which includes the cost of the move, conservation and help needed. She added that there's no set date for the move yet, but she will be talking to different conservators to plan it.
Follow us on twitter.com/foxnewslatino
Like us at facebook.com/foxnewslatino