Rare Mexican And Southwestern Cookbooks Go Online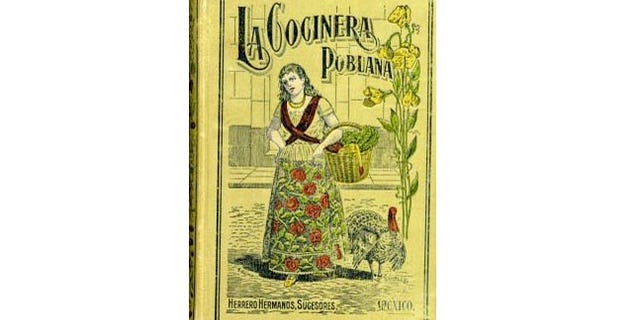 Of course you love your abuelita's recipes. But what about checking out how your tatarabuela might have cooked?
The University of Texas at San Antonio has created a bilingual blog, La Cocina Histórica, to showcase recipes from their more than thousand-item collection of Mexican, Texan and Southwestern cookbooks, some of which date from as early as the 1700s. The collection is "one of the largest if not the largest" of its kind in the country, according to Head of Special Collections Mark Shelstad. (The Los Angeles Public Library also has a similar collection, though its items veer more towards the contemporary, says Shelstad.)
The books, many of them rare, can't be checked out (though they can be viewed in the library itself), so this is a way for the public to get to know the material, Shelstad says.
In the collection are items such as family cookbooks handwritten by women in Durango around the time of the Mexican revolution, mid-century cookbooks by well-known Mexican home-cook-turned-TV chef Josefina Velázquez de León, and corporate publications such as Gebhardt Canning Company's 1923 pamphlet, "Mexican Cookery for American Homes."
On the blog each week, a librarian posts one of the recipes, plus photos of her results cooking the particular dish. The first recipe featured on the site: A saffron Arroz con Leche from Simón Blanquel's 1831 rarity "Novisimo Arte de Cocina," which was one of the first cookbooks focused on Mexican cuisine, and one of the first cookbooks printed in Mexico. Other entries share quirky food and academia tidbits, like a bit about an exhibition of menus at the University of Las Vegas and a shout-out when UNESCO's added traditional Mexican cuisine to their Representative List of the Intangible Cultural Heritage of Humanity.
"People think of culture as being books, dance, that kind of thing," says Shelstad. "But cuisine is also culture, and should be preserved." Shelstad said this point was brought home to him when he heard a radio report about a New Orleans-based recipe blog set up after Katrina. "People had lost their cookbooks, so they went on saying, 'How did your grandmother make gumbo?'" he recalls.
Reading the blog might also remind you how different putting food on the table was back before Stop & Shops. Need proof that cooking was more complicated back then? Check out the title of one of the library's rarest items, an early 19th-century tome titled "Cocinero Mexicano, o Colección de las Mejores Recetas Para Guisar Al Estilo Americano, y de las Más Selectas Segon el Método de las Cocinas Española, Italiana, Francesa, e Inglesa, con los Procedimientos Más Sencillos Para la Fabricación de Masas, Dulces, Licores, Helados y Todo lo Necesario para la Fabricación de Masas, Dulces, Licores, Helados, y todo lo Necesario para el Decente Servicio de una Buena Mesa."
Whew!
Follow us on twitter.com/foxnewslatino
Like us at facebook.com/foxnewslatino