Zarela Martinez' Pavo Borracho (Drunken Turkey)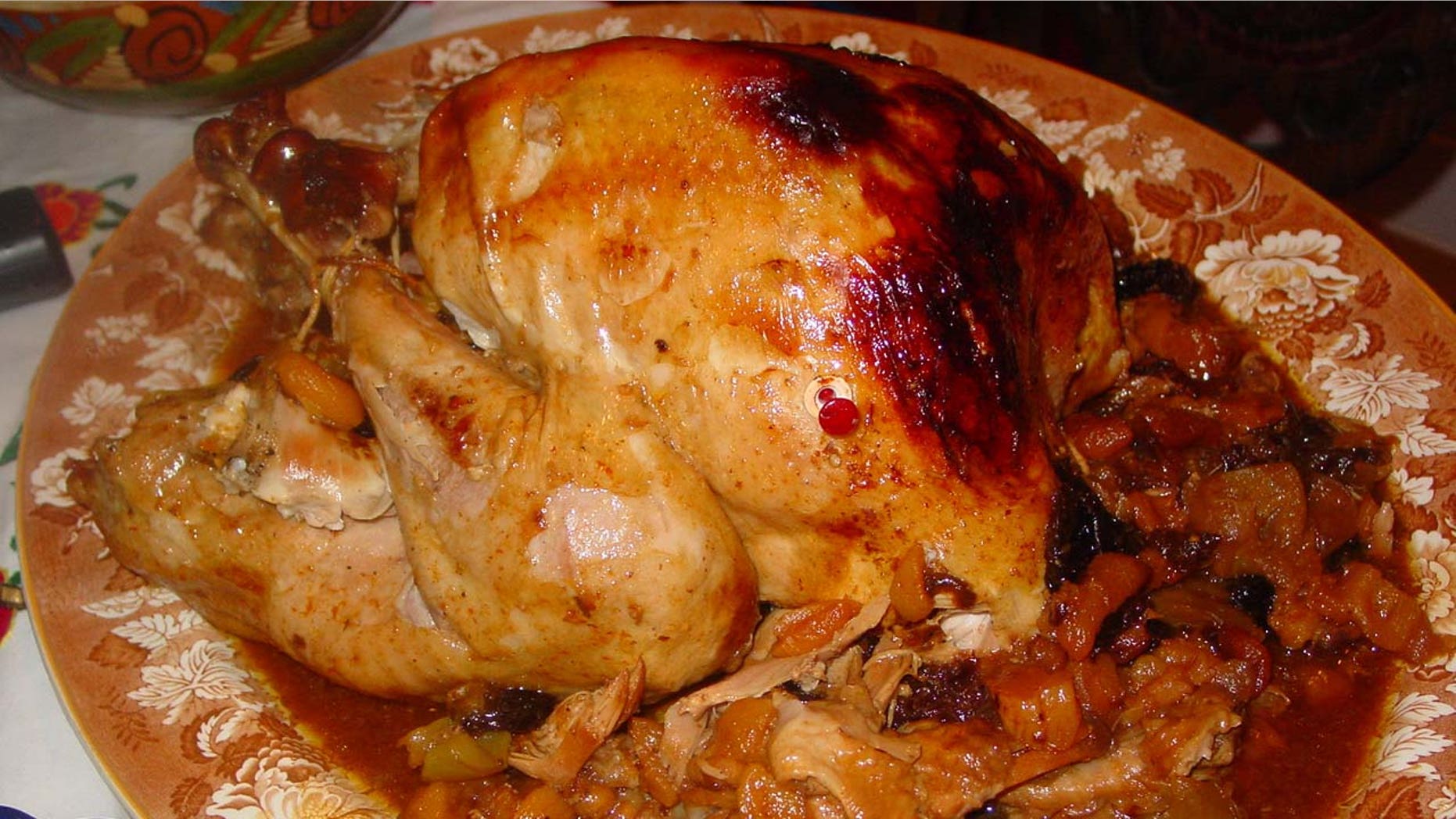 My sister Aída developed this recipe for one of our Christmas celebrations, and has become a new family favorite. The turkey is actually oven-steamed rather than roasted, using the somewhat loosely named "roasting bags" (a type of plastic cooking bag available in most supermarkets). This (decidedly untraditional) method results in a very moist turkey with lots of natural gravy, but be forewarned: All this moisture may cause broken skin and exposed leg and wing bones, and doesn't necessarily look great. For the basting you need a basting syringe with a thin metal injection nozzle. If you find the amount of Grand Marnier listed excessive, use the juice of 6 oranges and decrease the Grand Marnier to 1 cup.
Serves 8 to 10
Ingredients
1  12-lb. turkey
2 lbs. mixed dried fruit
4  Granny Smith apples, cored, quartered, and cut into 1-inch wedges
Juice of 4 oranges
4.5 ounces of canned chiles chipotles en adobo
3  cups dark tequila, preferably reposado
3  cups Grand Marnier
2  sticks unsalted butter
Salt and freshly ground black pepper

Instructions
Rinse the turkey and pat dry inside and out. Salt and pepper the cavity and outside of the turkey. Set aside.
Combine the dried fruit, raisins, apples in a medium-size bowl. Put the orange juice and chiles (with the sauce that clings to them) into a blender or food processor and process for 1 minute. Add 1 cup each of the tequila and Grand Marnier, then pour the mixture over the fruit and let rest 15 minutes. Drain the fruit, reserving the liquid. Cut half of the butter (1 stick) into 1/2-inch pieces and combine with the fruit. Stuff the cavity with most of the fruit.
Place the turkey in the roasting bag, arrange the remaining fruit on top of the turkey and pour the reserved orange juice-liquor mix over it. Combine the remaining tequila with the Grand Marnier. With the basting syringe, inject the mixture all over the turkey. Melt the remaining butter (1 stick) and carefully pour over the turkey in the roasting bag. Seal the bag and cut 1 1/4-inch slit on top to let the steam escape.
Place in a roasting pan and roast for 2 1/2 hours. Every 30 minutes open the bag (being careful to shield your face from the steam) and inject more liquor, eventually using it all up. When ready to serve, slit open the bag, arrange the turkey on a platter, and scoop out the stuffing. Place all the fruit in a serving bowl. Strain the juices that have accumulated in the bag, skim off any fat, and place in a gravy boat.
Follow us on twitter.com/foxnewslatino
Like us at facebook.com/foxnewslatino